Welcome to Heart Healthy Recipes' Newsletter. In this month's issue we are featuring a simple ingredient eggplant marinara recipe. Also, a blood pressure lowering chicken broccoli with rice casserole and a seasonal cranberry walnut squash entrée.
---
Cranberry Walnut Squash
Enjoy heart-healthy, seasonal acorn squash stuffed with cranberries and walnuts. The abundant nutrients in acorn squash, including cucurbitacin, a natural anti-inflammatory, could help reduce the risks of many forms of heart disease. Also, the cranberries and walnuts are helpful to the heart by being particularly high in antioxidants called polyphenols, known also to reduce inflammation and even help regulate cholesterol levels.

Recipe Ingredients:
1 acorn squash, cut in half

½ cup walnuts, chopped

½ cup cranberries, fresh or frozen

2 tablespoons maple syrup

2 tablespoons grape seed oil
Recipe Instructions:
Preheat oven to 375°F. Cut acorn squash in half, removing and discarding seeds. Next, in medium-sized bowl, combine walnuts, cranberries and brown sugar by tossing gently. Split the cranberry mixture between the two halves of squash. Top each half of squash with one tablespoon of oil. Place in baking dish after loosely covering with foil. Bake in preheated oven for 1 hour and 15 minutes or until fork pushes into the squash easily.

Makes 2 servings.
---
Eggplant Marinara
The heart-healthy eggplant in this recipe contains high levels of antioxidants which studies have shown may help prevent heart disease. The bioflavonoids in eggplants may also assist in the reduction of blood pressure. In addition, eggplants have been known to help reduce the presence of bad LDL cholesterol and help promote the increase of good HDL cholesterol.
Recipe Ingredients:
6 potatoes, medium-sized (2 pounds)

1 eggplant, medium-sized (about 1 ¼ pounds)

2 tablespoons olive oil

15 ounces marinara sauce

6 ounces mozzarella cheese, low-fat, thinly sliced
Recipe Instructions:
Place potatoes in a 4-quart saucepan and cover with water. Heat on high and bring water to boil. Reduce heat to low. Then cover and simmer 25 to 30 minutes until potatoes are tender. Cool potatoes slightly. Next peel and slice potatoes into ¼ inch thick slices.

Preheat broiler if manufacturer directs. Slice eggplant crosswise into ¼ inch thick slices. Place eggplant slices on large cookie sheet. Next, brush slices with olive oil. Place cookie sheet at closest position to source of heat. Broil five minutes or until eggplant is golden brown. With spatula, turn eggplant slices and broil until other side is lightly golden, about five minutes.

Heat oven to 350°F. Pour ½ cup marinara sauce in bottom of shallow 2 quart casserole or 9" by 9" baking dish. Alternately arrange potato slices, eggplant slices, and mozzarella-cheese slices in sauce, overlapping slightly. Spoon remaining marinara sauce over vegetables and cheese. Bake 25 to 30 minutes until cheese melts.

Makes 6 servings.
---
Chicken Broccoli with Rice
Broccoli helps make this simple rice casserole heart-healthy with nutrient-rich fiber and protein. The high amount of vitamins and minerals in broccoli may benefit the heart by helping to prevent hardening of arteries and preventing buildup that can lead to heart disease. Broccoli has also been shown to help maintain healthy blood pressure levels and reduce inflammation in cells that line blood vessels. A recent study found that consuming broccoli regularly lowers the risk of cardiovascular disease by reducing the total amount of cholesterol in the body. Also, studies have found that increasing vegetables in the diet, especially cruciferous vegetables like broccoli, could reduce the risk of heart disease.

Recipe Ingredients:
1 lb. chicken breasts, boneless and skinless, cut into bite-sized pieces

14 ½ oz. chicken or vegetable broth

2 cups instant rice, uncooked

6 oz. mozzarella cheese, low-fat, cut into ½ inch cubes

10 oz. broccoli, chopped
Recipe Instructions:
Cook and stir chicken in large skillet on medium-high heat for five minutes or until done. Stir in broth and bring to boil. Next, add rice, cheese and broccoli. Cover and remove from heat. Let stand for 10 minutes. Stir until cheese is completely melted and mixture is well blended.

Makes 6 servings.
---
For more heart-healthy recipes, please visit:
https://www.hearthealthyrecipes.com
---
Nutritional Supplements: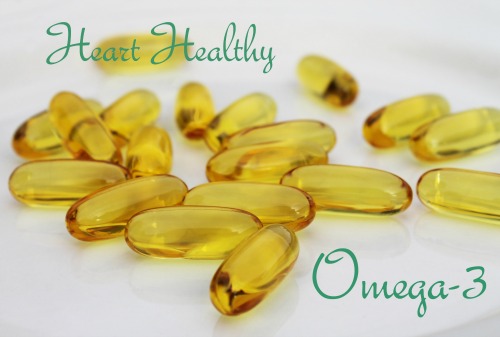 Omega-3 Supplementation:
Research published in the June 2012 edition of the "British Journal of Nutrition" confirms that omega-3 supplementation reduced blood pressure among older patients and those with hypertension.


---
If considering supplements - please reference the following link:
https://www.hearthealthyrecipes.com/HealingSupplements.html
---
---
---
Medical/Nutritional Disclaimer: Heart-Healthy-Recipes' Newsletter and Heart-Healthy-Recipes.net website offers informational service only and the information contained in this newsletter is not intended as professional nutritional or medical advice. The content in this newsletter should not be used solely during a medical emergency or for the diagnosis or treatment of any medical condition. Please consult your doctor or other qualified health care provider regarding any course of medical treatment.
---