Welcome to Heart Healthy Recipes' Newsletter.
This month our featured heart-healthy recipes include a colorful and festive guacamole, a ginger-raisin brown rice dish, and steamed green beans with sun-dried tomatoes.
---
Heart-Healthy Guacamole
Enjoy heart-healthy avocados in this guacamole recipe. Fresh, ripe avocados, which are high in antioxidants and potassium, also contain healthy fats that are beneficial to the heart and body as a whole. Avocados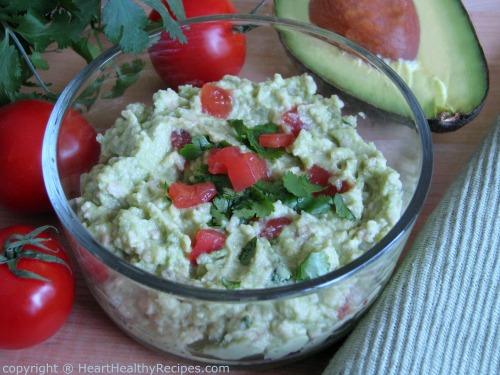 are rich in mono-unsaturated fats and over 75% of the fat in avocados are the good, essential mono-unsaturated fat. These healthy, essential fats may help lower heart problems including the reduction of high cholesterol.

Avocados are cholesterol-free, sodium-free, and low-calorie containing approximately 80 calories each. In addition, avocados are highly nutritious with approximately 20 known vitamins and minerals.

Recipe Ingredients:
3 avocados, pitted and peeled

1 lime, juiced

½ teaspoon sea salt

½ medium onion, chopped

3 tablespoons fresh cilantro, chopped

2 medium tomatoes, diced

2 garlic cloves, minced
Recipe Instructions:
In a medium bowl, mash avocados, lime juice and sea salt. Mix in onion, cilantro, tomatoes, and garlic. May serve immediately or refrigerate for one hour for richer flavor.

Makes 4 servings.


---
Ginger-Raisin Brown Rice
The heart-healthy, long-grain brown rice is full of nutrients including cholesterol lowering fiber.

The ginger is loaded with flavonoids which are powerful antioxidants. These antioxidants have very potent anti-inflammatory properties which have been shown to be helpful against chronic diseases including heart disease. Though, it is important to note that there have been some drug interactions with ginger. As always, check with a trusted health care provider before making any dietary changes.

The antioxidant-rich raisins in this recipe, that also contain potassium and magnesium, may also benefit the heart by helping lower blood pressure and help the heart muscles to function properly.
Recipe Ingredients:
2½ cups water

1 cup long-grain brown rice - uncooked

1 medium sweet onion, chopped

⅔ cup raisins

2 tablespoons fresh parsley, chopped

1 tablespoon ginger root, peeled and minced

½ teaspoon sea salt (optional)
Recipe Instructions:
In a medium saucepan bring water to a boil. Add rice, onion, raisins, half of the parsley, ginger root, and sea salt (if desired). Cover, reducing heat, and cook 45 minutes or until rice is tender and liquid is absorbed. Top with remaining parsley.

Makes 4 - 6 servings.
---
Steamed Green Beans with Sun-Dried Tomatoes
The low-sodium, cholesterol-free green beans in this recipe are high in fiber, which may help to lower cholesterol levels. Green beans are also a good immune booster being rich in vitamins including vitamins A and C.

The antioxidant-rich green beans and sun-dried tomatoes may also help the heart by potentially lowering blood pressure and reducing inflammation.

The sun-dried tomatoes are abundant in calcium and magnesium benefiting the heart by helping to further regulate blood pressure. Also, these heart-healthy minerals help the heart muscles function as designed.
Recipe Ingredients:
2 pounds fresh green beans, trimmed

2 tablespoons grapeseed oil

½ cup sun-dried tomatoes

2 tablespoons fresh dill, chopped

2 garlic cloves, minced

½ teaspoon sea salt (or to taste)

¼ teaspoon fresh ground pepper (or to taste)

1 tablespoon balsamic vinegar

Garnish with dill sprigs
Recipe Instructions:
In a saucepan, add 1 inch of water and bring to a boil. Then, place the green beans in a steamer basket over the boiling water. Cover and steam the beans until very tender, approximately 8 minutes.

Next, in a large skillet, add grapeseed oil, the steamed green beans and sun-dried tomatoes. If sun-dried tomatoes are packed in oil, first thoroughly drain the tomatoes of oil, then pat them dry with paper towels before adding. Heat skillet on medium to high heat; sprinkling beans and tomatoes with dill, garlic, sea salt, and pepper. Cook for approximately 3 minutes, stirring occasionally.

Transfer to a platter and drizzle with the vinegar. Serve warm or at room temperature. Garnish with dill sprigs if desired.

Makes 8 servings.
---
For more heart healthy recipes, please visit:
www.hearthealthyrecipes.com
---

If you have any questions or comments, please feel free to e-mail us at:

support@hearthealthyrecipes.com

---
Medical/Nutritional Disclaimer: Heart Healthy Recipes' Newsletter and HeartHealthyRecipes.com website offers informational service only and the information contained in this newsletter is not intended as professional nutritional or medical advice. The content in this newsletter should not be used solely during a medical emergency or for the diagnosis or treatment of any medical condition. Please consult your doctor or other qualified health care provider regarding any course of medical treatment.
---