Welcome to Heart Healthy Recipes' Newsletter.
This month we are celebrating the fall bounty of corn, tomatoes, squash, and more. Included is a creamy corn chowder, veggie stuffed tomatoes, and roasted cinnamon squash.
---
Creamy Corn Chowder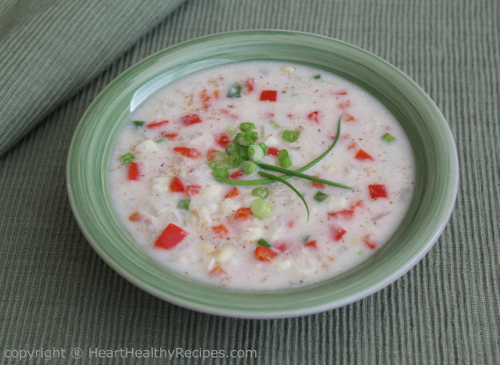 Crisp fall air, warm cooking and rich fragrant, spicy aromas is what we wish for you with this recipe. The heart-healthy benefits are present with an abundant source of magnesium in the corn and popular fall spice of nutmeg. Magnesium is an essential mineral as it helps maintain a normal heart rate. In addition, the nutrient rich red bell peppers and onions contain blood pressure lowering potassium - also, a necessary mineral for the heart to remain healthy.
Recipe Ingredients:
2 tablespoons vegetable stock

1 small sweet red bell pepper (1 cup), finely diced

3 green onions, thinly sliced

1 small sweet onion, minced (1 cup)

1 tablespoon whole wheat flour

2 cups corn

1¾ cups coconut milk or skim milk

⅛ teaspoon nutmeg

½ teaspoon sea salt (optional)

¼ teaspoon black pepper

garnish with green onions, thinly sliced, if desired
Recipe Instructions:
Place the vegetable stock in a large saucepan over medium heat. Add the red bell pepper, green onions and sweet onion. Cook, stirring frequently, until the peppers are crisp-tender, about 3 minutes. Add a bit of water, if necessary, to prevent scorching. Stir in the flour, and cook 1 to 2 minutes more, stirring constantly. Then remove from heat.

Place 1 cup of corn in a blender or food processor with 1 cup of the milk. Process on low speed until smooth. Add the blended corn mixture with the remaining whole corn and milk, the nutmeg, sea salt (optional), black pepper to the red bell pepper mixture in the saucepan. Heat over medium heat, bringing just to the boiling point, stirring frequently. Reduce heat and simmer for about 5 minutes. Garnish with thinly sliced green onions if desired.

Makes 4 servings.


---
Veggie Stuffed Tomatoes
The heart-healthy benefits are very high in these veggie stuffed tomatoes. For starters, the tomatoes, mushrooms, spinach and avocado are all an abundant source of antioxidants and potassium. Studies have shown that potassium is very effective in lowering blood pressure, as is the ingredient of whole grain rice. The cholesterol-free mushrooms, along with the tomatoes, spinach, avocado, garlic, and onion all help play a role in reducing and regulating cholesterol levels. In addition, the high-antioxidant onion helps reduce inflammation along with avocados, garlic, and basil.
Recipe Ingredients:
6 large tomatoes

1½ cups sliced mushrooms

1 cup chopped onion

½ cup vegetable broth

1 - 10 oz. package of frozen chopped spinach, thawed and drained

2 medium avocados, mashed

2 teaspoons minced garlic

1 teaspoon basil

1 teaspoon honey

½ teaspoon sea salt (optional)

¼ teaspoon black pepper

1 cup cooked whole grain rice*

Parmesan cheese, topping (optional)
Recipe Instructions:
Preheat oven to 400°F. Cut a slice from the top of each tomato and scoop out the middle, leaving approximately ¼-inch thick shell. Next, chop the scooped out tomato portion, approximately 3½ cups, setting aside.

Sauté the mushrooms and onion in the vegetable broth in a large skillet over medium-high heat. Cook, stirring, until tender, about 10 minutes. Add spinach, avocados, chopped tomato (that was set aside), garlic, basil, honey, sea salt, and black pepper. Cook over low heat, stirring occasionally, approximately 10 minutes. Stir in the cooked whole grain rice*, remove from heat, cover, and let stand for 5 minutes.

Place the tomato shells in a 9 x 13-inch baking dish. Spoon the rice mixture into the shells, dividing evenly. Sprinkle with Parmesan cheese on top of each, if desired. Bake until the tomatoes are cooked and filling is lightly golden, approximately 15 minutes.

Makes 6 servings.

*To make 1 cup cooked whole grain rice for above recipe, add ¼ cup dry rice to ½ cup of water in a small sauce pan. Bring to boil and then simmer, covered for 45 minutes.


---
Roasted Cinnamon Squash
Enjoy the sweet aroma of cinnamon and the fall bounty of butternut squash. This heart-healthy vegetable is loaded with potassium, and as mentioned in above recipes, potassium is an effective and healthy way to regulate blood pressure. Cinnamon also contributes to heart health and this month's blog features those benefits. For more information, please visit:
https://www.hearthealthyrecipes.com/healthy-heart-recipes-blog.html
Recipe Ingredients:
1 large butternut squash

½ onion, finely diced

4 tablespoons grape seed oil

2 tablespoons almond butter

¼ teaspoon cinnamon

1 cup chopped kale

½ teaspoon sea salt

¼ cup sliced almonds

2 tablespoons honey
Recipe Instructions:
Preheat oven to 400°F. Cut squash in half and remove seeds. Next, remove the peel from each half and slice squash into 1-inch cubes, set aside.

In a large bowl, whisk together onion, grape seed oil, almond butter, and cinnamon. Combine squash and kale in almond butter mixture.

Next, place squash in a 9 x 13-inch baking dish, lightly oiled with grape seed oil. Sprinkle lightly with sea salt. Cover and bake for 45 minutes, or until squash is tender. Remove from oven and serve topped with sliced almonds and a drizzle of honey, if desired.

Makes 4 servings.
---
For more heart healthy recipes, please visit:
www.hearthealthyrecipes.com
---

If you have any questions or comments, please feel free to e-mail us at:

support@hearthealthyrecipes.com
---
---
Medical/Nutritional Disclaimer: Heart Healthy Recipes' Newsletter and HeartHealthyRecipes.com website offers informational service only and the information contained in this newsletter is not intended as professional nutritional or medical advice. The content in this newsletter should not be used solely during a medical emergency or for the diagnosis or treatment of any medical condition. Please consult your doctor or other qualified health care provider regarding any course of medical treatment.
---