Welcome to Heart Healthy Recipes' Newsletter. This month we are featuring Thanksgiving and holiday recipes starting with a creamy spinach dip, a mushroom-cauliflower stuffing, and spicy cinnamon sweet potatoes.
---
Creamy Spinach Dip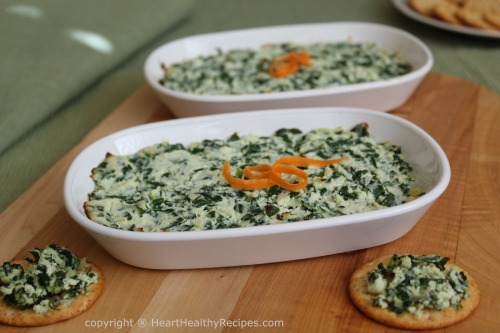 This low-fat, low-salt appetizer topping is a healthy alternative to the traditional cheese spread with the low-fat ricotta adding a creamy,satisfying texture. The garlic and spinach in this appetizer spread may also help benefit the heart by reducing cholesterol levels. Serve with bread or crackers as a starter to any special get-together or holiday meal.
Recipe Ingredients:
2 tablespoons grape seed oil

2 garlic cloves, minced

3-3½ cups fresh spinach (approx. 2½ oz.), chopped

1 cup ricotta cheese

sea salt (optional)

black pepper, freshly ground
Recipe Instructions:
In a large skillet, add 1 tablespoon of the oil (half) and the garlic. Sautéing on medium heat for approximately 3 minutes or until very light brown. Next, add the freshly chopped spinach. Drizzle with remaining oil and sauté on low heat for an additional 12-15 minutes. In a medium mixing bowl, combine the ricotta and spinach mixture. Season to taste with sea salt (optional) and black pepper. Then place in shallow baking dish or dishes and bake at 425°F until the top is light golden brown, approximately 12 minutes.

Makes 14-16 toppings.


---
Mushroom-Cauliflower Stuffing
Heart-healthy stuffing substituting the traditional bread mix with the super food of cauliflower, making this a low carb recipe as well. Cauliflower is a great source of antioxidants including carotenoids and flavonoids which may help protect the heart. Also, the mushrooms in this recipe have many heart healthy beneficial nutrients as well, including potassium helping to maintain blood pressure, along with the necessary nutrient of vitamin D.
Recipe Ingredients:
¼ cup grape seed oil

2 garlic cloves, minced

1 onion, chopped

¼ cup green onions, sliced

3 cups carrots (or 6 medium), shredded or chopped

6 cups shiitake or button mushrooms, sliced

1 small head cauliflower, chopped

¼ teaspoon black pepper

¼ teaspoon sea salt (optional)

¼ cup parsley, freshly chopped

2 tablespoons rosemary, freshly chopped

1 tablespoon sage, freshly chopped

½ cup low-sodium vegetable or chicken broth
Recipe Instructions:
In a large skillet, heat oil over medium heat. Add garlic, onions and carrots, sautéing for approximately 5-7 minutes or until soft, stirring occasionally. Next, add mushrooms and cauliflower, seasoning to taste with pepper and sea salt (optional). Cooking until tender, approximately 8-10 more minutes. Next, add parsley, rosemary, and sage. Stirring to blend in flavor. Add broth and cook until tender, ensuring liquid is absorbed, approximately 10 minutes. Use for stuffing poultry or as a side dish.

Makes 8-10 servings.


---
Spicy Cinnamon Sweet Potatoes
Try heart-healthy sweet potatoes in a version of the traditional mashed potatoes with anti-inflammatory spices of nutmeg, cloves and cinnamon. The sweet potato is heart-healthy with an abundant supply of vitamins and minerals. Included nutrients are potassium and magnesium which may help lower and maintain blood pressure levels. Sweet potatoes are also high in anti-Inflammatory nutrients and antioxidants. Also, this recipe substitutes butter for the healthier fat of grape seed oil.

Recipe Ingredients:
4-5 medium sweet potatoes (1½ lbs.)

4 tablespoons grape seed oil

3 tablespoons brown sugar (optional)

⅛ teaspoon ground cinnamon

⅛ teaspoon ground nutmeg

⅛ teaspoon ground cloves

2-4 tablespoons coconut milk
Recipe Instructions:
Peel the sweet potatoes, cutting in to large chunks and then placing them in a pan with enough water to cover. Next, bring the sweet potatoes to a boil. Cover, reduce heat and simmer for approximately 25 minutes or until very tender. Transfer drained potatoes to a large mixing bowl. Add the grape seed oil, brown sugar (optional), and spices. Partially mash with a hand masher. Add 2 tablespoons of the coconut milk, mashing some more, until blended but still slightly lumpy. Add a little more milk and blend to desired consistency. Transfer to a warm dish and serve.

Makes 4 to 6 servings.
---
For more heart healthy recipes, please visit:
www.hearthealthyrecipes.com
---

If you have any questions or comments, please feel free to e-mail us at:

support@hearthealthyrecipes.com
---
---
Medical/Nutritional Disclaimer: Heart Healthy Recipes' Newsletter and HeartHealthyRecipes.com website offers informational service only and the information contained in this newsletter is not intended as professional nutritional or medical advice. The content in this newsletter should not be used solely during a medical emergency or for the diagnosis or treatment of any medical condition. Please consult your doctor or other qualified health care provider regarding any course of medical treatment.
---