Welcome to Heart Healthy Recipes' Newsletter. In this month's issue we are featuring more summer time recipes to help you plan for picnics and other entertaining fun. Included is a low-sugar, raspberry cream popsicle recipe, a grilled eggplant recipe topped with fresh herb sauce and a seasonal herb pasta dish.
---
Raspberry Cream Popsicles
Simple, healthy ice cream pops sweetened with natural honey and needing no ice cream maker. The raspberries help sweeten this low-sugar treat and help contribute to heart health as well. These summer berries are abundant in antioxidants such as vitamins C and E. Studies have shown raspberries may help decrease oxidative stress and reduce inflammation, supporting that raspberries are an important fruit in a heart-healthy diet. (1)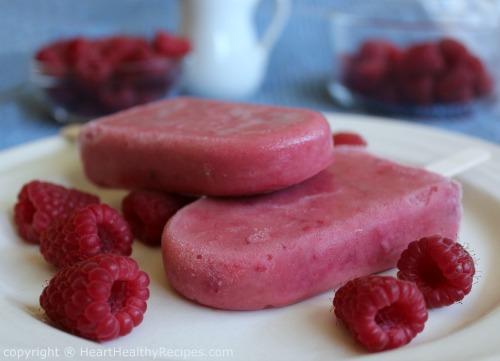 Recipe Ingredients:
2 cups oat milk or coconut milk, chilled

½ cup cream

⅓ cup honey

1 teaspoon vanilla

2 cups fresh raspberries
Recipe Instructions:
In medium bowl blend together oat milk, cream, honey and vanilla with hand held mixer (blender or food processor works as well). Once first four ingredients are blended, gently add fresh, whole raspberries. Blend for another 30 seconds or until desired texture is achieved.

Pour blended raspberry mixture into popsicle containers and freeze in freezer for approximately two hours or overnight. When raspberry popsicles are ready to serve, hold sideways under warm running water briefly. Gently test popsicle stick for readiness. Once ready, gently pull raspberry popsicle out of container and enjoy! :)

Makes 8-12 servings.


---
Grilled Eggplant topped with Fresh Herb Sauce
Eggplant is a good and healthy alternative to meat and grills nicely. Also, studies are showing that frequent consumption of eggplant helps lower cholesterol levels (1-Eggplant Study & Lower Cholesterol) and may improve heart functions. (2-Eggplant Study & Cardioprotective Properties)
Grilled Eggplant - Recipe Ingredients:
2 medium to large eggplants (2 to 2-½ pounds)

⅓ cup olive oil

sea salt, to taste (optional)

ground black pepper, to taste
Grilled Eggplant - Recipe Instructions:
Preheat grill to medium-high heat. Slice rinsed, dried and trimmed eggplants into ¼-inch thick rounds. Next brush olive oil over each slice and lightly season with sea salt and pepper. Grill eggplants until tender and slightly charred, approximately 2 to 3 minutes per side. Once eggplant is grilled, add the fresh herb sauce (recipe below).
Fresh Herb Sauce
The herbs in this recipe stay true to the heart-healthy Mediterranean diet with chervil, chives, garlic and tarragon.

For more information on herbs, please visit our monthly blog:

https://www.hearthealthyrecipes.com/healthy-heart-recipes-blog.html
Herb Sauce - Recipe Ingredients:
2 tablespoons olive oil

¼ cup lemon juice

1 tablespoon capers

2 shallot cloves

1 bunch parsley

1 sprig chervil

1 bunch chives

1 bunch tarragon

2 garlic cloves

sea salt, to taste (optional)

ground black pepper, to taste
Herb Sauce - Recipe Instructions:
In a small to medium sized bowl combine the oil, lemon juice, capers, shallots, parsley, and remaining herbs. Place this mixture in a blender or food processor and process until a loose paste is achieved. Add this sauce to eggplant after grilling is complete and serve.

Makes 4-6 servings.


---
Seasonal Herb Pasta
This quick, flavorful pasta combination helps reduce cooking and preparation time in hot summer heat. Also, the fresh, in season herbs of basil, rosemary, lavender and others help add taste and color to the meal.

Check out our monthly blog where we are currently studying herbs that help the heart and over-all health at:

https://www.hearthealthyrecipes.com/healthy-heart-recipes-blog.html

Recipe Ingredients:
8 ounces pasta

2 tablespoons olive oil

2 teaspoons basil

1 teaspoon rosemary

1 teaspoon lavender

1 teaspoon oregano

½ teaspoon fennel

1 teaspoon parsley

½ teaspoon tarragon

1 teaspoon thyme

¼ teaspoon sea salt (optional)

¼ teaspoon black pepper
Recipe Instructions:
Cook pasta according to package instructions and then drain excess water. Combine cooked pasta with oil, herbs, salt, and pepper.

Tip: To help reduce the heat of cooking in hot summer temperatures, try fresh pasta which requires only about a minute to cook compared to dry pasta.

Makes 4 servings.
---
For more heart healthy recipes, please visit:
www.hearthealthyrecipes.com
---
We would love to hear from you!
If you have any questions or comments, please feel free to e-mail us at:

support@hearthealthyrecipes.com
---
---
Medical/Nutritional Disclaimer: Heart Healthy Recipes' Newsletter and HeartHealthyRecipes.com website offers informational service only and the information contained in this newsletter is not intended as professional nutritional or medical advice. The content in this newsletter should not be used solely during a medical emergency or for the diagnosis or treatment of any medical condition. Please consult your doctor or other qualified health care provider regarding any course of medical treatment.
---