Welcome to Heart Healthy Recipes' Newsletter.
This month we are including some more summer time recipes to help you plan for picnics and other summer get-togethers. Featured in this issue is a popular Mediterranean-style chicken salad, a tangy cucumber sauce, and a no-cook, chilled tomato-vegetable soup.
---
Mediterranean Chicken Salad
Enjoy the heart-healthy benefits of peppers in this tasty Mediterranean chicken salad. The capsaicin nutrient found in bell peppers has been shown to help lower high cholesterol. Also, the anti-inflammatory properties in these bell peppers may help lower inflammation in the arteries, which may help prevent heart disease. The other ingredients in this recipe help benefit the heart as well including the herb basil.

For more information on the basil herb, please visit our monthly blog:

https://www.hearthealthyrecipes.com/healthy-heart-recipes-blog.html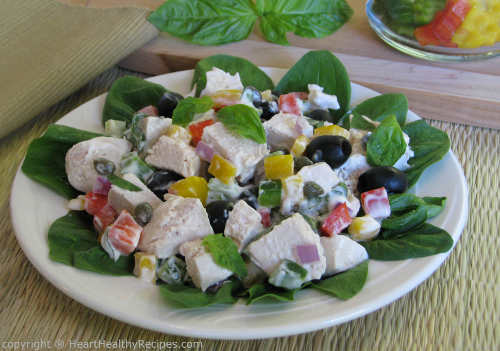 Recipe Ingredients:
2 teaspoons fresh basil, cut into shreds

½ cup red onion, chopped

½ cup pitted black olives

2 tablespoons capers, drained

½ cup mayonnaise substitute - Grapeseed Oil Vegenaise®

1 medium yellow pepper, cut into ¼-inch cubes

1 medium red pepper, cut into ¼-inch cubes

1 medium green pepper, cut into ¼-inch cubes

1 pound boneless, skinless chicken breasts, cubed

½ pound spinach, (about 4 quarts) as liner for plates or bowls

fresh basil, as garnish
Recipe Instructions:
In a medium to large sized bowl add basil, onion, olives, capers, and mayonnaise substitute. Rinse yellow, red, and green peppers then cut in half and remove seeds. Next, cut into ¼-inch cubes and place into bowl with other ingredients along with cubed chicken. Line plates with spinach, then add chicken salad, and top with fresh basil.

Makes 4 servings.


---
Tangy Cucumber Sauce
Great for summer picnics, easy to fix and great for your heart. This tangy sauce is loaded with potassium thanks to the cucumbers. The potassium in the cucumbers has been shown to help lower blood pressure (1-Potassium and Lower Blood Pressure) which in turn may lower risk of stroke and cardiovascular disease. Also, cucumbers are low in calories and high in water content which helps keep you hydrated on warm summer days.
Recipe Ingredients:
1 cucumber

1 teaspoon sea salt

3 garlic cloves, minced

20 oz. Greek yogurt

2 tablespoons apple cider vinegar

1 tablespoon fresh dill, minced
Recipe Instructions:
Slice the cucumber in half and remove the seeds. Next, dice the cucumber into ¼-inch cubes and place in strainer over a bowl. Sprinkle with sea salt and transfer to a medium bowl. Add garlic, yogurt, vinegar, and dill. Combine well and for better flavor, allow to sit for 3-6 hours. Serve with bread and or vegetables.

Makes 2-4 servings.


---
Chilled Tomato-Vegetable Soup
This no-cook soup recipe helps keep your kitchen cool during the hot summer months. Also, the tomatoes in this soup will help benefit your heart with the very important nutrients of potassium and the antioxidant lycopene. Research has shown some evidence that lycopene may lower risk for cardiovascular disease (1-Lycopene and CVD). The potassium found in tomatoes may help reduce blood pressure as well. Also, tomatoes have been shown to reduce cholesterol (2-Tomatoes Help Decrease Cholesterol Levels) and help keep the blood from clotting.

Recipe Ingredients:
1 pound ripe red tomatoes, diced

2 cups cucumber, peeled, seeded, and finely chopped, divided

1 garlic clove

¼ cup chopped red onion

1½ tablespoons red wine vinegar

1 teaspoon paprika

¼ teaspoon sea salt

½ cup frozen, shelled edamame, thawed

1 yellow bell pepper, finely diced
Recipe Instructions:
Place tomatoes, 1½ cups diced cucumber, garlic, onion, vinegar, paprika, and sea salt in a blender. Blend on medium-low speed until smooth. Pass through a strainer to remove seeds, skin, and any excess pulp. Press solids gently to extract all juices. For best flavor, chill soup for 2 hours or more to blend flavors. Place soup in four bowls. Top with remaining ½ cup cucumber, edamame, and diced peppers.

Makes 4 servings.
---
For more heart healthy recipes, please visit:
www.hearthealthyrecipes.com
---
E-Mail Address:
support@hearthealthyrecipes.com
---
---
Medical/Nutritional Disclaimer: Heart Healthy Recipes' Newsletter and HeartHealthyRecipes.com website offers informational service only and the information contained in this newsletter is not intended as professional nutritional or medical advice. The content in this newsletter should not be used solely during a medical emergency or for the diagnosis or treatment of any medical condition. Please consult your doctor or other qualified health care provider regarding any course of medical treatment.
---