Welcome to Heart Healthy Recipes' Newsletter. This month we are featuring the festive color and flavor of the heart-healthy pomegranate.
We have three quick and easy pomegranate recipes that can be made ahead of time. Starting with a pomegranate relish, a sweetly flavored couscous dish, and finally an antioxidant rich fruit salad, also containing mango and blueberries.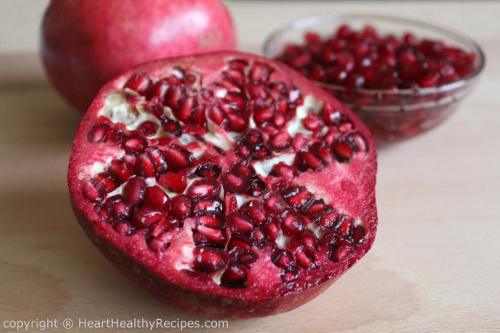 The pomegranate is heart-healthy with its powerful antioxidants and considered one of the healthiest fruits. The concentrated antioxidant activity in the pomegranate has been shown to be three times higher than those of red wine and green tea* (see below reference).
---
Pomegranate Relish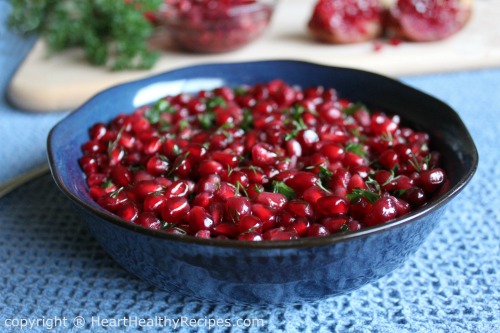 Decorate your holiday table with this colorful, heart-healthy pomegranate relish. This simple, quick, low-sodium, no-cook recipe can also be make several days in advance since it stores well in the refrigerator.
Recipe Ingredients:
2 cups pomegranates arils (seeds), (2-3 pomegranates)

½ cup fresh parsley (flat or curly), chopped

1 tablespoon fresh dill, finely chopped

⅓ cup sweet onion, minced (about half an onion)

½ cup grape seed oil

1 tablespoon fresh lemon juice
Recipe Instructions:
In a medium sized bowl with lid, add pomegranate arils. Chop parsley and dill, placing in a small bowl. Next, cut medium onion in half and mince, adding to the parsley and dill, set aside. In a third small bowl, combine the grape seed oil and lemon juice, whisking together then drizzle over the pomegranates arils. Next, gently blend in the parsley, dill and onion. Put lid on medium bowl and refrigerate for 2 hours to allow the flavors to blend.

Relish can be refrigerated for up to 2 days in an airtight container. Before serving, bring to room temperature.

Makes 2½ cups.


---
Sweet Pomegranate Couscous
Abundant in heart-healthy ingredients, this juice sweeten couscous dish is high in antioxidants from the pomegranates to the onions.
Recipe Ingredients:
1 cup orange juice

½ cup golden raisins

⅔ cup dried apricots, diced

1 small sweet onion, chopped

2 tablespoons white-wine vinegar

2 teaspoons grape seed oil

1 teaspoon salt

½ teaspoon ground cinnamon

½ teaspoon ground cumin

3 cups water

1 cup low-sodium vegetable broth

2½ cups couscous

⅓ cup finely chopped fresh parsley

½ cup or 2½ oz. pomegranate pomegranate arils, (1 pomegranate)
Recipe Instructions:
Combine the orange juice, raisins, apricots, onion, vinegar, oil, and ½ teaspoon of the salt, along with the cinnamon and cumin in a small bowl; set aside. Bring the water, broth, and remaining ½ teaspoon salt to a boil in a large saucepan. Stir in the couscous; cover and remove from the heat. Let stand until all the liquid has absorbed, about 5 minutes. Transfer the couscous to a large bowl; let cool. Add the juice and fruit mixture, along with the parsley and pomegranate seeds; toss with a fork to coat. Serve at room temperature.

Makes 8 servings.


---
Pomegranate Salad
The mango, blueberry and pomegranate seeds make a festive, refreshing and colorful dish for the holiday table. This pomegranate fruit salad also has a high concentration of antioxidants helping to boost the immune system and protect the heart. This no-cook recipe is also quick and easy, and can be make a day in advance.

Recipe Ingredients:
4 cups or 1¾ lbs. fresh mangoes, cubed (4-5 medium mangoes)

3 cups fresh blueberries

1 cup or 5 oz. pomegranates arils (seeds), (1-2 pomegranates)

1 tablespoon lemon or lime juice
Recipe Instructions:
In a medium glass bowl, place prepared mango cubes and gently add the blueberries, along with the pomegranate seeds. Add the lemon or lime juice over the fruit, mixing all the ingredients gently.

Makes 4 servings.
---
*References: https://www.ncbi.nlm.nih.gov/pubmed/11052704
---
For more heart healthy recipes, please visit:
www.hearthealthyrecipes.com
---

If you have any questions or comments, please feel free to e-mail us at:

support@hearthealthyrecipes.com
---
---
Medical/Nutritional Disclaimer: Heart Healthy Recipes' Newsletter and HeartHealthyRecipes.com website offers informational service only and the information contained in this newsletter is not intended as professional nutritional or medical advice. The content in this newsletter should not be used solely during a medical emergency or for the diagnosis or treatment of any medical condition. Please consult your doctor or other qualified health care provider regarding any course of medical treatment.
---