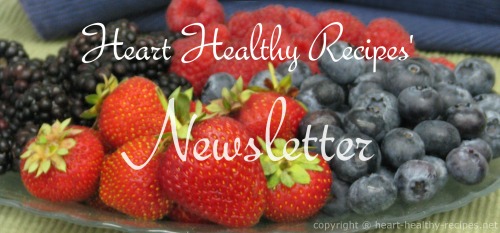 Welcome to Heart Healthy Recipes' Newsletter.
February is "Heart Health Month" and to help support this we are featuring a heart-healthy Valentine's Day treat of raspberries dipped in chocolate, along with a tropical Hawaiian Pineapple-Chicken wrap, and a festive Mexican salad.
---
Chocolate Covered Raspberries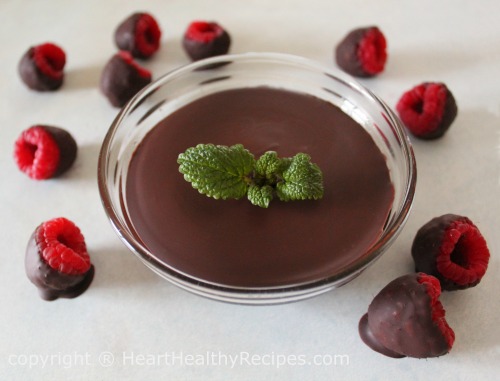 Celebrate Valentine's Day with this fun, heart-healthy and very easy to make treat everyone is sure to enjoy!

If using dark chocolate, containing 90% or more of pure cocoa, studies show dark chocolate benefits the cardiovascular function by reducing central artery pressures and may help promote vascular relaxation. Also, the abundant nutrients and rich antioxidants in the heart-healthy raspberries help make this treat a winner.

Items needed: Q-tips, double-boiler*
Recipe Ingredients:
1- 6 oz. pkg. fresh raspberries

1- 3 oz. dark chocolate bar
Recipe Instructions:
In a double-boiler, slowly melt dark chocolate until it becomes a liquid. With a Q-tip, gently pick-up each raspberry by middle hole and dip in melted chocolate and then place on a plate to cool. Once completed with dipping of raspberries and cooled, carefully remove from plate with blunt tip of knife. Chocolate covered raspberries can be served on platter or wrapped in decorative holiday bags and given as gifts.

*Tip: If you do not have a double-boiler, place a smaller sauce pan in larger sauce pan.

Makes 4-6 servings.


---
Hawaiian Pineapple-Chicken Wraps
The chicken-pineapple combination in this recipe is rich in heart-healthy nutrition. First, starting with the pineapple containing bromelain, an enzyme that assists the heart by keeping the blood thin and helping to prevent clotting. The pineapple and chicken may also help lower blood pressure - assisting in the reduction of hypertension. The egg-free mayonnaise ingredient reduces cholesterol.
Recipe Ingredients:
4 cups chicken, roasted and chopped

1 - 20 oz. pkg. fresh pineapple, drained and chopped

⅔ cup Vegenaise or Best Foods Vegan Spread (egg free mayonnaise substitutes) Amazon - Best Foods Vegan Spread

6 green onions, chopped

2 celery stalks, finely chopped

1 tablespoon low-salt soy sauce

½ teaspoon curry

2 tablespoons fresh parsley, chopped

½ cup Chia seeds

8 whole wheat tortilla wraps (8-inch.)

4 cups fresh spinach
Recipe Instructions:
In a large mixing bowl, combine chicken, pineapple, mayonnaise substitute, onions, celery, soy sauce, curry, and parsley. Before serving add Chia seeds and mix well. Place soft tortilla or wraps on a plate and add ½ cup of spinach to each plate. Then divide chicken-pineapple mixture into eight parts and place on each plate - approximately ¾ cup of chicken mixture. Gently roll up each wrap and serve.

Makes 8 servings.


---
Mexican Salad
This popular, festive dish is also heart-healthy with the low-fat cheese and black beans. The heart-healthy beans in this recipe may help lower homocysteine levels, which is important in the goal of preventing cardiovascular disease. The mixed greens and veggies help support heart health as well.

For more information on heart-healthy foods, please visit:

heart-healthy-foods

Recipe Ingredients:
1 cup fresh corn 8 cups mixed greens

2 medium-sized tomatoes, diced

1 medium onion, diced

½ cup parsley, chopped

1 small jicama, peeled and diced

1 medium green bell pepper, diced

1 medium orange bell pepper, diced

1 - 15 oz. can black beans, rinsed and drained

1 small jalapeño pepper, halved and seeded

1 medium avocado, peeled and diced

6 ounces low-fat Oaxaca cheese

1 cup low-fat, low-salt tortilla chips, loosely broken

⅓ cup lime juice
Recipe Instructions:
In a medium sauce pan add corn and steam for approximately 2-3 minutes covered. Rinse corn with cold water and set aside to cool. On four individual plates add approximately two cups of the mixed salad greens. Next, in a large bowl, combine the tomatoes, onion, parsley, jicama, bell peppers, black beans and jalapeño pepper. Once corn is cooled, add to mixture. Divide tomato-pepper mixture into four parts - onto four plates. Top each serving with a fourth of avocado and cheese. Sprinkle approximately ¼ cup of chips over each serving. Drizzle lime juice evenly over all four servings.

Makes 4 servings.
---
For more heart healthy recipes, please visit:
www.hearthealthyrecipes.com
---

If you have any questions or comments, please feel free to e-mail us at:

support@hearthealthyrecipes.com
---
---
Medical/Nutritional Disclaimer: Heart Healthy Recipes' Newsletter and HeartHealthyRecipes.com website offers informational service only and the information contained in this newsletter is not intended as professional nutritional or medical advice. The content in this newsletter should not be used solely during a medical emergency or for the diagnosis or treatment of any medical condition. Please consult your doctor or other qualified health care provider regarding any course of medical treatment.
---