Welcome to Heart Healthy Recipes' Newsletter.
With summer around the corner, we are featuring several heart-healthy recipes to help celebrate the upcoming season. In this month's newsletter we have included a refreshing watermelon salad, along with rosemary quinoa cakes and a spring veggie pasta.
Also, we wanted to let you know about an upcoming heart-healthy cookbook to be released June 23, written by an accomplished dietitian, named Cheryl Mussatto, MS, RD, LD.
---
Rosemary Quinoa Cakes
Vegan and gluten free, these rosemary quinoa cakes can be served with a salad, relish, sauce or added into a pita or on a bun. Quinoa has twice the protein of rice and helps the heart by being high in anti-inflammatory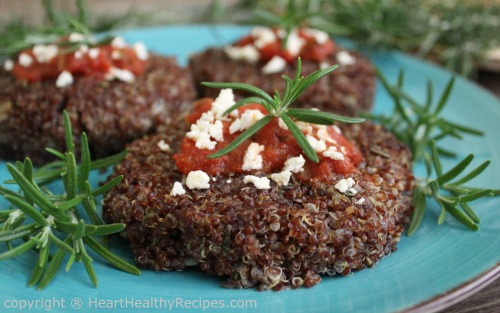 phytochemicals which help fend off inflammation – known to cause disease, including heart disease. Also, to keep this recipe vegan, including egg-free, it works best to use white quinoa, though we have tried using red quinoa (as pictured above) which tends to break-up quicker without the eggs as a binder. Both red and white quinoa are about equal in nutritional value. The rosemary in this recipe also seems to help with inflammation.
Recipe Ingredients:
2 cups water

1 cup rinsed, white quinoa

1 tablespoon grapeseed oil

1 teaspoon cumin

2-3 garlic cloves, minced

½ teaspoon sea salt (optional)

½ teaspoon fresh oregano, minced

½ teaspoon lemon juice

2 tablespoons rosemary leaves, minced
Recipe Instructions:
In a medium sauce pan, bring water to boil. Continue, over high heat, adding rinsed white quinoa, grapeseed oil, cumin, garlic, sea salt (if desired), oregano, and then stir. Bring to a boil. Cover, allowing to simmer on low for approximately 20 minutes. When all the water is gone, usually after 25 minutes and steam holes appear. Turn off stove and stir vigorously with a fork for at least one minute. This helps the quinoa to bind. Remove from stove, let cool down in the pan. After about 15 minutes, stir in lemon juice and rosemary.

Divide quinoa into 4 equal parts and shape into balls, placing on a plate. Press into 1 or 1½ inch thick cakes, approximately 3 to 4 inches wide, smoothing any cracks on the edges. Next, refrigerate 15 – 20 minutes to help make firm.

In a large skillet, heat grapeseed oil over medium heat. Add quinoa cakes and pan sear gently until a crust forms, trying not to handle much to avoid crumbling. The quinoa cakes can also be baked in the oven for 20 minutes at 375°F. Serve on individual plates and garnish with rosemary sprigs if desired.

Recipe Tip: Can be made ahead of time and kept up to 3 days in the refrigerator.

Makes 4 servings.


---
Watermelon Salad
The watermelon in this recipe helps benefit the heart by keeping the body hydrated and reducing stress off the heart. This is especially important during the warm, summer months. Studies have also shown that watermelon may help lower risk of heart attacks. The nutrient lycopene found in watermelon may help lower cholesterol and blood pressure as well.
Recipe Ingredients:
3 cups watermelon, cubed & chilled

½ cup feta cheese, reduced fat

8 oz. (approximately 4 cups) arugula or spring mix salad

½ small red onion, chopped

¼ cup grapeseed oil

1½ teaspoons lemon juice

¼ teaspoon sea salt (optional)

¼ teaspoon black pepper
Recipe Instructions:
On a cutting board, cut the watermelon in the middle and proceed to cut each half into approximately 1-inch slices. Next, cut the peel off each slice. Stack watermelon into 2 or 3 slices and cut into strips, then cut crosswise, making cubes. Ensure to cut about the same width to make nice, even cubes. Place in large bowl and put in refrigerator for approximately one hour.

Once chilled, add feta cheese, arugula or spring mix salad, and red onion. In a medium bowl, whisk together grapeseed oil, lemon juice, sea salt (if desired), and black pepper. Drizzle the dressing over the salad and toss gently to coat.

Makes 6 servings.
---
Spring Veggie Pasta
Leafy green vegetables are high in nutrients which may help reduce blood pressure and improve overall heart function. Studies seem to indicate that a high consumption of leafy green vegetables is also associated with a lower risk of heart problems. In addition, the garlic in this recipe helps the heart by reducing cholesterol and also lowering high blood pressure.
Recipe Ingredients:
2 tablespoons grapeseed oil

2 leeks, chopped

1-2 garlic cloves, minced

4 cups low-sodium chicken or vegetable stock

12 oz. Spaghetti

12 oz. purple sprouting broccoli, cut into 1-inch pieces

2 cups frozen peas

2 cups baby arugula

1½ teaspoon lemon juice

¼ cup fresh tarragon,chopped

Sea salt (optional), to taste

Black pepper, to taste
Recipe Instructions:
In a large skillet, over medium heat, add the grapeseed oil. Next, add leeks and garlic. Stirring often and until softened, approximately 2 minutes. Add chicken or vegetable stock and ½ cup of water. Bring to a boil over high heat. Next, add the pasta and cook while stirring often, until almost al dente, approximately 6 minutes.

Stir in the purple sprouting broccoli and peas. Cook until the pasta is al dente and vegetables are crisp-tender, approximately 5 minutes. Next, stir in the arugula. Take off the heat and add lemon juice and tarragon. Season to taste with sea salt (optional) and black pepper.

Makes 4 servings.
---
New Cookbook Preview:
Recently the following cookbook was brought to our attention "The Heart Disease Prevention Cookbook: 125 Easy Diet Recipes for a Healthier You" written by Cheryl Mussatto, MS, RD, LD and published by Callisto Media.

Cheryl Mussatto is a Registered Dietitian with more than 25 years of experience working in her profession as a dietitian. She is also the author of two other books titled, "The Nourished Brain: The Latest Science On Food's Power For Protecting The Brain From Alzheimers and Dementia" and also, "The Prediabetes Action Plan and Cookbook: A Simple Guide to Getting Healthy and Reversing Prediabetes".

Cheryl's new book is due out on June 23 and can be pre-ordered now. For more information, please visit: The Heart Disease Prevention Cookbook: 125 Easy Mediterranean Diet Recipes for a Healthier You
---
For more heart healthy recipes, please visit:
www.hearthealthyrecipes.com
---

If you have any questions or comments, please feel free to e-mail us at:

support@hearthealthyrecipes.com
---
---
Medical/Nutritional Disclaimer: Heart Healthy Recipes' Newsletter and HeartHealthyRecipes.com website offers informational service only and the information contained in this newsletter is not intended as professional nutritional or medical advice. The content in this newsletter should not be used solely during a medical emergency or for the diagnosis or treatment of any medical condition. Please consult your doctor or other qualified health care provider regarding any course of medical treatment.
---