Welcome to Heart Healthy Recipes' Newsletter.
Featured in this month's recipe collection is a homemade, mild tomato salsa. Also, enjoy summer grilling with heart-healthy, mini-salmon burgers, along with a no-sugar added strawberry applesauce recipe.
---
Homemade Tomato Salsa
Rich in the heart-healthy ingredients of garlic, onions, peppers, and tomatoes - this salsa is high in antioxidant properties as well. One of these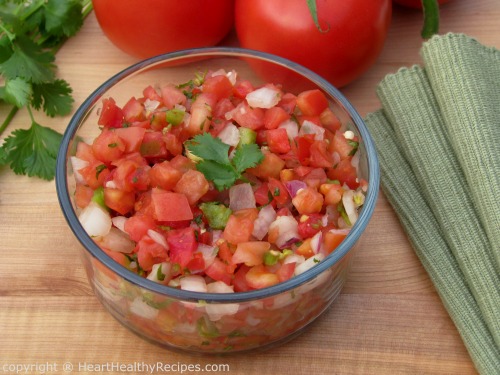 being the antioxidant nutrient of lycopene. Research has shown that the high lycopene content in tomatoes may help lower LDL (unhealthy) cholesterol and keep blood from clotting which may help lower stroke.
Recipe Ingredients:
4 medium tomatoes, diced

¼ cup fresh cilantro leaves, chopped

½ green pepper, cut into cubes or minced

1 garlic clove, minced

½ cup sweet onion, chopped

½ cup red onion, chopped

1 tablespoon lime juice

1 tablespoon grape seed oil
Recipe Instructions:
On cutting board, dice tomatoes into even cubes and add to a medium bowl. Next, chop cilantro leaves and add to bowl. Cube or mince green pepper - adding to mixture along with minced garlic and chopped onions. Add lime juice and oil, mixing gently. Transfer to serving bowl.

Makes 4-6 servings.

---
Grilled Mini-Salmon Burgers
Enjoy more summer grilling with these heart-healthy salmon burgers. Rich in omega-3 fatty acids, salmon helps the heart by reducing inflammation, blood pressure, helping regulate and stabilize heart beat rates including life-threatening arrhythmia.
Recipe Ingredients:
1½ lbs. skinless salmon, cut into cubes

½ red bell pepper, sliced

1 tablespoon ginger, peeled and grated or minced

1 garlic clove, minced

⅓ cup fresh dill, minced

1 teaspoon lemon or lime zest, grated

¼ teaspoon black pepper, ground
Recipe Instructions:
Add salmon cubes, bell pepper, ginger, garlic, dill, lemon/lime zest, and black pepper into a food processor or blender. Pulse until salmon is coarsely ground, but not puréed.

Place salmon mixture in a medium bowl and scoop out approximately ¼ cup at a time to shape twelve 3-inch patties, about ½-inch thick. Grill or place patties on a plate and cover. May be refrigerated up to four hours until ready to grill.

Heat grill to medium-high heat, approximately 375-400°F. Grill patties for 3 minutes covered, turning over and grilling 2-3 minutes more covered.

Alternate stove-top cooking method:

In a large skillet, over medium-high heat, add one tablespoon grape seed oil. Add salmon patties and cook approximately one minute on each side, until cooked through. Drain patties on paper-towels.

Mini-salmon burgers can be served over pasta and garnished with avocado, tomato and onion slices.

Makes 4 servings of 3 patties per person.
---
Strawberry Applesauce
This no-sugar added strawberry-applesauce is also heart-healthy. The soluble fiber in the apples may help lower blood cholesterol. Also, both the apples and strawberries are high in antioxidants which may further help to reduce harmful cholesterol levels.
Recipe Ingredients:
8-10 apples (4 lbs.), peeled and cored

½ cup apple juice

1 cup strawberries, fresh or thawed, puréed

1 teaspoon cinnamon (optional)
Recipe Instructions:
Peel, halve and core apples. Cut into pieces - approximately 2 inches. Place in medium-sized saucepan with apple juice. Bring to a boil, then reduce heat to medium. Simmer covered for 15 minutes or until apples are very tender.

In blender or food processor, purée strawberries. Add puréed strawberries to apples and simmer for 5 more minutes.

Crush apple-strawberry mixture with a potato masher (or similar) until chunky. Stir in cinnamon, if desired.

Serve warm or chilled. Refrigerate up to 7-10 days or place in freezer baggies and store in freezer.

For additional flavor options consider adding nutmeg, maple syrup, or allspice.

Makes 4-6 servings.
---
For more heart healthy recipes, please visit:
www.HeartHealthyRecipes.com
---

If you have any questions or comments, please feel free to e-mail us at:

support@hearthealthyrecipes.com
---
Heart Healthy Recipes On Facebook & Pinterest:
www.facebook.com/Heart.Healthy.Recipes.net
www.pinterest.com/hearthealthyrecipes
---
Medical/Nutritional Disclaimer: Heart Healthy Recipes' Newsletter and HeartHealthyRecipes.com website offers informational service only and the information contained in this newsletter is not intended as professional nutritional or medical advice. The content in this newsletter should not be used solely during a medical emergency or for the diagnosis or treatment of any medical condition. Please consult your doctor or other qualified health care provider regarding any course of medical treatment.
---