Welcome to Heart Healthy Recipes' Newsletter.
We are celebrating the start of fall this month with a simple, yet delicious apple-cinnamon smoothie, heart-warming zucchini bread and a spicy, curried cauliflower side-dish.
Also, in two of the recipes this month you will find the ingredient of date syrup. We recently have discovered all-natural date syrup and love it as a sweetener. It is so great because it has 25% less sugars than honey and it tastes wonderful!
Also, we would like to introduce you all and invite you all to our new Facebook group called Heart Healthy Weight-Loss. This group is open to everyone. Our hope is to encourage and support those who desire to lose weight, but also to help everyone maintain a healthy weight through a healthy diet. If interested, please visit us at:
https://www.facebook.com/groups/hearthealthyweightloss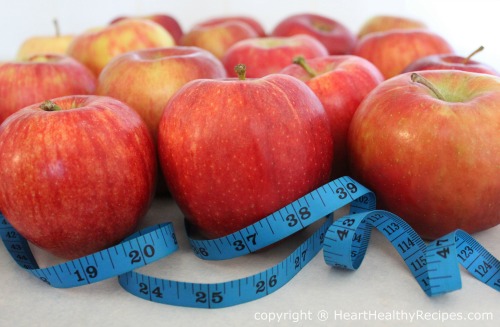 ---
Apple-Cinnamon Smoothie
A delicious, yet simple fall treat to start your morning heart-healthy! The apples in this apple-cinnamon smoothie may also help manage weight and promote weight-loss. Since apples are high in fiber and water they help a person feel fuller. Studies have shown when a person starts a meal with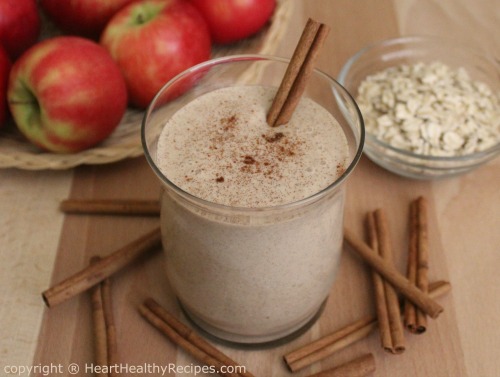 an apple, they typically eat less calories during that meal. Maintaining a healthy weight also helps take stress off the heart. The high antioxidant-rich apples have also been shown to lower cholesterol and lower blood pressure.
Recipe Ingredients:
2 medium sweet apples

1 tablespoon water (if using the stove-top method)

1½ teaspoons cinnamon, ground

2 teaspoons date or maple syrup

½ cup yogurt

⅓ cup rolled oats

¼ cup oat drink

1 teaspoon vanilla extract
Recipe Instructions:
Peel, core and chop the apples to about ½-inch chunks. Place the apple pieces in a medium sauce pan with water and simmer covered for about 10-15 minutes until softened. Or place in a microwave-safe bowl, stir and microwave for 2 minutes on high.

Once apples are softened, add the ground cinnamon and date or maple syrup. Allow the apples to cool for 15 minutes and then add the yogurt, oats, oat drink and vanilla extract.

Next, place mixture into the blender. Blend until smooth. Add more cinnamon or date-maple syrup if needed. Serve immediately, or allow to chill first, then serve. Garnish with ground cinnamon if desired.

Makes 1 serving.
---
Zucchini Bread
Heart-warming bread made with nutritious zucchini. The zucchini is rich with the heart-healthy nutrients of vitamins A, C, and B, including folate. Zucchini also contains potassium, which has been shown to help maintain, regulate and lower high blood pressure. The fiber in the zucchini may also help with weight-loss, which again, may help take strain and stress off of the heart.
Recipe Ingredients:
2 cups grated zucchini

½ cup unsweetened applesauce

½ cup date or maple syrup

1 teaspoon vanilla extract

2 cups almond flour

1½ teaspoons cinnamon

1 teaspoon baking soda

2 teaspoons baking powder

¼ teaspoon sea salt (optional)

1 cup walnuts, finely chopped (optional)
Recipe Instructions:
Preheat oven to 350°F. Lightly spread olive oil or grape seed oil on bottom and sides of a 9x5 loaf pan and set a side.

Add zucchini to a large mixing bowl, then add applesauce, date or maple syrup, and vanilla extract.

In another large mixing bowl, combine the dry ingredients of almond flour, cinnamon, baking soda, baking powder and sea salt (optional). If adding walnuts, combine now as well.

Add the flour mixture gently into the zucchini mixture and stir until thoroughly mixed. Pour mixture into prepared loaf pan and bake for 50-60 minutes. To test if baked thoroughly, poke bread with a toothpick of fork in the middle. If toothpick or fork comes out clean, bread should be done.

When bread is done baking, remove from oven and let cool for approximately 15 minutes. After cooled completely, gently cut around bread edges, then turn over, allowing bread to gently fall out. Cut into slices and serve.

Makes approximately 16 slices or servings.
---
Spicy Curried Cauliflower
Simple, yet elegant and healthy, this spicy cauliflower side-dish comes in handy for almost any occasion. The cauliflower is heart-healthy like its cousin, broccoli, both being high in fiber, which again, is excellent for weight-loss. Also, cauliflower is high in B vitamins like pantothenic acid and vitamin B-6, along with vitamin C to help the immune system and keep the heart healthy.
Recipe Ingredients:
1 head of cauliflower

2-3 garlic cloves, minced

3 tablespoons cumin

1 tablespoon coriander, ground

1 tablespoon black pepper, ground

3 tablespoons grape seed oil

Sea salt, to taste (optional)
Recipe Instructions:
Preheat oven to 375°F. Place cauliflower head on cutting board. Remove cauliflower stem and core by cutting the whole head into quarters and then angling the knife to cut out the core. Once core is remove, cut remaining cauliflower into approximately 1-2" pieces.

In a large mixing bowl, gently combine cauliflower with garlic, cumin, coriander, black pepper, and oil.

Place cauliflower pieces on a baking sheet and bake for 13-15 minutes, or until lightly browned on tops. Serve immediately.

Makes 4 servings.
---
For more heart healthy recipes, please visit:
www.pinterest.com/hearthealthyrecipes
www.facebook.com/Heart.Healthy.Recipes.net
www.HeartHealthyRecipes.com
---

If you have any questions or comments, please feel free to e-mail us at:

support@hearthealthyrecipes.com
---
Heart Healthy Recipes On Facebook & Pinterest:
www.pinterest.com/hearthealthyrecipes
www.facebook.com/Heart.Healthy.Recipes.net
www.facebook.com/groups/hearthealthyweightloss
---
Medical/Nutritional Disclaimer: Heart Healthy Recipes' Newsletter and HeartHealthyRecipes.com website offers informational service only and the information contained in this newsletter is not intended as professional nutritional or medical advice. The content in this newsletter should not be used solely during a medical emergency or for the diagnosis or treatment of any medical condition. Please consult your doctor or other qualified health care provider regarding any course of medical treatment.
---