Welcome to Heart Healthy Recipes' Newsletter.
In this month's issue we are featuring a special heart-healthy chocolate cake for Valentine's Day and also to celebrate February as Heart Health month. This chocolate cake is decorated with strawberries and drizzled with potassium-rich prune sauce. Also, this month we have a slow-cooker vegan chili recipe, perfect for a cold winter's day, along with an immune boosting apple-citrus smoothie.
Also, check out our new Facebook group called Heart Healthy Weight-Loss. This group is open to everyone. Our hope is to encourage and support those who desire to lose weight, along with helping everyone maintain a healthy weight through a heart-healthy diet.


If interested in joining our new Facebook group, please visit us at:
www.facebook.com/groups/hearthealthyweightloss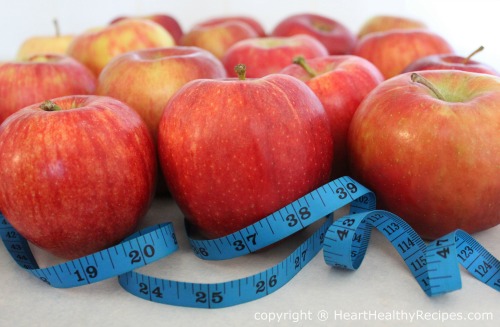 ---
Prune Sauce Chocolate Cake
The chocolate, or cocoa, in this cake is high in flavonoids, particularly if using dark chocolate.  These flavanols may help reduce the risk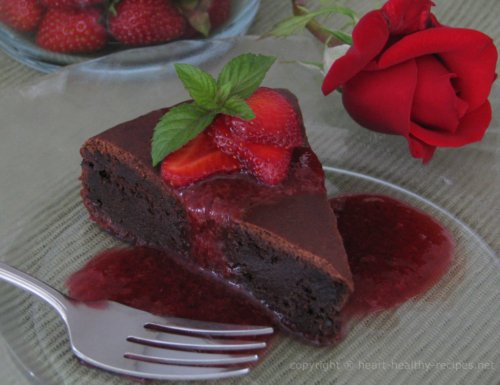 of heart disease.  Also, some studies have suggested that chocolate or cocoa consumption is associated with a lower risk of insulin resistance and may help regulate high blood pressure in adults.

Also, the potassium-rich prune sauce topping is heart-healthy, helping to regulate blood pressure and heart rhythms.
Recipe Ingredients:
2½ cups flour

½ cup unsweetened cocoa powder

1½ teaspoons baking soda

¼ teaspoon sea salt

1 cup prune sauce

½ cup honey

⅓ cup olive oil

1⅓ cups rice milk

2 teaspoons vanilla

10-15 strawberries, sliced (optional)

8 fresh mint sprigs, for garnish (optional)
Recipe Instructions:
Preheat oven to 350°F. Oil a 9-inch round cake pan. In a large mixing bowl whisk together the flour, unsweetened cocoa powder, baking soda, and sea salt.

In a separate bowl, mix together prune sauce, honey, olive oil, rice milk, and vanilla. Pour the wet ingredients into the dry and mix with electric mixer.

Pour batter into prepared pan. Place pan on the center rack in the oven and bake for approximately 40-50 minutes - watching the baking time closely.

Cool for about 10 minutes in the pan, then run a knife around the edge of the pan and flip cake onto a wire rack to cool.

Drizzle extra prune sauce on top of each serving. For added attractiveness and taste, slice several strawberries on to each serving slice, adding mint sprig on top. Serve warm or at room temperature.

Makes 8 servings.


---
Slow-Cooker Vegan Chili
Loaded with heart-healthy ingredients, this low-calorie, vegan chili is easy to fix and comforting on a cold winter's day. The recipe is fairly simple and the ingredients can be added or deleted as desired.
Recipe Ingredients:
2 onions, diced

4 garlic cloves, minced

2 large carrots, peeled and diced

1 zucchini, chopped

1 yellow squash, chopped

1 red bell pepper, chopped

1 yellow or orange bell pepper, chopped

1 can (4 ounces) diced green chiles

2 cans (14.5 ounces) diced tomatoes, with juice

1 can (14-15 ounces) sweet corn, drained or 1 cup frozen corn kernels, thawed

1 can (14-15 ounces) pinto beans

1 can (15.5 ounces) kidney beans, drained and rinsed

1 can (15 ounces) black beans, drained and rinsed

1 can (15 ounces) garbanzo beans, drained and rinsed

2 cans (6 ounces) tomato paste

1 can (8 ounces) tomato sauce

4 tablespoons chili powder

1 tablespoon cumin

1 tablespoon oregano

1 tablespoon dried parsley

1 teaspoon coriander

1 teaspoon garlic powder

½ teaspoon cayenne pepper

2 cups water or vegetable broth

½ teaspoon ground black pepper

sea salt, to taste
Recipe Instructions:
Place all prepared, chopped or diced ingredients into a 4-6 quart slow-cooker and stir ingredients well. Set slow-cooker on high for 3-4 hours, or low for 5-7 hours.

Serve over sweet potatoes if desired.

Optional Toppings: Serve with avocado, homemade low-fat sour cream and/or sliced jalapeños.

Makes 10-12 servings.
---
Apple-Citrus Smoothies
Help boost your immune system with this heart-healthy smoothie. Both the apples and oranges are high in fiber which may help lower cholesterol. Apples also contain polyphenols, helping to lower blood pressure. The potassium-rich oranges help to regulate and reduce blood pressure as well.
Recipe Ingredients:
2 apples, sliced and cored

2 oranges, peeled

¼ cup orange juice

¼ cup water or rice milk

1 banana, peeled
Recipe Instructions:
Wash, slice and core apples, throwing the seeds and core away. Add to blender. Next, peel oranges and add to blender, along with orange juice and water or rice milk. Peel banana and add to blender. Blend for 1 minute or until smooth.

Tip: Honey Crisp, Fuji, or Gala apples work great for this recipe because they are very sweet.

Makes 2 servings.
---
For more heart healthy recipes, please visit:
www.pinterest.com/hearthealthyrecipes
www.facebook.com/Heart.Healthy.Recipes.net
www.facebook.com/groups/hearthealthyweightloss
www.HeartHealthyRecipes.com
---
FREE Heart-Healthy Supplements
For a limited time, we have FREE heart-healthy nutritional vitamin and mineral supplement samples available.
To request FREE samples, please e-mail us:
support@HeartHealthyRecipes.com
---
Also, if you have any questions or comments, please send us an e-mail at:

support@hearthealthyrecipes.com
---
---
Medical/Nutritional Disclaimer: Heart Healthy Recipes' Newsletter and HeartHealthyRecipes.com website offers informational service only and the information contained in this newsletter is not intended as professional nutritional or medical advice. The content in this newsletter should not be used solely during a medical emergency or for the diagnosis or treatment of any medical condition. Please consult your doctor or other qualified health care provider regarding any course of medical treatment.
---