Welcome to Heart Healthy Recipes' June Newsletter.
This month we are featuring a strawberry salad mixed with baby greens, spicy beetroot hummus, and a basic grilled chicken recipe with lemon.

---
Strawberry Mixed Green Salad
Summer strawberries in a bed of mixed greens is refreshing and great treat with almost any meal or alone. Also, the antioxidant-rich strawberries help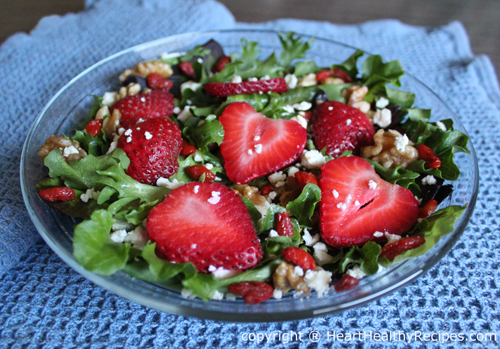 benefit and protect the heart with an abundant supply of vitamin C, fiber, and more. Strawberries help increase HDL (good) cholesterol and assist in lowering blood pressure. Walnuts, goji berries and salad greens also help protect the heart and entire body.

Recipe Ingredients:
6 cups (8 oz.) mixed salad greens or baby spinach

2 cups strawberries, sliced or quartered

4 oz. Feta cheese

½ cup walnuts, chopped

½ cup dried goji berries

Recipe Instructions:
Place equal amounts of salad greens on six individual plates or bowls. Next, add strawberries - saving a few to garnish. Add cheese, walnuts, and goji berries. Mixing lightly. Add remaining strawberries for garnish.

For salad dressing, top with avocado oil mixed with a bit of lemon juice or try our honey poppy seed dressing.

Makes 6 servings.
---
Spicy Beetroot Hummus
Celebrate summer with this heart-healthy beetroot hummus recipe!

Beetroots are considered a super-food loaded with nutrients including fiber, folate (vitamin B9), manganese, potassium, iron, and vitamin C. In addition, beetroots may help lower blood pressure and improved blood flow.
Recipe Ingredients:
1 can chickpeas, drained

¼ cup tahini

1 medium-sized beetroot, pre-cooked, peeled and chopped

⅓ cup lemon or lime juice

2 garlic cloves, chopped

1 teaspoon cumin, or to taste

1 teaspoon paprika, or to taste

1 teaspoon cayenne pepper, or to taste

sea salt, to taste (optional)

⅓ cup olive or grapeseed oil

paprika, for garnish if desired
Recipe Instructions:
In a food processor or a blender combine the chickpeas, tahini, beetroot, lemon or lime juice, garlic, cumin, paprika, cayenne pepper and sea salt (optional). Slowly drizzle in the oil while blending until smooth.

Place in bowl to serve adding swirls of oil. Sprinkle with paprika, if desired and other optional toppings such as chopped parsley, fresh chopped green onions, chives, rosemary, dill, thinly sliced radishes and/or pine nuts. Recipe Tips: Add a bit of water, approximately one tablespoon, if necessary, to help blend easier. Also, to avoid cooking in the hot summer heat, may add beet powder instead of cooked beetroot.

Makes 6 servings.
---
Lemon-Grilled Chicken
Enjoy summer grilling with this basic, low-fat chicken recipe. Chicken can be beneficial to weight-loss due to the high protein content. Maintaining a healthy weight can also benefit the heart by putting less stress on it and the rest of one's body.
Recipe Ingredients:
8 - 6-oz. skinless, boneless chicken pieces

¼ cup fresh lemon juice

3 tablespoons olive or grapeseed oil

3 garlic cloves, minced

½ teaspoon freshly ground black pepper

sea salt, to taste (optional)

Recipe Instructions:
Prepare grill to medium-high heat. Next, in a large bowl place chicken, lemon juice, oil, and garlic. Cover bowl and marinate in refrigerator for approximately 30 minutes, turning occasionally.

After marinating is finished, take out of refrigerator and remove the marinade liquid. Season chicken with black pepper and sea salt (optional).

Place chicken on grill for approximately 5-7 minutes, then turn over and allow to heat for another 5-7 minutes until done. Ensure that the internal temperature of the chicken reaches at least 165°F.

Makes 8 servings.
---
Heart Healthy Weight-Loss Facebook Group:
If interested in joining our Heart Healthy Weight-Loss Facebook group, please visit us at:

www.facebook.com/groups/hearthealthyweightloss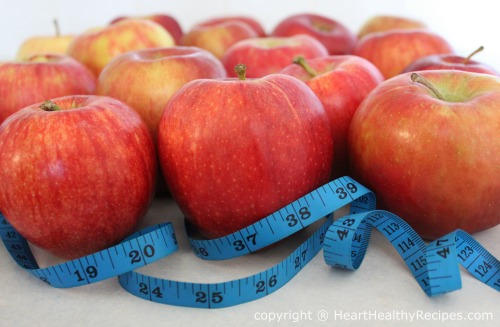 ---
For more heart healthy recipes, please visit:
www.pinterest.com/hearthealthyrecipes www.facebook.com/Heart.Healthy.Recipes.net www.facebook.com/groups/hearthealthyweightloss www.HeartHealthyRecipes.com



---

Check out this non-profit organization that delivers hope to suffering children and families around the world by clicking on the following link:

Children's Hunger Fund


---
---
Also, if you have any questions or comments, please send us an e-mail at:


support@HeartHealthyRecipes.com



---
---
Medical/Nutritional Disclaimer: Heart Healthy Recipes' Newsletter and HeartHealthyRecipes.com website offers informational service only and the information contained in this newsletter is not intended as professional nutritional or medical advice. The content in this newsletter should not be used solely during a medical emergency or for the diagnosis or treatment of any medical condition. Please consult your doctor or other qualified health care provider regarding any course of medical treatment.
---