Welcome to Heart Healthy Recipes' Newsletter!
This month's heart-healthy newsletter features a no-bake Valentine's Day treat consisting of only three healthy ingredients. Also, two heart-healthy, low-fat, low-sodium snacks for game day or any occasion.
---
No-Bake Valentine's Day Treat
Vegan, gluten-free treats made from dates, cocoa and walnuts. The heart-healthy walnuts may help maintain healthy cholesterol levels, while also helping lower blood pressure. In addition, walnuts are a rich source of heart-healthy, plant-based omega-3 fatty acids.
Recipe Ingredients:
1½ cup walnuts, chopped

7-9 Medjool dates

½ cup cocoa powder, unsweetened
Recipe Instructions:
In a high-powered blender or food processor, blend walnuts. In a medium bowl, place the walnuts. Add pitted dates and mix together. Next, add the cocoa. Shape into heart-shaped molds, if desired. May also roll into round balls, if not using a mold.

Makes approximately 12 treats.
---
Zucchini Pizza Snacks
Vegan, heart-healthy zucchini pizza snacks, great for game day or anytime needing a healthy snack to entertain guests.

Recipe Ingredients:
2 medium to large zucchini

¼ cup low-sodium vegetable broth

1 medium onion, chopped

1 medium to large bell pepper, chopped

2½ cups (8 oz.) mushrooms (button or Shiitake), sliced

2 garlic cloves, minced

black pepper, to taste

sea salt, to taste (optional)

1 cup tomato sauce

½ cup olives, chopped

1 cup vegan mozzarella cheese, shredded

¼ cup fresh basil, finely sliced
Recipe Instructions:
Slice the zucchini into ½-inch round slices and place on baking sheeting lined with parchment paper, one slice deep. Sprinkle lightly with sea salt. Allow to sit for approximately 10 minutes to help draw the excess moisture out. Blot with a paper towel.

Next, over medium heat, in a medium to large pan, sauté zucchini slices in the vegetable broth approximately 3 minutes on each side. Then, place the zucchini back on the parchment-lined baking sheet. Set oven to broil on high. Sauté onions, bell pepper, and mushrooms in pan until soft. Add garlic, black pepper, sea salt (optional), sautéing for approximately 3 minutes.

On top of each zucchini slice place approximately one teaspoon tomato sauce. Next, add sautéed veggies and chopped olives. Lightly sprinkle shredded vegan cheese over each slice.

Place baking tray in oven for 1-2 minutes. Remove zucchini from oven and allow to cool for several minutes. While zucchini is cooling, finely slice or chiffonade basil and garnish each zucchini slice.

Makes approximately 24 pizza snacks.

---
Air Fryer Chicken Wings
Low-fat, low-sodium, heart-healthy air fryer chicken wings seasoned with lemon and black pepper. Great for entertaining or any occasion.
Recipe Ingredients:
2 lbs. (24 pieces) chicken wings

1 tablespoon olive or grape seed oil

2 tablespoons lemon juice

black pepper, to taste
Recipe Instructions:
Preheat air fryer to 375°F. Trim any excess fat off chicken wings and place in a large bowl. Drizzle with oil, coating evenly. Add lemon juice and black pepper, continuing to coat chicken.

Place chicken wings in preheated air fryer. Air fry for 20-25 minutes, until chicken is golden brown. Shake the air fryer basket every 7-10 minutes. Serve with favorite, healthy sauce.

Makes approximately 24 chicken wings.
---
Heart Healthy Weight-Loss Facebook Group:
If interested in joining our Heart Healthy Weight-Loss Facebook group, please visit us at:

www.facebook.com/groups/hearthealthyweightloss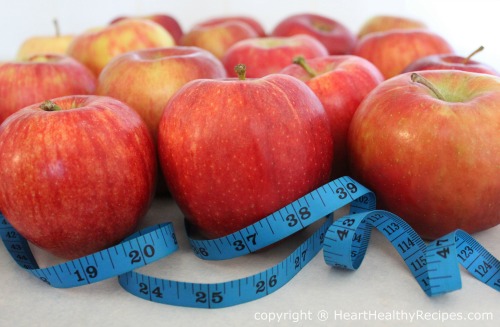 ---
For more heart healthy recipes, please visit:
www.pinterest.com/hearthealthyrecipes www.facebook.com/Heart.Healthy.Recipes.net www.facebook.com/groups/hearthealthyweightloss www.HeartHealthyRecipes.com



---

Check out this non-profit organization that delivers hope to suffering children and families around the world by clicking on the following link:

Children's Hunger Fund


---
Receive 15% Discount:



Receive a 15% discount on all products from www.HomeHavenDecor.com including kitchen items such as mixers, blenders and more. To receive the 15% discount, please add the code of NEWSLETTER15 at checkout.


---
Also, if you have any questions or comments, please send us an e-mail at:


support@HeartHealthyRecipes.com



---
Medical/Nutritional Disclaimer: Heart Healthy Recipes' Newsletter and HeartHealthyRecipes.com website offers informational service only and the information contained in this newsletter is not intended as professional nutritional or medical advice. The content in this newsletter should not be used solely during a medical emergency or for the diagnosis or treatment of any medical condition. Please consult your doctor or other qualified health care provider regarding any course of medical treatment.
---