Welcome to Heart Healthy Recipes' Newsletter. In this month's issue we are featuring a simple ingredient, heart-healthy corn soup. Also, a blood pressure lowering - cool and refreshing watermelon salad, along with a grilled salmon recipe, perfect for parties and picnics.
---
Black Pepper Corn Soup
Celebrate fall and the corn harvest with this heart-healthy soup containing zero added oils or fats. The fresh ingredient of corn make this simple soup heart-healthy with minerals and vitamins like blood pressure lowering potassium. Also, a recent study at Cornell University reveals that cooking corn unleashes beneficial nutrients including carotenoids that can significantly reduce heart disease. When corn is cooked the antioxidants increase by about 53 percent. Also, corn has very high levels of ferulic acid, which is increased and released after cooking. A study published in the "American Journal of Hypertension" observed that ferulic acid may help lower blood pressure by promoting widening of the blood vessels. In addition, ferulic acid has shown to improve the structure and function of the heart and blood vessels.

Recipe Ingredients:
8 cups fresh corn kernels

6 cups water

sea salt and black pepper, to taste

chives, several chopped
Recipe Instructions:
In large saucepan, bring water to boil and add corn. Continue to boil for one more minute, then lower heat and simmer covered for about 20 minutes or until corn is tender. Place corn in blender and blend until smooth consistency. Next, strain corn through a medium-mesh sieve into a clean saucepan. Reheat soup on low heat. Serve in individual bowls with light seasoning of sea salt and black pepper to taste, garnishing with fresh chives.

Makes 6 servings.
---
Watermelon Salad
Enjoy the abundance of summer's refreshing watermelon in this heart-healthy salad. Watermelon has been shown to assist in lowering blood pressure by being a good source of vitamin C and lycopene. Also, research published in the "American Journal of Hypertension" shows that patients with prehypertension who added watermelon to their diet significantly reduced their blood pressure. In addition, the berries and honey dressing in this recipe have numerous heart-health benefits including lowering blood pressure and increasing the levels of good cholesterol.
Recipe Ingredients:
½ red watermelon (approximately 6 lbs.)

½ yellow watermelon (approximately 6 lbs.)

3 cups honeydew melon, cubed

2 cups fresh strawberries, sliced

2 cups fresh blueberries

1 cup honey poppy seed dressing - https://www.hearthealthyrecipes.com/honeypoppyseeddressing.html

1 tablespoon fresh mint, chopped

fresh mint sprigs, for garnish
Recipe Instructions:
In a large bowl, after carefully cutting watermelons in half, scoop watermelon into various sized balls. Cut honeydew melon in approximately ¾" cubes and add to bowl. Slice strawberries in quarters and add to bowl, along with blueberries. In small to medium bowl, prepare poppy seed dressing according to recipe. See following for recipe: https://www.hearthealthyrecipes.com/honeypoppyseeddressing.html. Pour dressing over fruit in large bowl, stirring gently to coat. Add fresh, chopped mint. Cover and chill one to two hours in refrigerator. Garnish with mint sprigs if desired.

Makes 10-12 servings.
---
Grilled Tomato Salmon
Grilling season is here with heart-healthy salmon. The protein-rich fish is abundant in heart-healthy omega-3 fatty acids, helping reduce inflammation, lower risk of heart disease, and lowering triglycerides. Salmon also assists in maintaining a healthy range of blood pressure. The tomatoes and garlic in this recipe also provide many health benefits including regulating blood pressure. While the herb parsley contains a large amount of vitamins, including folic acid, which helps prevent thickening of the artery walls.

Recipe Ingredients:
1 cup parsley, finely chopped

½ cup sun-dried tomato vinaigrette dressing or similar

¼ cup sun-dried tomatoes

2 cloves garlic, minced

2 lbs. salmon fillet (1" thick)
Recipe Instructions:
In medium sized bowl, mix chopped parsley, vinaigrette dressing, sun-dried tomatoes and minced garlic cloves. Then refrigerate for one hour or overnight to blend flavors. Cut 4 to 5 slits into salmon fillets, being careful not to cut all the way through. Place a piece of foil on grill surface. Set salmon on foil over medium-hot coals. Cover grill for 10 to 15 minutes or until salmon begins to have a milky appearance. Spoon parsley mixture into slits in salmon; top with remaining parsley mixture. Grill, covered, an addition 10 minutes or until salmon is cooked through.

Makes 8 servings.
---
For more heart-healthy recipes, please visit:
https://www.hearthealthyrecipes.com
---
Nutritional Supplements: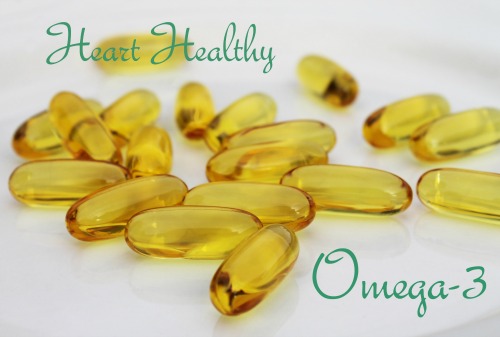 Omega-3 Supplementation:
Research published in the June 2012 edition of the "British Journal of Nutrition" confirms that omega-3 supplementation reduced blood pressure among older patients and those with hypertension.


---
If considering supplements - please reference the following link:
https://www.hearthealthyrecipes.com/HealingSupplements.html
---
---
---
Medical/Nutritional Disclaimer: Heart-Healthy-Recipes' Newsletter and Heart-Healthy-Recipes.net website offers informational service only and the information contained in this newsletter is not intended as professional nutritional or medical advice. The content in this newsletter should not be used solely during a medical emergency or for the diagnosis or treatment of any medical condition. Please consult your doctor or other qualified health care provider regarding any course of medical treatment.
---