Welcome to Heart Healthy Recipes' Newsletter. In this month's issue we are featuring a curried sweet potato chowder, roasted banana-walnut bread and a heart-healthy veggie pizza recipe.
---
Curried Sweet Potato Chowder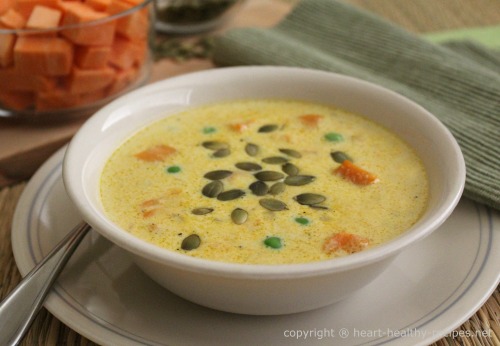 Hearty, warm chowder soup with fall harvest ingredients of sweet potatoes, shallots and pumpkin seeds. Curry is great for combating inflammation and sweet potatoes are a super anti-oxidant rich food, both helping to promote good heart health. Enjoy this chowder that's ready in 30 minutes.

Recipe Ingredients:
2 teaspoons grape seed oil

½ cup minced shallot

2 cups sweet potatoes, peeled and cubed

½ teaspoon curry powder

1 tablespoon flour

1 ½ cups fat-free milk

½ cup fat-free half-and-half 1 cup green peas, frozen

4 teaspoons pumpkin seeds, curried or plain
Recipe Instructions:
In a saucepan heat grape seed oil. Add shallot and sweet potatoes. Cook and stir over medium heat 2 minutes. Sprinkle in curry powder and stir 30 seconds. Next stir in flour and gradually add milk until smooth. Add half-and-half and peas. Salt and pepper to taste. Cover and simmer 15 minutes or until potatoes are tender. Add chowder into four bowls. Sprinkle one teaspoon curried pumpkin seeds on each. Great with warm bread.

Makes 4 servings.
---
Roasted Banana-Walnut Bread
Enjoy the warmth and aroma of this wonderfully delicious, moist banana bread. This banana-walnut bread is full of heart healthy ingredients including cinnamon, flaxseed, oats and walnuts. Also contains less unhealthy fats than most breads.
Recipe Ingredients:
3 cups sliced bananas

2 teaspoons butter, organic

1 tablespoon turbinado or raw sugar

¼ teaspoon ground cinnamon

⅓ cup rolled oats

½ cup reduced-fat buttermilk

1 ½ cups whole-wheat pastry flour

¼ cup ground flaxseed

½ teaspoon baking soda

½ teaspoon salt

½ cup honey

¼ cup grape seed oil

½ cup yogurt

½ teaspoon vanilla extract

¼ cup chopped walnuts
Recipe Instructions:
Preheat oven to 425°F. Place bananas on parchment-lined baking sheet. Cut the butter into small pieces and dot over bananas. Combine sugar and cinnamon in a cup. Sprinkle mixture over bananas and roast for 20 minutes. Scrape bananas into a bowl; mash with a fork.

Reduce oven temperature to 350°F. Combine oats and buttermilk in a small bowl; let stand 15 minutes.

Combine flour, flaxseed, baking soda, and salt, stirring with a whisk. Place honey and oil in a large bowl and blend well. Add roasted bananas, buttermilk-oat mixture, yogurt and vanilla. Add flour mixture; stir until blended. Spoon batter into 9x5-inch nonstick loaf pan, coated with teaspoon grape seed oil. Sprinkle walnuts evenly over top and bake at 350°F for 45-55 minutes or until a fork inserted in center comes out clean.

Cool 10 minutes in pan on a wire rack; remove from pan. Then Cool completely on wire rack.

Makes 12 slices.
---
Heart-Healthy Veggie Pizza
All the vegetables in this recipe are great for the heart in one way or another. For more information on some of these healthy ingredients, please visit the rest of our website: www.hearthealthyrecipes.com

Recipe Ingredients:
1 pizza shell, or make pizza dough (for recipe visit: www.hearthealthyrecipes.com/pizza)

½ cup low-fat spaghetti sauce

2 tablespoons grape seed oil

½ cup thinly sliced zucchini

½ cup thinly sliced yellow squash

½ cup thinly sliced red onion

½ cup thinly sliced shiitake or white mushrooms

½ cup broccoli florets

½ cup thinly sliced sweet red pepper

½ cup shredded part-skim mozzarella cheese

2 teaspoons grated Romano cheese
Recipe Instructions:
Spread the spaghetti sauce on the pizza shell. Set aside. Next in a medium skillet add oil. Add the vegetables and sauté over medium heat until tender-crisp. Arrange on the pizza shell; top with the cheeses. Then bake at 400°F for 4 to 5 minutes or until hot and bubbling. Let stand 5 minutes before cutting.

Makes 6 servings.
---
For more heart-healthy recipes, please visit:
www.hearthealthyrecipes.com
---
Nutritional Supplements: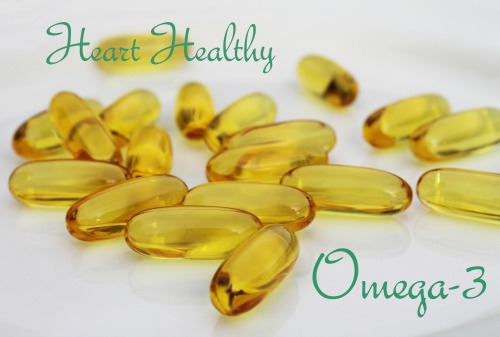 Omega-3 Supplementation:
Research published in the June 2012 edition of the "British Journal of Nutrition" confirms that omega-3 supplementation reduced blood pressure and hypertension.


---
If considering supplements - please reference the following link:
www.hearthealthyrecipes.com/HeartHealthyOils.html
---
---
---
Medical/Nutritional Disclaimer: Heart-Healthy-Recipes' Newsletter and Heart-Healthy-Recipes.net website offers informational service only and the information contained in this newsletter is not intended as professional nutritional or medical advice. The content in this newsletter should not be used solely during a medical emergency or for the diagnosis or treatment of any medical condition. Please consult your doctor or other qualified health care provider regarding any course of medical treatment.
---