Sweet Potato Chowder
Creamy low-fat, anti-oxidant rich sweet potato chowder flavored with aromatic curry spice is ready in 30 minutes.  This delicious,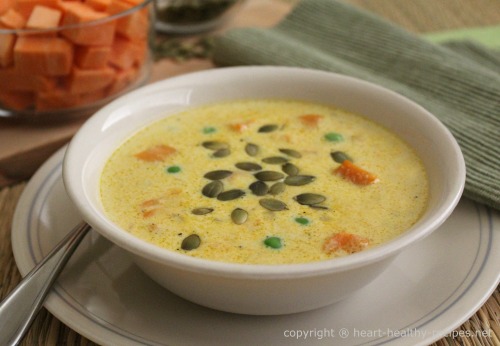 low-calorie chowder is heart-healthy with the anti-inflammatory properties of the colorful sweet potatoes and curry spice.  Sweet potatoes contain anthocyanins and choline which help prevent and reduce chronic inflammation in the body.  Chronic inflammation has been linked to many diseases including heart disease.  Also, the high levels of polyphenols in the sweet potatoes provide antioxidant properties that may help reduce the risk of cardiovascular disease.  Sweet potatoes are also high in dietary fibers which have been linked to the reduction of heart disease.  The sweet potato and the shallots also supply an abundant amount of potassium which helps regulate blood pressure, heart rhythms and reduces cholesterol, all contributing to a healthy heart. 
Another heart-healthy ingredient in this sweet potato chowder is the curry powder spice.  The antioxidant properties of the curry spice have been shown to boost blood flow and improve blood vessel function, possibly decreasing heart disease risk.  Also, curry mixtures may contain powerful anti-inflammatory ingredients of spices like turmeric, coriander and chili pepper providing anti-inflammatory benefits to help reduce heart disease.
Consuming green peas, another heart-healthy ingredient in this sweet potato chowder, may be helpful for preventing high blood pressure.  Green peas contain essential minerals of magnesium, potassium and calcium, which studies have shown to help lower and regulate blood pressure as well.
Sweet Potato Chowder - Recipe Ingredients:
2 teaspoons grape seed oil 
½ cup minced shallot 
2 cups sweet potatoes, peeled & cubed (approximately ½" each) 
½ teaspoon curry powder 
1 tablespoon flour 
1½ cups fat-free milk 
½ cup fat-free half-and-half 
1 cup green peas, frozen 
pumpkin seeds, curried or plain, for garnish (if desired)

Sweet Potato Chowder - 

Recipe Instructions:



In a saucepan heat grape seed oil.  Add shallot and sweet potatoes.  Cook and stir over medium heat 2 minutes.  Sprinkle in curry powder and stir 30 seconds.  Next, stir in flour and gradually add milk until smooth.  Add half-and-half and peas.  Salt and pepper to taste.  Cover and simmer 15 minutes or until potatoes are tender.  Transfer chowder soup into four bowls.  Sprinkle with pumpkin seeds on each and serve.

Makes 4 servings.

For MORE recipes and heart health information, please subscribe to heart healthy recipes' FREE newsletter below:
Receive 15% Discount & Free Shipping:

Receive a 15% discount on all products including kitchen items such as mixers, blenders, cookware sets, food processors, and more from

HomeHavenDecor.com

.  For the 15% discount, along with free shipping, please enter HEALTHY15 upon checkout.
---
Medical/Nutritional Disclaimer: HeartHealthyRecipes.com website offers informational service only and the information contained in this website is not intended as professional nutritional or medical advice. The content in this website should not be used solely during a medical emergency or for the diagnosis or treatment of any medical condition. Please consult your doctor or other qualified health care provider regarding any course of medical treatment.

---