Heart Healthy Diet
Heart Healthy Recipes for Heart Healthy Living 
Heart Healthy Recipes wants to help promote a heart healthy diet which contributes to overall healthy living.  When people eat too much or eat foods high in fat, there is an increase of heart disease, along with cancer and stroke, the leading causes of death in the United States.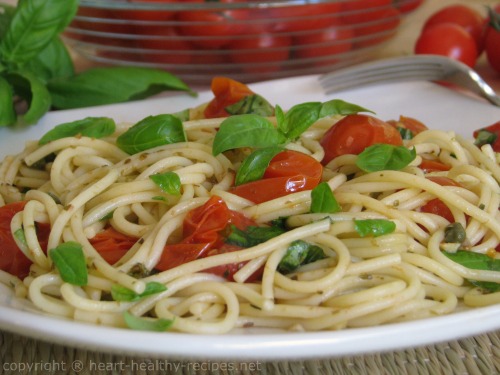 A heart healthy, low-fat, low-cholesterol, high-fiber eating style will not guarantee the development of cardiovascular disease or cancer, but it most certainly puts the odds in favor of not developing these diseases.
Heart Healthy Recipes offers healthy, quick ideas and easy menu planning including a 7-Day Menu Plan.  The goal of this menu is to build a heart healthy diet involving a wide range and variety of food choices for a healthier life.
Nine Heart Healthy Diet Tips to Prevent Heart Disease:
1. Control portion sizes
2. Eat more vegetable and fruits
3. Select Whole Grains
4. Limit Unhealthy Fats and Cholesterol
5. Choose Low-fat Protein Sources, such as fish and chicken
6. Reduce Sodium in your food
7. Plan ahead by creating daily menus
8. Allow yourself an occasional treat
9. Drink plenty of water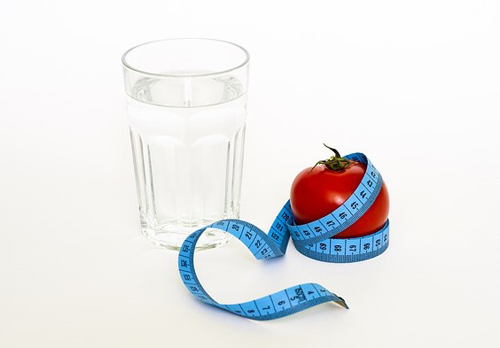 Follow a Heart Healthy Diet:
Eating a nutritious diet is a proven way to reduce the risk for heart disease.  These are the elements of a heart healthy diet and amounts listed are for adults:
- Eat at least 5 servings of fruit and vegetables per day.  Servings of vegetables could include 1 cup (20 g) of raw leafy greens, ½ cup (100 g) of cooked vegetables, or 6 oz. (180 ml) of vegetable juice.  Servings of fruits could include 6 oz. (180 ml) of fruit juice, 1 medium fruit, or ½ cup (100-200 g) of fresh, frozen, or canned fruit. 
- Limit saturated and trans-fats by using olive oil, grapeseed oil, or other vegetable oils instead of butter or margarine.  A tablespoon (14 g) of low-fat mayonnaise is another good substitute for butter or margarine.
-  Eat more chicken and fish and less red meat.  Meats, poultry, and fish: 2 servings or less, such as 3 oz. (50 g) of cooked meats, poultry, or fish. 
- Choose whole-grain bread and cereal whenever possible.  Grains and grain products: 7 to 8 servings, such as 1 slice of bread or ½ cup (82 g) of cooked Rice. 
- Limit or eliminate fast foods, which are often loaded with salt, sugar and fats.
- If you drink alcohol, do so moderately.  That means no more than two drinks a day if you're a man, one if you're a woman.
-  Limit your salt/sodium intake to 1,500mg per day.  The American Heart Association reduced its previous sodium intake recommendations and identified 1,500 mg of sodium per day as the target intake for all Americans.
- Get the equivalent of 3 cups of fat-free or low-fat milk or dairy products every day.  Servings suggested are 2 to 3 servings, such as 8 oz. (235 ml) of milk, 1 cup (245 g) of yogurt, or 1.5 oz. (28-42 g) of cheese.
-  Nuts, seeds, and dry beans: 4 to 5 servings per week, such as 1/3 cup (45 g) of nuts; 2 tablespoon (17 g) of seeds, or ½ cup (125 g) of cooked dry beans or peas.
-  Drinking plenty of water is very important for overall health.  It is recommended that the average adult has eight 8-ounce glasses of fluid a day.
Click here for a SAMPLE MENU - 7-Day Week Plan
Receive 15% Discount & Free Shipping:

Receive a 15% discount on all products including kitchen items such as mixers, blenders, cookware sets, food processors, and more from

HomeHavenDecor.com

.  For the 15% discount, along with free shipping, please enter HEALTHY15 upon checkout.
---
For more recipes and heart health information, please subscribe to heart healthy recipes' FREE newsletter below:

---
Medical/Nutritional Disclaimer:
HeartHealthyRecipes.com website offers informational service only and the information contained in this website is not intended as professional nutritional or medical advice.  The content in this website should not be used solely during a medical emergency or for the diagnosis or treatment of any medical condition.  Please consult your doctor or other qualified health care provider regarding any course of medical treatment.
---