Mediterranean Diet
The Mediterranean diet is one of the most heart-healthy ways of eating.  The diet is healthy because it is abundant in plant-based anti-inflammatory foods and heart-healthy fats such as olive oil.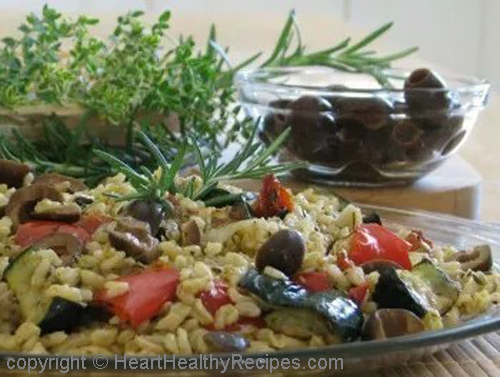 The Mediterranean diet originates from regions around southern Italy, Greece, Turkey and Spain. The diet emphasizes large amounts of whole, unprocessed produce, fish, whole grains and healthy fats - including olive oil, nuts and avocados.  The countries practicing this heart-healthy way of eating, encourage cooking and enjoying meals with family and friends, while sharing a glass of red wine after dinner.
The ancient diet has a reputation for being one of the healthiest diets supporting health and longevity, especially for the heart.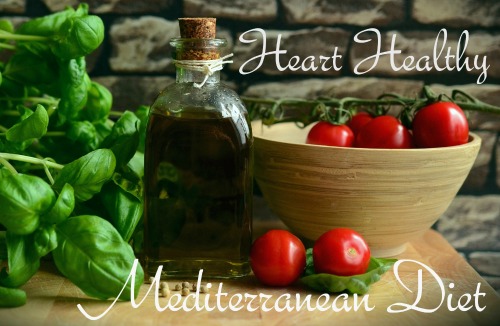 The Importance of Heart-Healthy Olive Oil:
One of the stars of this heart-healthy way of eating and lifestyle is the olive and its oil.  Since ancient times the olive seems to be a sign of life and prosperity.  Olive trees have been growing around the Mediterranean region since about 3,000 B.C. Benefits of the Mediterranean diet are attributed to reasonable amounts of olive oil included in almost every meal. Like salmon and walnuts, olive oil is a food containing Omega-3 fatty acids, an elite category of healthy fats.

Research shows that greater adherence to the traditional Mediterranean diet, including plenty of monounsaturated fats and omega-3 foods, is associated with a significant reduction in all-cause mortality, especially heart disease. A striking protective effect of a Mediterranean diet rich in alpha-linolenic acid (ALA) from olive oil has been shown in many studies, with some finding that a Mediterranean-style diet can decrease the risk of cardiac death by 30 percent and sudden cardiac death by 45 percent.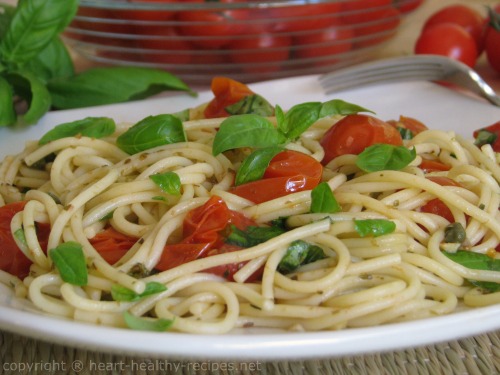 Mediterranean Diet Recipes to Get Started:
Appetizers:  Tomato Eggplant Appetizer, Stuffed Mediterranean Bell Peppers

Soups:  Hearty Lentil Soup, Tomato Leek Soup

Salads:  Greek salad, Spinach Tomato Salad, Tomato Zucchini Couscous

Dressings:  Honey Poppy-Seed Dressing

Pastas:  Tomato Basil Pasta, Veggie Pasta

Beans & Legumes:  Vegetarian Chili

Vegetables:  Broccoli with Pine Nuts

Rice & Grains:  Roasted Vegetable Rice Pilaf

Breads:  Olive-Basil Focaccia Bread, Olive Onion Tomato Pizza

Desserts:  Blueberry Lemon Cheesecake

Beverages:  Tropical Mango Smoothie

---
For MORE recipes and heart health information, please subscribe to heart healthy recipes' FREE Monthly newsletter below:
---
Heart-Healthy, Nutritional Supplements:  
Heart-healthy supplements are a way to ensure a person is receiving the proper amounts of nutrition and to help maintain a healthy heart.  It is important to consider a high quality nutritional supplement and we recommend USANA supplements.  USANA uses the highest quality ingredients and standards possible when formulating their supplements (click here to watch video on USANA quality). 
USANA is the only supplement to include Olivol®, an extract of olives, containing high amounts of antioxidants only found in the olive fruit, part of the Mediterranean diet.  Olive fruit extract is rich in hydroxytyrosol and verbascoside. A study from Spain showed that hydroxytyrosol may be effective at reducing levels of oxidized LDL cholesterol. Oxidized LDL is a major player in promoting atherosclerosis (the build-up of fatty plaques in arteries) and general cardiovascular disease. 
Many dietary antioxidants such as vitamin C, vitamin E, bioflavonoids, carotenoids, and proanthocyanidins are present and numerous in many dietary sources. But unlike these readily available antioxidants, the phenolic and hydroxytyrosol antioxidants concentrated in Olivol®, the USANA patented extract, are found only in olive fruit. Because olives provide the only dietary sources of these powerful antioxidants, the benefits of olive fruit and olive oil consumption are extensive.

For more information on USANA Vita-Antioxidant™ Essentials containing Olivol®, Click Here.  To ensure you are receiving an adequate amount of heart-healthy olive oil benefits to protect and strengthen your heart, consider Olivol® - The Heart of the Olive®.
As a USANA Associate, we may earn a commission on purchases. Though, this will not affect your final price.
---
Receive 15% Discount & Free Shipping:

Receive a 15% discount on all products including kitchen items such as mixers, blenders, cookware sets, food processors, and more from

HomeHavenDecor.com

.  For the 15% discount, along with free shipping, please enter HEALTHY15 upon checkout.
---
Heart Healthy Weight-Loss
We would like to invite you to join our Heart Healthy Weight-Loss Support Group.  You are welcome to join us for support with weight-loss and heart health issues by visiting:
https://www.facebook.com/groups/hearthealthyweightloss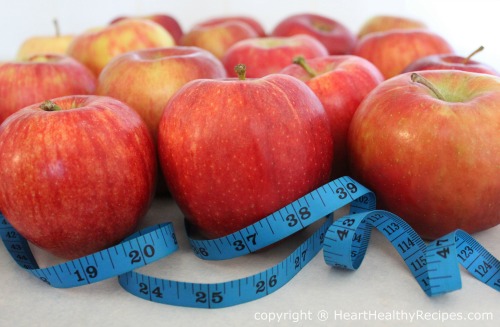 Visit & Join Our Facebook Weight-Loss Group by clicking HERE, or by copying and pasting the following URL:  https://www.facebook.com/groups/hearthealthyweightloss

---

Check out Children's Hunger Fund:

This non-profit organization delivers hope to suffering children and families around the world.
---
Medical/Nutritional Disclaimer: HeartHealthyRecipes.com website offers informational service only and the information contained in this website is not intended as professional nutritional or medical advice. The content in this website should not be used solely during a medical emergency or for the diagnosis or treatment of any medical condition. Please consult your doctor or other qualified health care provider regarding any course of medical treatment.

---