Blueberry Topped Lemon Cheesecake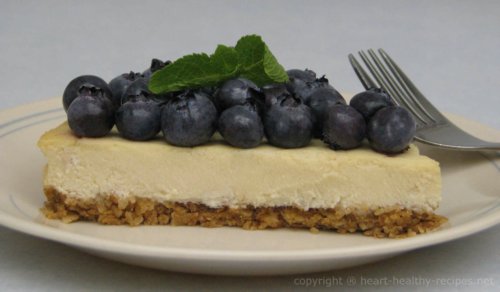 This heart healthy delicious cheesecake consists of nutritious oats, almonds and olive oil for the crust and a light, very satisfying, luscious lemon filling. The lemons and blueberries in this recipe are a full of bioflavonoids that help strengthen blood vessels which improve circulation throughout the body. The Ricotta cheese contributes to a heart healthy ingredient as it is much lower in saturated fat and salt than many other cheeses, also it is an excellent source of calcium.

Recipe Ingredients:
Cheesecake Crust:

3 tablespoons finely ground blanched almonds

1½ cups ground rolled oats

¼ cup Extra Virgin Olive Oil

1 teaspoon ground cinnamon
Cheesecake Filling:

3 tablespoons plain low-fat yogurt
3 tablespoons cornstarch
2 tablespoons honey
16 ounces ricotta part-skim cheese
2 lemons, juiced and grated zest of Or 2 tablespoons lemon juice (= 1 lemon)
1 egg white beaten
½ teaspoon almond extract
1 teaspoon vanilla extract
Cheesecake Topping:

2 cups blueberries, fresh or thawed frozen Mint leaves as garnish (optional)

Recipe Instructions:
Preheat oven to 325 F. In a blender or food processor, blend the oats until finely ground. Mix in the almonds, oil and cinnamon. Lightly grease a 9 inch spring-form pan or cake pan with wax paper on bottom. Press the mixture over the bottom of the pan, then bake 15 minutes, or until light brown.

Put all the filling ingredients in a blender. Process until smooth, pour over the crumb crust, and bake 35-40 minutes. Let cool in the pan.
Top with blueberries (2 cups).
Makes 6 to 8 Servings. 
---
For MORE recipes and heart health information, please subscribe to heart healthy recipes' FREE newsletter below:

---
Medical/Nutritional Disclaimer: HeartHealthyRecipes.com website offers informational service only and the information contained in this website is not intended as professional nutritional or medical advice. The content in this website should not be used solely during a medical emergency or for the diagnosis or treatment of any medical condition. Please consult your doctor or other qualified health care provider regarding any course of medical treatment.

---