Heart Healthy Foods
Welcome to our heart-healthy foods page where we hope you will discover the powerful healing of natural, whole foods. 
Also, how these nutrient-rich foods may help benefit your heart and total well-being.  We will also be providing heart healthy recipe suggestions and ideas.  Hope you enjoy!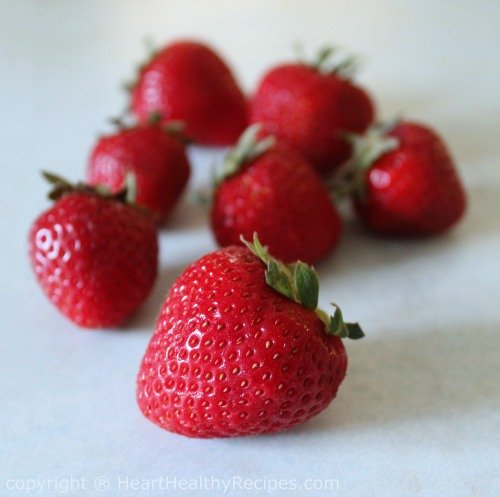 Strawberries:  Strawberries are one of our choices in our heart healthy foods category due to their high potassium content.  Potassium is very important in assisting the heart by regulating blood pressure. Strawberries are also a great source of vitamins and minerals including vitamin C, manganese, folate, iron, copper, magnesium, phosphorus, vitamins B6, K, and E to help maintain a healthy heart.  Click Here for a strawberry recipe.
Lemons:  The high content of vitamin C make lemons a wise and heart healthy choice.  Recent studies have shown that vitamin C-rich fruits and vegetables contribute to the protection against coronary heart disease (1).  Lemons have also been known to increase good cholesterol and lower blood pressure (2).  Lemons are an antioxidant which deactivates the free radicals preventing many diseases including stroke and cardiovascular diseases.  Lemon juice and warm water every morning with a pinch of salt helps lower cholesterol levels and may bring down weight.  Click Here for a lemon recipe.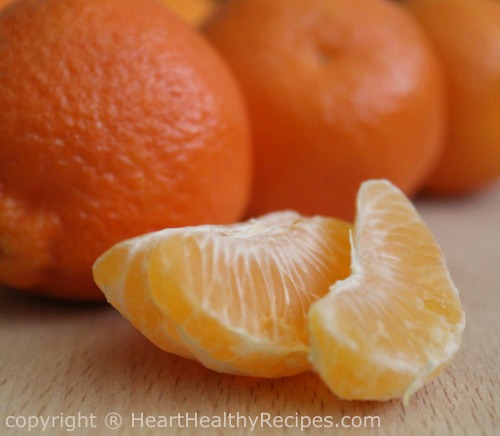 Mandarin Oranges:  High in vitamin C, mandarins contain over half of the daily recommended amount and eating two mandarin oranges daily provides over 100 percent of daily recommended vitamin C.  Vitamin C may also contribute to better lipid profile levels, helping stabilize blood pressure, as well as endothelial function. The potassium content in these mandarins also help to lower blood pressure levels.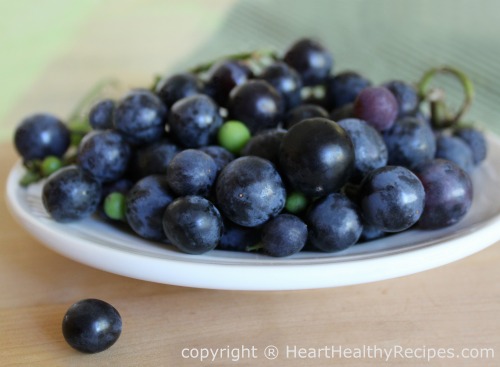 Concord Grapes:  Concord grapes are heart healthy with proven antioxidant and anti-inflammatory effects.  These powerful grapes have also shown to help lower and improve blood pressure in hypertensive patients (3).  The skin of these grapes contains compounds that may help relax arteries and therefore promote healthy blood flow (4).  Also, concord grapes seem to have an anti-clotting benefit similar to red wine.  Click Here for more information on grapes.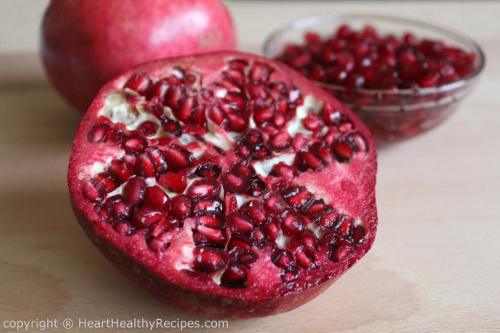 Pomegranates:  The heart healthy pomegranate is considered one of the healthiest fruits with its powerful anti-oxidants.  The concentrated anti-oxidant activity in the pomegranate has been shown to be three times higher than those of red wine and green tea (5). Research has also shown that pomegranate juice specifically contributes to improved lower blood pressure and may assist with lowering and regulating cholesterol levels.  Click Here for a pomegranate relish recipe.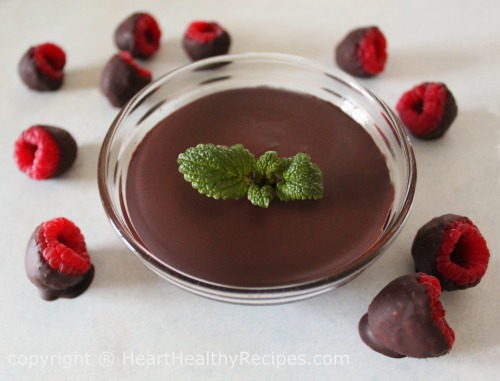 Dark Cocoa & Dark Chocolate - Studies have shown that regularly eating dark chocolate, with a high percentage of cocoa (preferably 90% or higher), may benefit the heart.  Dark chocolate benefits the cardiovascular function by reducing central brachial artery pressures and promoting vascular relaxation, and may enhance the matching of the arterial system with the left ventricle (6).  Click Here for a yummy chocolate recipe.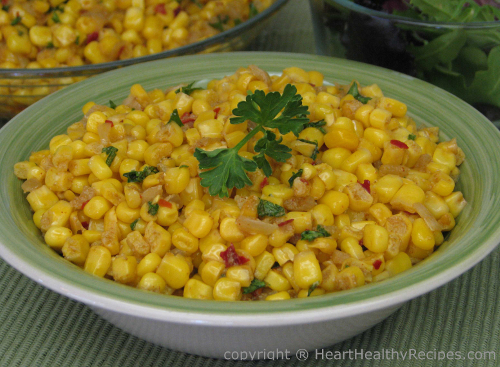 Corn: Corn is a heart healthy food being rich in B vitamins and potassium.  The heart healthy potassium mineral in corn helps regulate and maintain healthy blood pressure.  Potassium also helps prevent muscle cramps and helps the heart muscles function properly.  Corn is a good source of vitamin A, which helps strengthen the immune system.  This vegetable, which is also considered a grain, is a great antioxidant containing quercetin.  The anti-oxidant quercetin has been shown to help prevent inflammation, which can lead to a variety of diseases, including heart disease.  Also, corn being a naturally gluten-free whole grain makes a good alternative to wheat for gluten intolerant consumers.  Click Here for a corn recipe.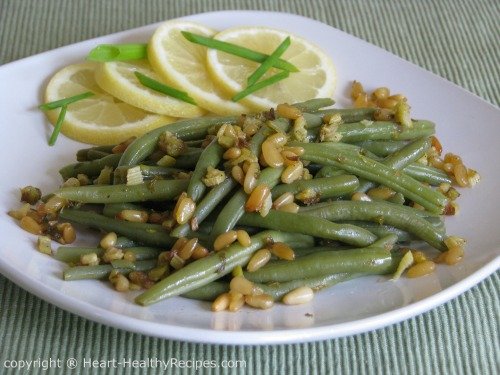 Green Beans:  Green beans are abundant in protein which makes them a great resource to help regulate blood sugar levels and also beans help lower cholesterol levels which benefit the heart.  Green beans, along with other beans, are an excellent source of folic acid, vitamin B6, iron, magnesium, phosphorus manganese, molybdenum and potassium.  The folic acid, along with vitamin B6, help lower homocysteine levels which has been shown to help reduce and may prevent heart disease, making green beans another heart healthy food.  Click Here for a green bean recipe.

---
Receive 15% Discount & Free Shipping:


Receive a 15% discount on all products including kitchen items such as mixers, blenders, cookware sets, food processors, and more from

HomeHavenDecorStore.com

.  For the 15% discount and free shipping, please enter HEALTHY15 upon checkout.
---
Medical/Nutritional Disclaimer: HeartHealthyRecipes.com website offers informational service only and the information contained in this website is not intended as professional nutritional or medical advice. The content in this website should not be used solely during a medical emergency or for the diagnosis or treatment of any medical condition. Please consult your doctor or other qualified health care provider regarding any course of medical treatment.

---
Heart Healthy Weight-Loss
We would like to invite you to join our Heart Healthy Weight-Loss Support Group.  You are welcome to join us for support with weight-loss and heart health issues by visiting:
https://www.facebook.com/groups/hearthealthyweightloss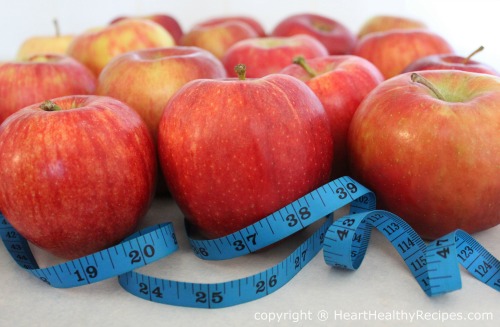 Visit & Join Our Facebook Weight-Loss Group by clicking HERE, or by copying and pasting the following URL:  https://www.facebook.com/groups/hearthealthyweightloss

---

Check out Children's Hunger Fund:

This non-profit organization delivers hope to suffering children and families around the world.
---