Stuffed Mushrooms
Low-sodium, low-fat stuffed mushrooms filled with petite peas, basil, onions, garlic, and more are also heart-healthy.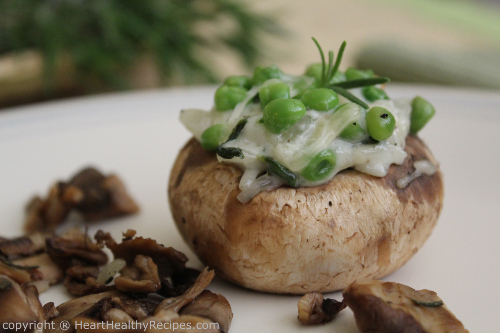 The potassium-rich mushrooms benefit the heart by helping to regulate blood pressure and preventing irregular heart beats.  Mushrooms also contain important nutrients, such as B vitamins, helping to maintain overall heart function.

Recipe Ingredients:
8-10 whole fresh mushrooms
¼ cup grape seed oil
3 cloves of garlic, minced
½ cup onions, chopped
¼ cup fresh basil, chopped
1 teaspoon fresh rosemary, chopped
¼ cup Vegenaise® or vegan mayonnaise
½ cup petite green peas
¼ cup grated Parmesan cheese
¼ teaspoon ground black pepper
Rosemary sprig as garnish
Recipe Instructions:
Preheat oven to 350°F and lightly oil baking sheet with grape seed oil. Gently rinse mushrooms with water and blot dry with paper towel. Carefully break off mushroom stems. Chop stems very fine, discarding tough end of stems. In a large skillet heat grape seed oil over medium heat. Add chopped mushroom stems, garlic, and onions to skillet. Sauté for 5 - 7 minutes. Next, add basil and rosemary, sautéing for another 1 - 3 minutes. Remove from stove and allow to cool.
Once mushroom mixture is cooled, stir in Vegenaise® (or mayonnaise), green peas, Parmesan cheese, and black pepper. Spoon mixture to fill each mushroom cap with a generous amount of stuffing. Arrange the mushroom caps on a prepared cookie sheet. Bake stuffed mushrooms for 20 minutes in preheated oven. Once out of the oven, garnish with fresh rosemary sprigs, if desired.
Receive 15% Discount & Free Shipping:

Receive a 15% discount on all products including kitchen items such as mixers, blenders, cookware sets, food processors, and more from

HomeHavenDecor.com

.  For the 15% discount, along with free shipping, please enter HEALTHY15 upon checkout.
Heart Healthy Weight-Loss
We would like to invite you to join our Heart Healthy Weight-Loss Support Group.  You are welcome to join us for support with weight-loss and heart health issues by visiting:
https://www.facebook.com/groups/hearthealthyweightloss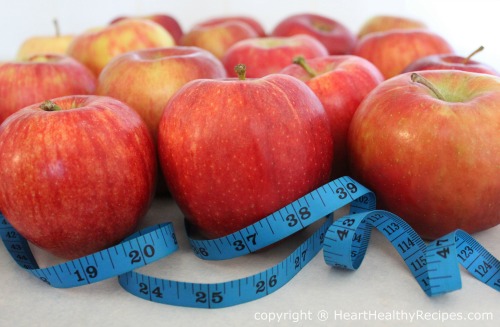 Visit & Join Our Facebook Weight-Loss Group by clicking HERE, or by copying and pasting the following URL:  https://www.facebook.com/groups/hearthealthyweightloss

---

Check out Children's Hunger Fund:

This non-profit organization delivers hope to suffering children and families around the world.
---