Strawberry Smoothie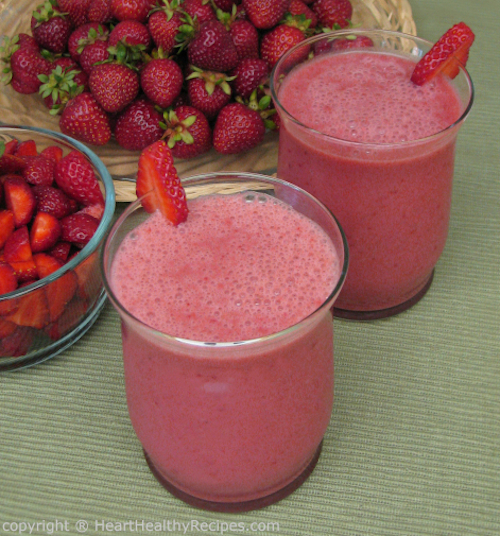 The heart-healthy strawberry smoothie.  Strawberries are among one of the healthiest foods.  They are important in any diet, including a heart-healthy diet and are common in the Mediterranean diet because of their high content of essential nutrients and beneficial phytochemicals (1).  Strawberries are high in nutrients and antioxidants, including minerals, folate, and have more vitamin C than an orange (2). The powerful strawberries in this strawberry smoothie help maintain healthy cholesterol levels, lower blood pressure, aid in weight management and reduce inflammation.  Chronic inflammation has been linked with many diseases, including heart disease (3,4).  Strawberries can also help maintain healthy blood sugar levels, which may help manage diabetes.  Strawberries may also help boost a person's immunity and help in weight loss – therefore improving overall health.
Both the strawberries and bananas in this smoothie help the heart with a high amount of potassium that seems to contribute to better muscle contraction of the heart.  Potassium is a vital mineral and electrolyte in the body that carries a small electrical charge.  These small electrical charges send out signals for the heart to beat regularly and assist with the contraction of heart muscles.  These charges help the heart pump in a normal, rhythmic manner as well.  The strawberries and bananas, both being rich in potassium, also help the body circulate and deliver more oxygen to the brain.  The intake of potassium also results in lower blood pressures. 
If choosing to use oat drink in this strawberry smoothie, the oats are high in potassium as well.  If choosing the almond milk, it is also heart-healthy in an abundance of vitamin E.   In a study on vitamin E, it was shown that this vitamin may help the prevention of atherosclerosis, which is the build-up of fats, cholesterol, and other substances in and on the artery walls (5).
Bananas have also been shown to reduce swelling, protect against developing type 2 diabetes, help aid in weight loss, strengthen the nervous system, and help production of white blood cells with its high amount of vitamin B6.

---
Strawberry Smoothie - Recipe Ingredients:
2 cups frozen or fresh strawberries
1 cup chilled almond or oat milk drink
1 banana (fresh or frozen)
1 tablespoon honey (optional)
Strawberry Smoothie - 

Recipe Instructions:
Blend all ingredients in blender until smooth. Makes 2 servings.

---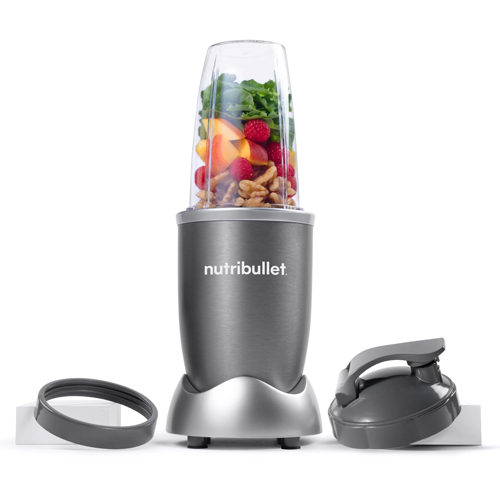 ---
For MORE recipes and heart health information, please subscribe to heart healthy recipes' FREE newsletter below:
---
Receive 15% Discount & Free Shipping:

Receive a 15% discount on all products including kitchen items such as mixers, blenders, cookware sets, food processors, and more from

HomeHavenDecor.com

.  For the 15% discount, along with free shipping, please enter HEALTHY15 upon checkout.
---
Medical/Nutritional Disclaimer: HeartHealthyRecipes.com website offers informational service only and the information contained in this website is not intended as professional nutritional or medical advice. The content in this website should not be used solely during a medical emergency or for the diagnosis or treatment of any medical condition. Please consult your doctor or other qualified health care provider regarding any course of medical treatment.

---
Heart Healthy Weight-Loss
We would like to invite you to join our Heart Healthy Weight-Loss Support Group.  You are welcome to join us for support with weight-loss and heart health issues by visiting:
https://www.facebook.com/groups/hearthealthyweightloss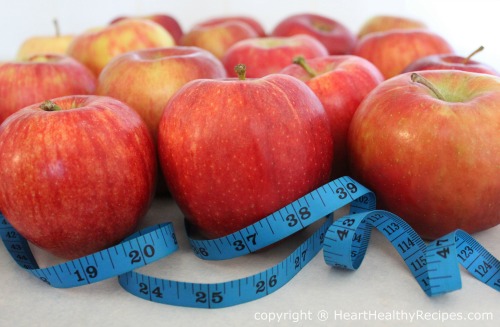 Visit & Join Our Facebook Weight-Loss Group by clicking HERE, or by copying and pasting the following URL:  https://www.facebook.com/groups/hearthealthyweightloss

---

Check out Children's Hunger Fund:

This non-profit organization delivers hope to suffering children and families around the world.
---