Strawberry Smoothie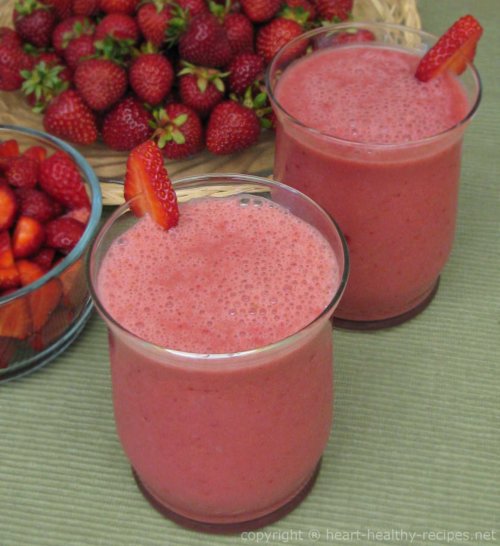 Strawberries are one of the healthiest foods to have in any diet - including a heart healthy diet.  This smoothie, with the main ingredient being the powerful strawberries, helps maintain healthy cholesterol levels, lower blood pressure, aid in weight management and reduce inflammation – which may lead to potential heart disease. This strawberry smoothie is also a heart healthy recipe because the bananas, being high in potassium contribute to better muscle contraction. Also, the potassium in bananas may help keep the heart pumping in a normal, rhythmic manner as well.  The intake of potassium also results in lower blood pressures.
Strawberry Smoothie - Recipe Ingredients:
2 cups frozen or fresh strawberries
1 cup chilled almond or oat milk drink
1 banana (fresh or frozen)
1 tablespoon honey (optional)
Strawberry Smoothie - 

Recipe Instructions:
Blend all ingredients in blender until smooth. Makes 2 servings.

---
Medical/Nutritional Disclaimer: HeartHealthyRecipes.com website offers informational service only and the information contained in this website is not intended as professional nutritional or medical advice. The content in this website should not be used solely during a medical emergency or for the diagnosis or treatment of any medical condition. Please consult your doctor or other qualified health care provider regarding any course of medical treatment.

---