Sweet and Sour Salmon
The superfood salmon is rich in antioxidants and nutrients including omega-3 fatty acids. The abundance of omega-3s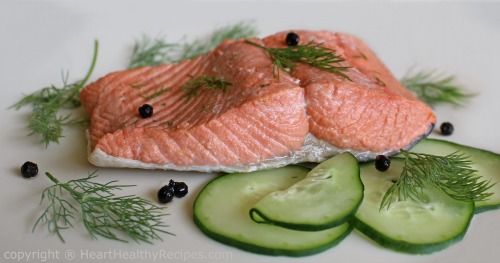 in this sweet and sour salmon dish are considered heart healthy.  In fact, salmon is one of the best sources of the long-chain omega-3 fatty acids EPA and DHA.  EPA and DHA have been shown to be beneficial to heart health by decreasing inflammation (1,2), lowering blood pressure (3), and improving the function of the cells that line the arteries.  Omega-3 fatty acids are essential and must come from the diet since the human body does not create them.  The salmon, which contains the omega-3 fatty acids, are an important part of a heart healthy diet according to the American Heart Association. The American Heart Association also recommends eating fish rich in omega-3 fatty acids at least twice a week.  In addition, many cardiologists believe that the unsaturated fats in salmon, namely the omega-3 fatty acids, are the nutrients that may help reduce the risk of heart disease.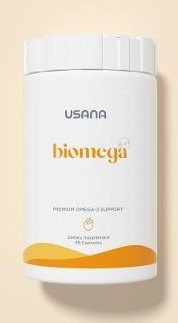 BiOmega™ High-quality, ultra-pure fish oil supplement that may benefit the heart with lower blood pressure, lower cholesterol, consistent (healthy) heart rate and more. The heart-healthy omega-3 fatty acids of DHA (docosahexaenoic acid) and EPA (eicosapentaenoic acid) contained in the BiOmega™ supplement may also help relieve depression and anxiety, along with ADHD and more. To order these healthy supplements, click here.  PayPal available.
Studies have also shown that other nutrients in salmon, along with the combination of omega-3 fatty acids may help reduce the risk of heart problems.  These other essential nutrients include antioxidant elements of selenium and minerals of phosphorus, zinc, and potassium.  Salmon is actually very high in potassium, even more than that of the potassium rich bananas.  Potassium has also been shown to have a positive effect on lowering and regulating blood pressure.

The regular consumption of salmon may also help lower inflammation and cholesterol.  Recent studies have shown that salmon contains small bioactive protein molecules that may help control inflammation (4).  In addition, salmon also has an antioxidant called astaxanthin which seems to help lower the risk of heart disease by reducing oxidation of LDL (the "bad") cholesterol and increasing HDL (the "good") cholesterol (5).  

Salmon is high in B vitamins, necessary nutrients for energy and formation of red blood cells. The vitamins B5, B6, B12, riboflavin, niacin, thiamin, and folate contained in salmon help create and repair DNA and also help reduce the inflammation that can lead to heart disease (6).  In August of 2009 the "Journal of the American Dietetic Association", a survey showed that most heart failure patients have below-normal levels of the B vitamins. Again, eating salmon frequently may help with the supplementation of these vital nutrients.

Sweet and Sour Salmon -
Recipe Ingredients:
4 cups water
2 cups dry white wine
½ cup lemon juice
4 tablespoons honey
20 black peppercorns
12 large dill sprigs
2 bay leaves
2 teaspoons salt (optional)
12 salmon fillets with skin - 3 to 4 ounces each
1 cucumber, thinly sliced

Sweet and Sour Salmon -
Recipe Instructions:
Utilizing two skillets - divide first eight ingredients in half. In each skillet, start with 2 cups water, then 1 cup wine, ¼ cup lemon juice, 2 tablespoons honey, 10 peppercorns, 6 dill sprigs, 1 bay leaf and 2 teaspoons salt. Heat the added ingredients over medium-high heat. Bring to boil, stirring occasionally until salt dissolves. Reduce heat to medium-low.
Now add 6 salmon fillets to each skillet. Cover and simmer 3 minutes. Turn salmon over. Cover and simmer until just opaque in center, about 3 minutes. Cool 5 minutes. Divide salmon and marinade into two 13x9x2 glass baking dishes. Refrigerate until cold, at least 3 hours. Cover; keep refrigerated. Using large spatula, lift salmon from marinade, transfer to plates. Remove skin, if desired.
Garnish with cucumber slices.
Recipe Note: This salmon dish can be made two days ahead if refrigerated.

Makes 12 servings.

For MORE recipes and heart health information, please subscribe to Heart Healthy Recipes' FREE Monthly newsletter below:

Receive 15% Discount & Free Shipping:

Receive a 15% discount on all products including kitchen items such as mixers, blenders, cookware sets, food processors, and more from

HomeHavenDecor.com

.  For the 15% discount, along with free shipping, please enter HEALTHY15 upon checkout.
---
Medical/Nutritional Disclaimer: HeartHealthyRecipes.com website offers informational service only and the information contained in this website is not intended as professional nutritional or medical advice. The content in this website should not be used solely during a medical emergency or for the diagnosis or treatment of any medical condition. Please consult your doctor or other qualified health care provider regarding any course of medical treatment.

---