Prune Sauce Chocolate Cake
Delicious, nutrient-rich prune sauce chocolate cake is high in protein and contains nutrients like zinc and essential fatty acids.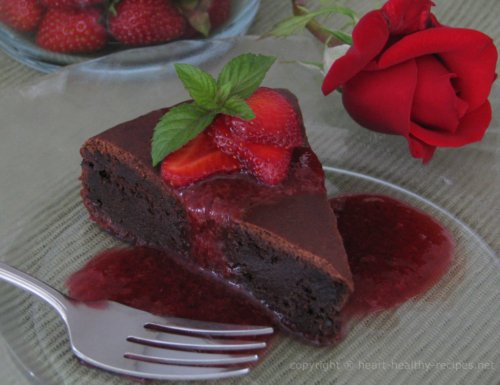 The chocolate, or cocoa, in this cake is high in flavonoids, particularly if using dark chocolate.  These flavanols may help reduce the risk of heart disease.  Also, some studies have suggested that chocolate or cocoa consumption is associated with a lower risk of insulin resistance and regulating high blood pressure in adults.

This delicious, nutrient-rich chocolate cake is topped with potassium-rich prune sauce.  The potassium is heart-healthy, helping to regulate blood pressure and heart rhythms.

Recipe Ingredients:
2 1/2 cups flour
1/2 cup unsweetened cocoa powder
1 1/2 teaspoons baking soda
1/4 teaspoon sea salt
1 cup prune sauce
1/2 cup honey
1/3 cup olive oil
1 1/3 cups rice milk
2 teaspoons vanilla
10-15 strawberries, sliced (optional)
8 fresh mint sprigs, for garnish (optional)
Recipe Instructions:
Preheat oven to 350°F. Oil a 9-inch round cake pan. In a large mixing bowl whisk together the flour, unsweetened cocoa powder, baking soda, and sea salt.
In a separate bowl, mix together prune sauce, honey, olive oil, rice milk, and vanilla. Pour the wet ingredients into the dry and beat with electric mixer.
Pour batter into prepared pan. Place pan on the center rack in the oven and bake for approximately 40-50 minutes - watching the baking time closely.
Cool for about 10 minutes in the pan, then run a knife around the edge of the pan and flip cake onto a wire rack to cool. Drizzle extra prune sauce on top of each serving. For added attractiveness and taste, slice several strawberries on each slice and add mint on top. Serve warm or at room temperature. 
Makes 8 servings.

For MORE recipes and heart health information, please subscribe to heart healthy recipes' FREE newsletter below:

---
Medical/Nutritional Disclaimer: HeartHealthyRecipes.com website offers informational service only and the information contained in this website is not intended as professional nutritional or medical advice. The content in this website should not be used solely during a medical emergency or for the diagnosis or treatment of any medical condition. Please consult your doctor or other qualified health care provider regarding any course of medical treatment.

---
Receive 15% Discount & Free Shipping:

Receive a 15% discount on all products including kitchen items such as mixers, blenders, cookware sets, food processors, and more from

HomeHavenDecor.com

.  For the 15% discount, along with free shipping, please enter HEALTHY15 upon checkout.
---