Spicy Corn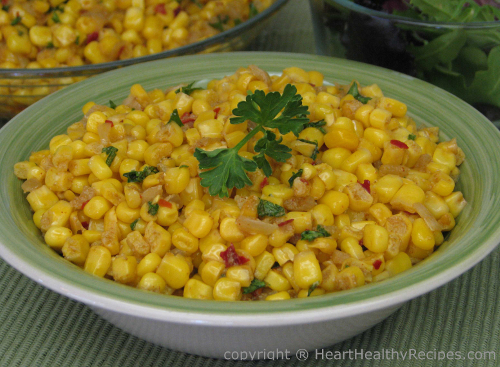 Lowering hypertension and preventing heart ailments are some of the many health benefits of this spicy corn recipe. In addition, the "burrito like" taste of this spicy corn side-dish is especially good with couscous. The main ingredient corn provides a rich source of vitamins A, B, E, along with necessary minerals including phosphorus and magnesium, manganese, zinc, iron, copper and selenium. Magnesium is essential for maintaining a normal heart rate.
Recipe Ingredients:
1 cup frozen corn
1 teaspoon ground cumin
1 teaspoon crushed garlic
1 teaspoon ground coriander
1 teaspoon salt
2 fresh green chilies
1 medium onion, finely chopped
3 tablespoons olive oil
4 red chilies, crushed
½ teaspoon lemon juice
1 tablespoon fresh parsley
Recipe Description:
Thaw frozen corn and set aside. Place the ground cumin, garlic, ground coriander, salt, 1 fresh green chili, and the onion in a mortar of a food processor and grind to form a smooth paste.
Heat the olive oil in a large skillet. Add the onion and spice mixture to the pan and fry over medium heat, stirring occasionally for about 5-7 minutes Add the crushed red chilies to the mixture in the skillet and stir to combine.
Add the corn to the skillet and stir-fry for another 2 minutes.
Add the remaining green chili, lemon juice, and the fresh cilantro leaves to the skillet, stirring to combine.
Transfer the spice corn mixture to a warmed serving dish. garnish with extra parsley.
Makes 2 servings - double recipe if desired.
---
For MORE recipes and heart health information, please subscribe to heart healthy recipes' FREE newsletter below:

---
Medical/Nutritional Disclaimer: HeartHealthyRecipes.com website offers informational service only and the information contained in this website is not intended as professional nutritional or medical advice. The content in this website should not be used solely during a medical emergency or for the diagnosis or treatment of any medical condition. Please consult your doctor or other qualified health care provider regarding any course of medical treatment.

---