Pomegranate Relish
Celebrate the holidays with this colorful pomegranate relish that will look elegant on your table with the red pomegranate seeds, also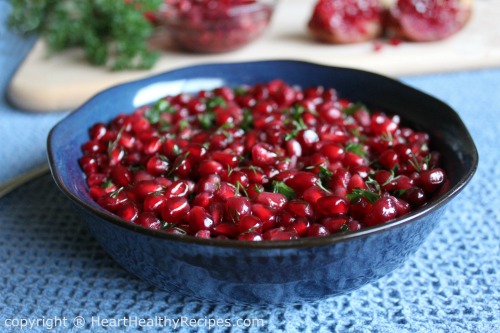 known as arils, along with the accent of green parsley, which is also heart-healthy.  Another heart-healthy recipe plus is the low sodium content.

The pomegranate is heart-healthy with its powerful antioxidants and considered one of the healthiest fruits.  The concentrated antioxidant activity in the pomegranate has been shown to be three times higher than those of red wine and green tea (1).

Pomegranate seeds are fast becoming known as a superfood due to their content of polyphenols, the powerful antioxidants that are believed to help the heart including possibly preventing plaque buildup in the arteries.  Pomegranates are considered to also have more antioxidants than cranberry juice.   
Researchers have shown that the juice coming from the seeds of the pomegranate are important factors in a heart-healthy diet that may improve and lower blood pressure, along with regulating cholesterol levels.  
Pomegranates are also a good source of vitamins and fiber.  These vitamins include the B vitamins, vitamin C, vitamin K and potassium.  Potassium is needed also to help regulate the heart and lower blood pressure.  

The simple and quick, no-cook recipe can also be made several days in advance since it stores well in the refrigerator.  

Pomegranate Relish - Recipe Ingredients:
2 cups pomegranate arils (seeds), (2-3 pomegranates)

½ cup fresh parsley (flat or curly), chopped

1 tablespoon fresh dill, finely chopped

⅓ cup sweet onion, minced (about half an onion)
½ cup grape seed oil

1 tablespoon fresh lemon juice

Pomegranate Relish - Recipe Instructions:
In a medium sized bowl with lid, add pomegranate seeds, also known as arils.  Chop parsley and dill, placing in a small bowl.  Next, cut medium onion in half and mince, adding to the parsley and dill; set aside.  In a third small bowl, combine the grape seed oil and lemon juice, whisking together then drizzle over pomegranates.  Next, gently blend in the parsley, dill and onion.  Put lid on medium bowl and refrigerate for 2 hours to allow the flavors to blend.

Makes 2½ cups.

---
For more heart-healthy dressings & sauces, click here.

---
For MORE recipes and heart health information, please subscribe to heart healthy recipes' FREE newsletter below:

---

Check out Children's Hunger Fund:

This non-profit organization delivers hope to suffering children and families around the world.
---
Heart Healthy Weight-Loss
We would like to invite you to join our NEW Heart Healthy Weight-Loss Support Group.  You are welcome to join us for support with weight-loss and heart health issues by visiting:
https://www.facebook.com/groups/hearthealthyweightloss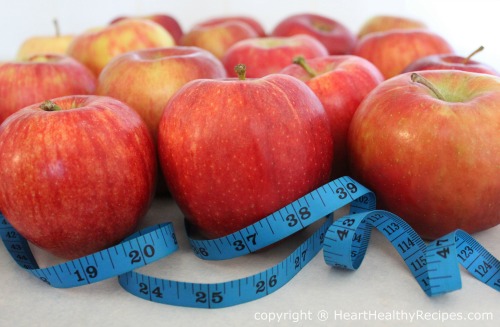 Visit & Join Our New Facebook Weight-Loss Group by clicking HERE, or by copying and pasting the following URL:  https://www.facebook.com/groups/hearthealthyweightloss

---
Medical Disclaimer:  HeartHealthyRecipes.com website offers informational service only and the information contained in this website is not intended as professional medical advice.  The content in this website should not be used solely during a medical emergency or for the diagnosis or treatment of  any medical condition.  Please consult your doctor or other qualified health care provider regarding any course of medical treatment.

---