Lemon Lavender Asparagus
Celebrate springtime with our lemon lavender asparagus side dish.  The in-season, delicious, steamed asparagus drizzled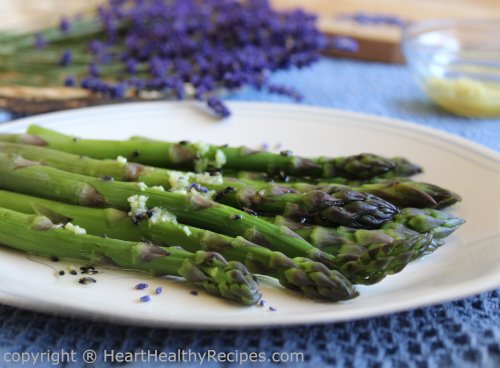 with appetizing lemon-lavender dressing is beneficial to the heart as well.
The asparagus, in this lemon lavender asparagus side dish, contains large amounts of antioxidants which may help reduce inflammation.  Also, the amino acid called asparagine in the asparagus helps flush out unwanted excess salt in the body, which may help reduce heart disease. 
In addition to lavender's pleasant taste and well-loved scent, the culinary lavender provides the heart with many benefits including the ability to reduce inflammation.  Prolonged inflammation has been shown to be a factor in many chronic diseases, including heart disease.  The culinary lavender in this recipe also benefits the heart by helping to regulate the heart rate and reduce high blood pressure. Lavender may help relaxation and also promote healthy sleep.

The lemons in this side dish are a great source of the immune boosting vitamin C.  Also, research has shown that 
diets rich in vitamin C may reduce the risk of heart disease.  In addition, the fiber and compounds in the lemon may also help lower the risks.
Both the garlic and lemons help reduce the level of unwanted, "bad" cholesterol or what is known as LDL cholesterol.  The garlic in the recipe may also help lower blood pressure.
Lemon Lavender Asparagus - 

Recipe Ingredients:



1 large bunch of asparagus, trimmed
1 teaspoon fresh or dried culinary lavender* buds, chopped or crushed
¼ cup grapeseed oil
2 teaspoons lemon zest, finely grated

1 tablespoon fresh lemon juice

1-2 garlic cloves, minced

¼ teaspoon sea salt (optional)

¼ teaspoon black pepper, freshly ground

Lemon Lavender Asparagus - 

Recipe Instructions:
Rinse asparagus with fresh water and pat dry with towel.  Trim the woody, dry ends off of the asparagus by holding each end in hands and bending until it naturally snaps in two.  Another option, cut about a third off each spear.  Next, place asparagus in a steamer basket above boiling water and cover.  Steam for 5 to 10 minutes depending on the thickness of the asparagus, or until asparagus is tender. 
In a small bowl, whisk together crushed or chopped culinary lavender* buds with grapeseed oil.  Allow lavender to infuse in oil for 10-15 minutes for best flavor.  Meanwhile, in a medium-sized bowl, add finely grated lemon zest and whisk together with lemon juice.  Next, add minced garlic cloves to lemon mixture.  Once lavender-grapeseed oil mixture infused, pour into lemon juice bowl, whisking in sea salt (if desired) and black pepper.  
Drizzle oil over the steamed asparagus and serve.

*Culinary Lavenders:  Most lavenders are edible, though the best for culinary is the English Lavender.

---
Medical Disclaimer:  HeartHealthyRecipes.com website offers informational service only and the information contained in this website is not intended as professional medical advice.  The content in this website should not be used solely during a medical emergency or for the diagnosis or treatment of  any medical condition.  Please consult your doctor or other qualified health care provider regarding any course of medical treatment.

---
Receive 15% Discount & Free Shipping:

Receive a 15% discount on all products including kitchen items such as mixers, blenders, cookware sets, food processors, and more from

HomeHavenDecor.com

.  For the 15% discount, along with free shipping, please enter HEALTHY15 upon checkout.
---