Veggie Pasta
This veggie pasta recipe may help in lowering high cholesterol, along with reducing inflammation and helping to strengthen heart cells.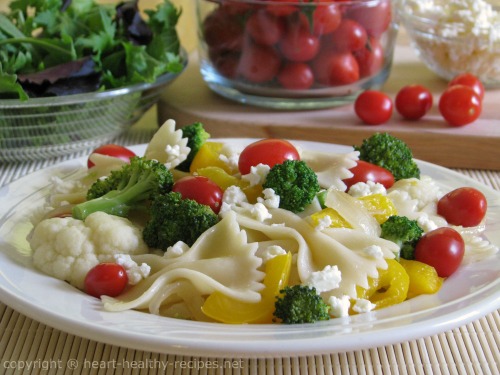 First, when the broccoli is steamed the nutrients are maintained and is also a great source of cholesterol lowering fiber. The nutrient-rich broccoli may also reduce heart disease and high blood pressure.  In addition, broccoli is a great source of anti-inflammatory sulforaphane which may help prevent and even reverse damage to blood vessel linings.
The cauliflower helps protect the heart in many ways; one being high in allicin, which has been found to reduce stroke and heart disease.  Cauliflower may also assists with the reduction of cholesterol. 
The low calorie, sweet tasting grape tomatoes in this recipe provide rich antioxidants along with vitamin C, potassium and lycopene.  Lycopene helps reduce damage to cells and tissues - thus strengthening heart cells.  The heart healthy onions and bell pepper also encourage the production of good cholesterol (HDL).
In addition, the extra virgin olive oil, part of the healthy Mediterranean diet, is considered the healthiest fat of all.  Studies have shown that the omega-3 fatty acids -  and antioxidants in extra virgin olive oil have some powerful health benefits, such as a reducing the risk of heart disease.  The main antioxidants of this oil are the anti-inflammatory oleocanthal, as well as oleuropein, a substance that protects LDL cholesterol from oxidation. 
Overall, this heart-healthy veggie dish may help protect the heart by reducing bad cholesterol and protecting the good cholesterol.
Veggie Pasta - Recipe Ingredients:
2 cups uncooked bow tie pasta
2 cups fresh broccoli florets 
1 cup fresh cauliflower florets
1 medium yellow bell pepper, chopped
½ medium onion, chopped
10 ounces grape tomatoes         
¼ cup feta cheese (sheep or goat's cheese)
½ cup extra virgin olive oil
1 tablespoon lemon juice
Veggie Pasta - Recipe Instructions:
Cook pasta in 6-8 cups boiling water for approximately 10 minutes.  Next, in a small saucepan or steamer, steam broccoli and cauliflower for about 3-4 minutes.  Drain and place vegetables in ice water, again drain.  Once pasta is finished cooking, drain also.  In large serving bowl, combine pasta, broccoli-cauliflower mixture, chopped yellow bell peppers, onions and grape tomatoes.  Sprinkle cheese on top.  In small bowl, whisk together olive oil and lemon juice.  Drizzle over veggie pasta - tossing to coat. 
Makes 8 servings.
---
Receive 15% Discount & Free Shipping:

Receive a 15% discount on all products including kitchen items such as mixers, blenders, cookware sets, food processors, and more from

HomeHavenDecor.com

.  For the 15% discount, along with free shipping, please enter HEALTHY15 upon checkout.
---
For MORE recipes and heart health information, please subscribe to heart healthy recipes' FREE newsletter below:

---
Medical/Nutritional Disclaimer: HeartHealthyRecipes.com website offers informational service only and the information contained in this website is not intended as professional nutritional or medical advice. The content in this website should not be used solely during a medical emergency or for the diagnosis or treatment of any medical condition. Please consult your doctor or other qualified health care provider regarding any course of medical treatment.

---