Tomato Basil Pasta
Mediterranean-style basil pasta with roasted cherry tomatoes provides many heart health benefits as well.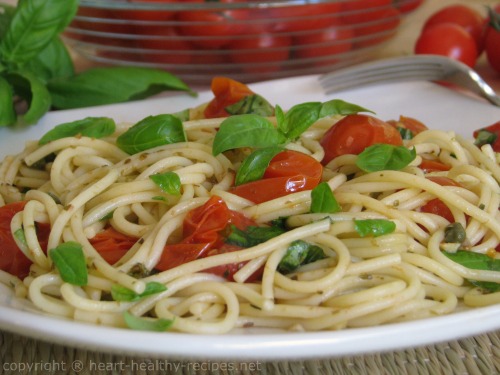 First, with the cherry tomatoes that are fat-free, cholesterol-free, and low in sodium.  The cherry tomatoes, in this tomato basil pasta recipe, are an excellent source of vitamins - including vitamins A, C, and K.  Also, these antioxidant rich tomatoes are high in the important nutrient of potassium.  Studies have shown that potassium is beneficial for the heart by lowering and regulating blood pressure.  In addition, potassium is an electrolyte mineral which assists the electricity flow throughout the body.  The steady stream of electricity keeps the heart beating at a healthy, regular rate.  Potassium is very important and not enough in the daily diet can lead to cardiac arrhythmia, or an abnormal heartbeat.

The garlic, found in this recipe, assists the heart by reducing and controlling blood pressure also.  Garlic has the ability to lower cholesterol, reduce arterial plaque formation and provide overall heart protection – such as preventing heart attacks and atherosclerosis.

Also, this heart-healthy recipe calls for a generous amount of the nutritious herb basil.  Basil promotes cardiovascular health and well-being with the powerful antioxidants it contains.  The basil protects cells from bad cholesterol and free radical damage as well.

Finally, the olive oil and pasta are classics in the well-known Mediterranean Diet.  The olive oil, being known for heart health benefits and decreasing the risk of heart disease assists by dramatically helping the blood vessel walls.  Also, the high antioxidant properties of olive oil help balance cholesterol levels and helps keep the arteries clear of blockage.  The pasta, especially whole-wheat pasta, provides a great source of dietary fiber - which helps give energy but also helps fight chronic diseases – including obesity, which helps take stress off the heart by making it work not as hard.

---
---
Tomato Basil Pasta - Recipe Ingredients:
12 ounces whole-wheat spaghetti - pasta
2 pounds cherry tomatoes
6 cloves garlic, smashed
3 tablespoons capers
1 tablespoon oregano
¼ cup extra virgin olive oil
½ cup chopped basil (parsley or chives)
Salt to taste (optional)
Tomato Basil Pasta - Recipe Instructions

: 
Heat oven to 400°F.  On baking sheet with a rim – toss tomatoes, garlic, capers and oregano with olive oil.  Roast the tomatoes, tossing until they burst – 20 to 25 minutes.  In large cooking pot bring water to boil and cook spaghetti according to package instructions.  Drain pasta and then toss the pasta with the tomatoes, herbs and remaining tablespoon of oil.
Makes 4 servings.
Tip:  To easily smash garlic, place cut up garlic in a plastic baggie, such as a sealable sandwich baggie and then smash with rolling pin or similar object. 
---
Receive 15% Discount & Free Shipping:

Receive a 15% discount on all products including kitchen items such as mixers, blenders, cookware sets, food processors, and more from

HomeHavenDecor.com

.  For the 15% discount, along with free shipping, please enter HEALTHY15 upon checkout.
For MORE recipes and heart health information, please subscribe to heart healthy recipes' FREE newsletter below:

---
Medical/Nutritional Disclaimer: HeartHealthyRecipes.com website offers informational service only and the information contained in this website is not intended as professional nutritional or medical advice. The content in this website should not be used solely during a medical emergency or for the diagnosis or treatment of any medical condition. Please consult your doctor or other qualified health care provider regarding any course of medical treatment.

---