Mediterranean Bell Peppers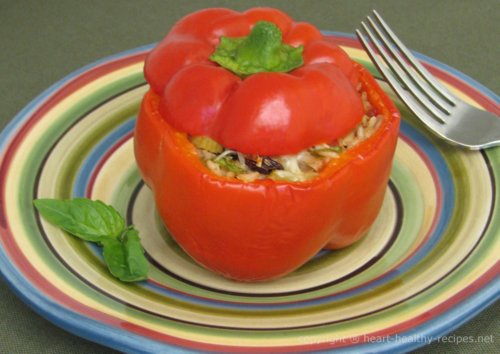 Stuffed Mediterranean Bell Peppers are low in sodium, and very low in cholesterol. Bell peppers are excellent sources of vitamins C and A–antioxidants that neutralize free radicals, thus helping to reduce the risk of heart disease. Mediterranean bell peppers are also a good source of Vitamin K, and a very good source of Manganese - all of which can help reduce risk of heart attack and stroke.
Recipe Ingredients:
6 large bell peppers
1 cup long grain brown rice
3 tablespoons olive oil
2 medium celery stalks, chopped
1 medium yellow onion
1 teaspoon garlic powder
1 teaspoon cinnamon
3/4 cup raisins
1 tomato, chopped
2 tablespoons parsley
1/4 cup orange juice
1/2 cup Parmesan cheese
1/2 cup walnuts
sea salt, to taste (optional)
black pepper, to taste
Recipe Instructions:
Slice off tops of the bell peppers, then remove the cores and seeds. Boil bell peppers in water to blanch for two-three minutes and remove water, then drain upside down.
In separate medium sauce pan, bring two cups of water to a boil for rice.  Gradually add rice and bring to boil again. Simmer for about 15-20 minutes until somewhat tender. Rinse and drain rice under cold running water.
Next heat oil in a large skillet, adding the onion and celery.  Cook for approximately two minutes. Stir in the garlic, cinnamon, and raisins.  Continue cooking for one minute. Fork in the rice.  Add the pine nuts, walnuts, tomatoes, parsley and orange juice. Cook for four minutes. Remove from heat.  Season with sea salt (optional)  and pepper to taste.  Stir in half of the Parmesan cheese.
Lightly oil the bottom of a casserole dish with olive oil. Place the bell peppers in the dish. Divide the rice mixture equally among them and sprinkle with the remaining Parmesan cheese. Drizzle bell peppers with a little more oil.  Pour water in the casserole dish, around the bell peppers, to come half-inch up the sides to the bell peppers. Loosely cover the casserole dish. Bake in oven at 350°F for approximately 40 minutes. Uncover and cook for an additional 10 minutes. Serve with tomato sauce if desired.
Nutritional Information/Analysis:
Calories: 398 Protein: 11g Carbohydrates: 55g Total Fat: 17g Saturated Fat: 3g Cholesterol: 7mg Sodium: 167mg
For MORE recipes and heart health information, please subscribe to heart healthy recipes' FREE newsletter below:


Check out Children's Hunger Fund:

This non-profit organization delivers hope to suffering children and families around the world.
---
Heart Healthy Weight-Loss
We would like to invite you to join our NEW Heart Healthy Weight-Loss Support Group.  You are welcome to join us for support with weight-loss and heart health issues by visiting:
https://www.facebook.com/groups/hearthealthyweightloss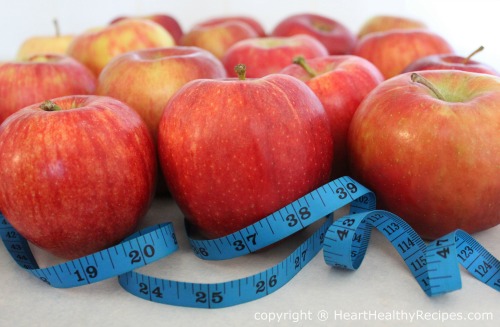 Visit & Join Our New Facebook Weight-Loss Group by clicking HERE, or by copying and pasting the following URL:  https://www.facebook.com/groups/hearthealthyweightloss

---
Medical/Nutritional Disclaimer: HeartHealthyRecipes.com website offers informational service only and the information contained in this website is not intended as professional nutritional or medical advice. The content in this website should not be used solely during a medical emergency or for the diagnosis or treatment of any medical condition. Please consult your doctor or other qualified health care provider regarding any course of medical treatment.

---