Olive-Basil Focaccia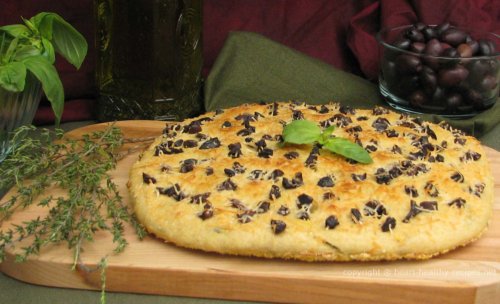 Olive-Basil Focaccia adds a delicious flair to the heart healthy diet loaded with nutritious, fresh basil leaves and olives; topped with yummy parmesan cheese.
Recipe Ingredients:
3/4 cup warm water
1 (¼-oz.) package active dry yeast
½ teaspoon sea salt
1½ cups all-purpose flour
1¼ cups whole-wheat flour
¼ c. extra virgin olive oil
¼ cup chopped fresh basil
2 tablespoons cornmeal
¼ cup chopped Kalamata olives
¼ cup fresh, grated parmesan cheese
Recipe Instructions:
In medium sauce pan, heat water to temperature of 105-115 F  (40-45 C).  Add yeast and allow to dissolve and then stand until yeast is foamy, about 5 minutes.  Next gently transfer yeast mixture to large mixing bowl and add salt, all-purpose flour, and ½ cup whole-wheat flour.  Mix until thoroughly combined and making a soft dough.  Add the olive oil and basil. Turn dough out onto a floured surface.  Knead about 5 minutes, adding flour as necessary to make a moderately stiff dough.  Brush a bowl with olive oil.  Place dough in bowl, turn dough to coat all sides.  Cover and let rise in a warm, draft-free area until doubled in bulk, about 1 to 1½ hours.  
Punch down dough, let rest for 5 minutes.  Next, oil a 13 x 9-inch baking pan and sprinkle with cornmeal. Press dough gently into pan; then with fingertips or thumb make dimples in the dough - evenly  throughout surface.  Brush with olive oil and arrange olives on top, pressing them into dough.  Sprinkle with fresh, parmesan cheese - cover and let rise 15 minutes. 
Bake in preheated oven at  425 F (220 C) for 15 to 20 minutes - until lightly brown.  Cut into serving pieces.  Delicious served warm or cooled.  Makes 8 to 10 servings.
---
For MORE recipes and heart health information, please subscribe to heart healthy recipes' FREE newsletter below:

---