Tropical Mango Smoothie
This refreshing and heart-healthy mango smoothie is an excellent source of vitamins, including A, B6 and C – flavonoids and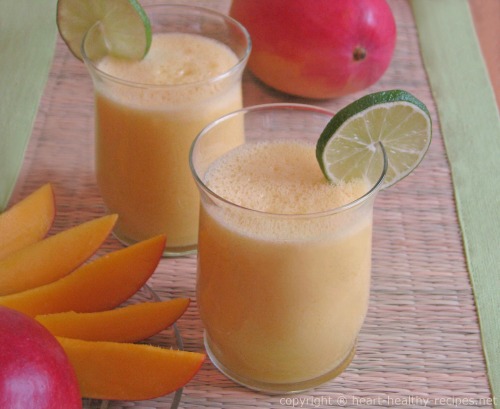 antioxidant properties.
Fresh mango is abundant in potassium, yet low in sodium. Potassium helps assist in maintaining a healthy heart rate and regulating blood pressure.  Mangoes contain a high level of fiber and vitamins which help to lower serum cholesterol levels.  Fiber will help with weight-loss and may also help reduce the risk of heart disease. Also, mangoes are a great source of vitamin-B6 (pyridoxine), which helps control homocysteine levels within the blood, which may otherwise be harmful to blood vessels resulting in CAD and stroke.
Recipe Ingredients:
2 cup unsweetened pineapple juice
2 mango - peeled, seeded, and chopped
1 banana, sliced
3 tablespoons cream of coconut 
Recipe Instructions:
Mix ingredients in blender and serve immediately.  If desired, garnish with lime.
Makes 4 servings. 
For MORE recipes and heart health information, please subscribe to heart healthy recipes' FREE newsletter below:

---
Medical Disclaimer:  HeartHealthyRecipes.com website offers informational service only and the information contained in this website is not intended as professional medical advice.  The content in this website should not be used solely during a medical emergency or for the diagnosis or treatment of  any medical condition.  Please consult your doctor or other qualified health care provider regarding any course of medical treatment.

---
Receive 15% Discount & Free Shipping:

Receive a 15% discount on all products including kitchen items such as mixers, blenders, cookware sets, food processors, and more from

HomeHavenDecor.com

.  For the 15% discount, along with free shipping, please enter HEALTHY15 upon checkout.
---
---