Olive Onion Tomato Pizza
Mediterranean style pizza with olives and tomatoes is a pizza entrée that is sure to satisfy any hungry appetite with its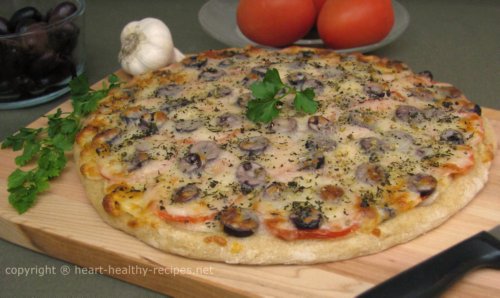 homemade taste.  The spicy oregano, basil, and garlic give it just the right Italian touch. Also, it contains the heart healthy ingredient of olive oil making it low in fats, especially saturated fat.

Dough:
1 (¼ –oz.) package active dry yeast (about 1 tablespoon)
1 cup warm water (105-115 F; 40-45 C)
2 teaspoons olive oil
½ teaspoon salt
1 cup whole wheat flour
2 cups all-purpose flour
In a mixer bowl, dissolve yeast in warm water; let stand until foamy, about 5 minutes. Add olive oil, salt, whole wheat flour and 1 ½ cups all-purpose flour. Beat until thoroughly combined, making a soft dough. Turn dough out onto a floured surface with remaining all-purpose flour, about ½ cup, kneading in enough flour to make a stiff dough. Brush a bowl with oil. Place dough in bowl, cover, and let rise in a warm draft-free place until doubled in bulk – about 1 hour.
Punch down dough; cut in half and roll out to fit 2 (12-inch) pans. Top with favorite topping.
Bake 15 to 20 minutes in a preheated oven at 450 F (230 C) until brown. Makes 2 (12-inch) pizzas.
Nutritional Information/Analysis:
Calories: 52 Protein: 1g Carbohydrates: 19g Total Fat: 1g Saturated Fat: 0g Fiber: 0g Cholesterol: 0mg Sodium: 49mg
Topping:
1 tablespoon olive oil
2 onions, thinly sliced into rings
3 tomatoes, thinly sliced
¼ cup sliced black olives
2 cups (8 oz.) shredded low-fat mozzarella cheese
½ teaspoon dried-leaf basil
½ teaspoon dried-leaf oregano
¼ teaspoon dried garlic
In a skillet, heat olive oil over medium heat. Add onions and sauté until softened. Arrange onions on top of dough. Top with sliced tomatoes, olives, and cheese. Sprinkle with basil, oregano, and garlic - garnishing with parsley if desired.
Makes enough topping for 2 (12-inch) pizzas.
Nutritional Information/Analysis:
Calories: 43 Protein: 2g Carbohydrates: 2g Total Fat: 3g Saturated Fat: 1g Fiber: 0g Cholesterol: 7mg Sodium: 55mg
---
Receive 15% Discount & Free Shipping:

Receive a 15% discount on all products including kitchen items such as mixers, blenders, cookware sets, food processors, and more from

HomeHavenDecor.com

.  For the 15% discount, along with free shipping, please enter HEALTHY15 upon checkout.
---
Medical/Nutritional Disclaimer: HeartHealthyRecipes.com website offers informational service only and the information contained in this website is not intended as professional nutritional or medical advice. The content in this website should not be used solely during a medical emergency or for the diagnosis or treatment of any medical condition. Please consult your doctor or other qualified health care provider regarding any course of medical treatment.

---