Roasted Vegetable Rice Pilaf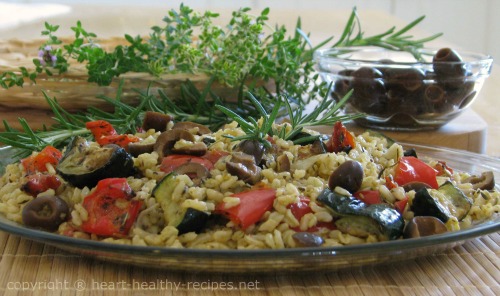 The rice in this roasted vegetable rice pilaf dish helps reduce high blood pressure and reduces bad cholesterol.  The outer layer, the bran, in brown rice contains oil that actually helps lower bad cholesterol (LDL).  Rice is also cholesterol free and low in sodium while having a calming and soothing effect known for centuries. 
The veggies - zucchini, tomatoes, olives and red peppers each offer their valuable heart healthy nutrition with delicious taste.  The red peppers are very high in vitamin C, offering much needed antioxidants for healthy heart functioning.  Zucchinis also offer this nutrient, vitamin C along with low calories.  The olives add the finishing flavour touches along with polyphenols, or flavonoids, which are antioxidants that help prevent the oxidation of lipoproteins that helps prevent cholesterol deposits in the blood vessels – thus reducing the risk of heart and blood vessel disorders.

Additional recipe benefits include the antioxidant rich rosemary which studies have recently shown may help the heart by reducing oxidative stress and inflammation (1).
Recipe Ingredients:
¼ cup olive oil
½ cup chopped shallot or onion
1 cup long grain brown rice
2 cups vegetable broth
1 tablespoon rosemary
1 teaspoon basil
1 teaspoon oregano
1 teaspoon thyme
1 large red bell pepper, cut into 1" pieces
1 large zucchini, halved lengthwise and cut into 1" slices
4 tomatoes (Roma), cut into 1" pieces
⅓ cup pitted black olives, chopped
salt and pepper to taste
Recipe Instructions:
Heat half of olive oil (reserving remaining olive oil for later) in a 4-quart or larger, heavy saucepan over medium heat.  Add onions (shallots), cooking until tender.  Add rice and broth.  In separate small dish; add rosemary, basil, oregano and thyme.  Take about two-thirds of this seasoning mix- ture and sprinkle into rice and broth, setting aside remaining seasoning.  Bring rice and broth to a boil.  Reduce to low heat, cover and simmer 50 minutes.  Remove from heat and let stand, covered, 10 minutes.  While rice mixture is simmering, combine zucchini and bell pepper in low-rimmed baking dish or sheet.  Toss with remaining olive oil and seasoning (rose- mary, basil, oregano and thyme).  Salt and pepper to taste.  Bake at 425°F, 15 minutes, stirring once.  Add tomatoes, bake another 5 minutes, or until vegetables are tender.  Stir vegetables and olives into rice.  Yields 6-1/2 cups.  
Makes 6 to 8 servings.
For MORE recipes and heart health information, please subscribe to Heart Healthy Recipes' FREE Monthly newsletter below:

Receive 15% Discount & Free Shipping:

Receive a 15% discount on all products including kitchen items such as mixers, blenders, cookware sets, food processors, and more from

HomeHavenDecor.com

.  For the 15% discount, along with free shipping, please enter HEALTHY15 upon checkout.
---
Medical/Nutritional Disclaimer: HeartHealthyRecipes.com website offers informational service only and the information contained in this website is not intended as professional nutritional or medical advice. The content in this website should not be used solely during a medical emergency or for the diagnosis or treatment of any medical condition. Please consult your doctor or other qualified health care provider regarding any course of medical treatment.

---