Tomato Leek Soup
This heart healthy soup helps lower blood pressure and cholesterol levels due to the abundance of potassium and vitamin B found in the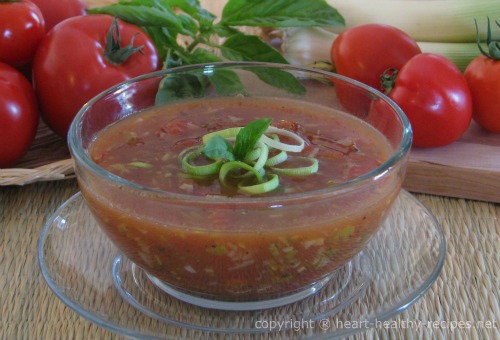 main ingredient - tomatoes. Reducing blood pressure and lowering high cholesterol levels, helps prevent strokes, heart attacks and other potentially life-threatening heart problems. Tomatoes are naturally low in sodium, saturated fat, cholesterol, and calories. Tomatoes are also a good source of Vitamins A, C, K, folate, magnesium, phosphorus and copper, all of which are necessary for good health. In addition, this tomato leek soup recipe contributes to heart health with the leeks aiding in a flavonoid called kaempferol. Kaempferol helps provide protection of the blood vessel lining, also allowing the blood vessels to rest and decreases the risk for hypertension.
Tomato Leek Soup Recipe Ingredients:
3 leeks, finely sliced
4-5 cups chicken or vegetable broth
¼ cup extra virgin olive oil
2 lbs. fresh tomatoes, peeled and chopped
½ teaspoon dried basil or 1 teaspoon fresh basil (finely chopped)
salt and pepper to taste
basil sprig, for garnish (optional)
Tomato Leek Soup 

Recipe Instructions:
In a saucepan, bring leeks and broth to a boil, boiling 5-7 minutes. Next add chopped tomatoes and olive oil. Reducing heat, simmer for approximately 10 minutes. Stir in basil. Salt and pepper to taste. Garnish with remaining leek slices and basil sprig if desired.
Makes 6-8 servings.
---
Nutritional Information/Analysis:
Calories: 200 Protein: 21.8g Carbohydrates: 9.2g Total Fat: 8.7g Saturated Fat: 1.5g Dietary Fiber: 2.0g Cholesterol: 54mg Sodium: 56mg
For MORE recipes and heart health information, please subscribe to Heart Healthy Recipes' FREE Monthly newsletter below:

---
Receive 15% Discount & Free Shipping:

Receive a 15% discount on all products including kitchen items such as mixers, blenders, cookware sets, food processors, and more from

HomeHavenDecor.com

.  For the 15% discount, along with free shipping, please enter HEALTHY15 upon checkout.
---
Medical/Nutritional Disclaimer: HeartHealthyRecipes.com website offers informational service only and the information contained in this website is not intended as professional nutritional or medical advice. The content in this website should not be used solely during a medical emergency or for the diagnosis or treatment of any medical condition. Please consult your doctor or other qualified health care provider regarding any course of medical treatment.

---