Welcome to Heart Healthy Recipes' Newsletter. In this month's issue we are featuring a holiday brownie recipe made with superfood ingredients, a citrus date salad with pistachios and a stuffed artichoke recipe.
Also, find out how to receive a $10 Amazon.com e-gift card.
---
Superfood Brownies
For a yummy, holiday treat consider trying these healthy, superfood brownies. The ingredients in this recipe help the heart in many ways including the potassium rich avocado which helps maintain healthy blood pressure levels. Another superfood in this recipe is the dark chocolate chips. For a healthy, homemade chocolate chip recipe and benefits of dark chocolate, please see issue #10 of our Heart Healthy Recipes' Newsletters.

Recipe Ingredients:
½ cup almond butter

½ cups ripe avocado, mashed

½ cup cooked sweet potato

¼ cup coconut milk

3 tablespoons unsweetened cocoa powder

2 tablespoons maple syrup

½ cup semi-sweet dark chocolate chips*

⅓ cup almonds, chopped for garnish (optional)

*for homemade chocolate chips, see our "Heart Healthy Recipes, Issue #010" for recipe.
Recipe Instructions:
Preheat oven to 350°F. Brush the inside of a 9"x 13" baking dish with coconut oil or grape seed oil. In a medium mixing bowl combine almond butter, avocado, sweet potato, coconut milk, cocoa powder, and maple syrup. With an electric mixer set on low speed and mix until smooth. Stir in the chocolate chips. For healthy, homemade chocolate chips, please see our Heart Healthy Recipes - Issue #010.

Next, pour mixture into baking pan, distributing as evenly as possible throughout the pan. Bake in preheated oven for 25 minutes. Remove and allow to cool completely before slicing. Garnish with chopped almond bits if desired.

Makes 8-10 servings.
---
Citrus Date Salad with Pistachios
Attractive, colorful heart-healthy citrus salad with a festive flare also helps boost the immune system. The mandarin oranges and orange juice are high in antioxidants which may help regulate cholesterol levels. Mandarins also help maintain blood pressure and may assist with weight loss.
Recipe Ingredients:
4 mandarin oranges, peeled and sectioned

¼ cup red onion, thinly sliced

¼ cup dates, chopped

¼ cup Parmesan cheese

4 Belgian endives, pulled apart

pistachios, for garnish
Dressing Ingredients:
¼ cup orange juice

2 tablespoons rice vinegar

¼ cup olive oil

¼ teaspoon cardamom (optional)
Recipe Instructions:
Arrange oranges, red onion, dates, cheese, endive, and pistachios on four salad plates. Whisk together all dressing ingredients and spoon over salads.

Makes 6 servings.
---
Stuffed Artichokes
Heart-healthy artichokes contain extracts in the leaves that have been found to reduce bad cholesterol or LDL and increase the levels of good cholesterol, HDL or Omega-3 fatty acids. Artichokes are also rich in potassium which is an essential mineral helping to regulate blood pressure.

Recipe Ingredients:
4 artichokes

1 cup bread crumbs

1 cup Parmesan cheese

3 green onions, chopped

2 teaspoons capers

4 garlic cloves, finely chopped

¼ cup fresh parsley, finely chopped

½ teaspoon sea salt

½ teaspoon black pepper

½ cup grape seed oil
Recipe Instructions:
Trim the top and bottom of each artichoke, about an 1" off the top and enough off base to sit level. Turn each upside down and press slightly against the counter to open the leaves. Turn upright again and scoop out the choke center with a spoon. Place the artichokes upright in a covered pot, adding approximately ½" water. Steam over medium-low heat for 15-20 minutes, or until a leaf pulls off easily. Set steamed artichokes aside to cool.

While artichokes are steaming, preheat the oven to 375°F. In medium bowl combine the bread crumbs, cheese, green onions, capers, garlic, parsley, sea salt, and black pepper.

Place the artichokes, base down, in a baking dish. Use a spoon to carefully fill the center of each artichoke with the stuffing mix. Then fill the spaces between each artichoke leaf with stuffing. Drizzle the grape seed oil over the artichokes. Place the artichokes in the preheated oven and bake until the stuffing is golden brown, about 15 to 20 minutes.

Makes 4 servings.
---
For more heart-healthy recipes, please visit:
www.hearthealthyrecipes.com
---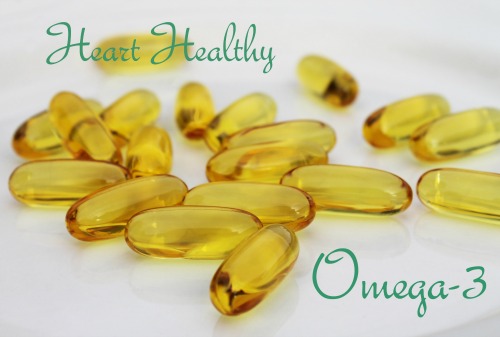 Heart Healthy Omega-3
Heart healthy oils found in Omega-3s benefit the heart in many ways including the regulating of blood pressure levels and assisting in stabilizing the heart rate. Omega-3 has many other health benefits as well. Recent studies have shown that this essential nutrient may also help alleviate depression and anxiety, which may help improve overall health.
Suggested Daily Amount of Omega-3:
A person's total amount of Omega-3 fatty acids should be 1200mg daily, consisting approximately 580-600mg of eicosapentaenoic acid (EPA) and 460-480mg of docosahexaenoic acid (DHA).


---
For more information on Omega-3, visit the following link:
www.hearthealthyrecipes.com/HeartHealthyOils.html
---
USANA's BiOmega™ High Quality Omega-3
A reliable source of mercury free, high-quality Omega-3 fatty acids are contained in USANA's BiOmega™ supplements. These Omega-3s are essential for a healthy heart.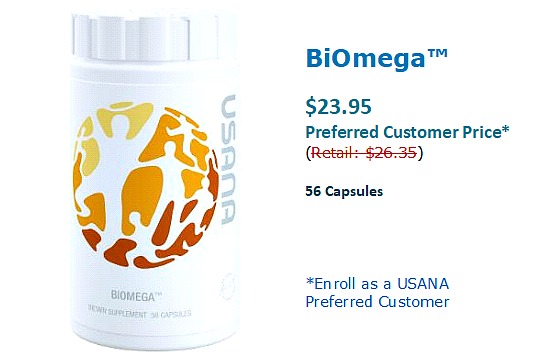 $10 Amazon.com e-Gift Card Offer
To receive $10 Amazon.com e-gift card, complete following -
1) Place any size order and enroll as a USANA Preferred Customer with the following link:
USANA PC Enrollment Form
2) Contact us by clicking on below form and include your new USANA Preferred Customer number:
Contact Form
OR
E-mail us at:
support@hearthealthyrecipes.com
In your e-mail include your new USANA Preferred Customer number. We will then e-mail you a $10 Amazon.com e-gift card as a thank you for your order and enrollment.
---
---
Medical/Nutritional Disclaimer: Heart-Healthy-Recipes' Newsletter and Heart-Healthy-Recipes.net website offers informational service only and the information contained in this newsletter is not intended as professional nutritional or medical advice. The content in this newsletter should not be used solely during a medical emergency or for the diagnosis or treatment of any medical condition. Please consult your doctor or other qualified health care provider regarding any course of medical treatment.
---