Welcome to Heart Healthy Recipes' Newsletter. In this issue we are featuring recipes containing vitamin D shown by recent studies to help the heart. Our recipes this month include a non-dairy, low-fat mushroom soup, a sesame seed salmon dish, and refreshing citrus drink.
---
Vegan Mushroom Soup
This non-dairy mushroom soup that is delicious on a winter day also provides the heart with the healthy benefits of vitamin D. Mushrooms are the only plant-based source of vitamin D, specifically D2, where vitamin D3 is found in meat, such as salmon. Even though mushrooms are lacking in vitamin D3, the vitamin D2 content in them helps raise blood levels of vitamin D. If planning on eating mushrooms for the vitamin D content, it is important to seek out those grown with exposure to the sun or UV light* treatments.

Recipe Ingredients:
¼ cup grape seed oil

1½ lb. fresh button mushrooms, sliced

1 whole medium onion, chopped

3 cloves garlic, minced

2 stalks celery, thinly sliced

2-3 sprigs fresh thyme leaves

4 cups vegetable stock

sea salt (optional)

black pepper, to taste

1 tablespoon balsamic vinegar

fresh parsley, chopped for garnish (optional)
Recipe Instructions:
In a large saucepan, heat grape seed oil over medium-high heat. Sauté mushrooms and onion until tender-golden brown, approximately 7-10 minutes. Reduce heat to medium, adding garlic, celery, and thyme. Slowly pour in vegetable stock, bringing to a boil and stirring frequently, until vegetables are soft, approximately 5 minutes. Season to taste with salt (optional) and pepper. Reduce heat and add balsamic vinegar, allowing to simmer uncovered approximately 15-20 minutes, stirring occasionally. Remove it from the heat and allow to cool for another 15-20 minutes. Before serving, top with fresh parsley, if desired.

Makes 6 servings.

*Health Reference: www.ncbi.nlm.nih.gov/pubmed/23485617
---
Sesame Seed Salmon
Attractive salmon dish is low in sodium and full of flavor. Salmon is abundant in heart healthy nutrition like Omega-3s and also a great source of vitamin D3, as mentioned in above recipe. Recent studies from Italy are showing that regular consumption of vitamin D may help reduce the risk of stroke. Also, vitamin D may help strengthen and even repair the lining of blood vessel walls helping to reduce high blood pressure according to a recent Ohio University*clinical study. This study also mentions a connection between vitamin D3 deficiency and increased risk of heart attacks.
Recipe Ingredients:
1 16-oz. salmon fillet, skinless - fresh or thawed

⅓ cup flour

¼ teaspoon sea salt

2 tablespoons black sesame seed

2 tablespoons white sesame seed

¼ cup coconut milk

2 tablespoons grape seed oil

¼ cup tahini

3 tablespoons lemon juice

2 tablespoons chopped roasted sweet red pepper

1 tablespoon water

lemon wedges, for garnish

fresh water cress, for garnish
Recipe Instructions:
Cut salmon into four even pieces, then rinse and lightly dry with paper towels. Gently flatten out fish fillets working from the center to the edges, until an even thickness, approximately ½ inch. Next, in a bowl combine half of the flour, half of the salt, and all of the black sesame seeds. In a second bowl, combine remaining flour, salt, and all of the white sesame seeds.

In a shallow dish filled with the coconut milk, dip the salmon fillets, pressing one half of each side of fillet in black sesame seed mixture and then press the other half of each side in white sesame seed mixture.

Next, in a large skillet, heat grape seed oil over medium-high heat, cooking coated fish fillets for 4 to 6 minutes or until fish just flakes, turning once.

In a blender container combine tahini, lemon juice, red pepper, and water. Place lid on container and blend until smooth. If needed add additional water, only about a teaspoon at a time until sauce is desired consistency.

To serve, pour equal amounts of tahini sauce on four plates then place each fillet on tahini sauce. Garnish with lemon wedges and fresh watercress if desired.

Makes 4 servings.

*Health Reference: https://www.dovepress.com/nanomedical-studies-of-the-restoration-of-nitric-oxideperoxynitrite-ba-peer-reviewed-article-IJN
---
Super Citrus Drink
Revitalize with this citrus drink containing all heart healthy ingredients starting with the oranges and lemons. These citrus fruits are all super abundant in antioxidants which have been linked to reducing cholesterol and may help lower the risk of heart disease. Also, the avocado in this recipe helps maintain healthy cholesterol levels. Finally, the fresh spinach helps regulate and lower blood pressure.

Recipe Ingredients:
1 cup diced blood oranges, peeled

2 tangerine oranges, peeled

½ organic lemon, Zest and flesh

½ avocado, pitted and peeled

honey, to taste

2 handfuls of spinach
Recipe Instructions:
Blend all ingredients in a high-speed blender until smooth and serve.

Makes 2 servings.
---
For more heart healthy recipes, please visit:
www.hearthealthyrecipes.com
---
Heart Healthy Vitamin D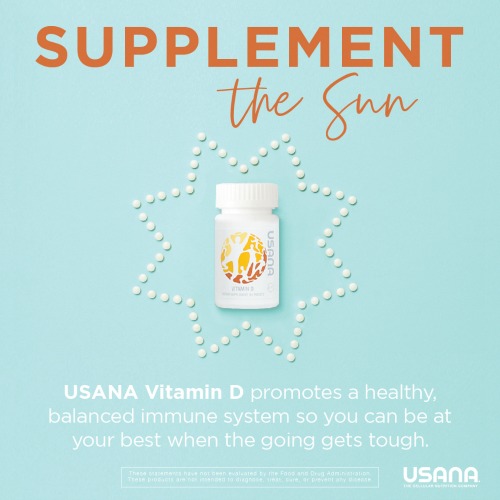 ---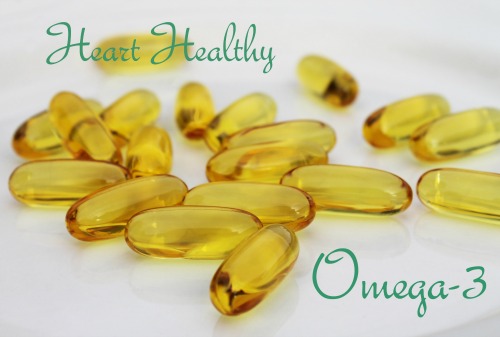 Heart Healthy Omega-3
Heart healthy oils found in Omega-3s benefit the heart in many ways including the regulating of blood pressure levels and assisting in stabilizing the heart rate. Omega-3 has many other health benefits as well. Recent studies have shown that this essential nutrient may also help alleviate depression and anxiety, which may help improve overall health.
Suggested Daily Amount of Omega-3:
A person's total amount of Omega-3 fatty acids should be 1200mg daily, consisting approximately 580-600mg of eicosapentaenoic acid (EPA) and 460-480mg of docosahexaenoic acid (DHA).


---
For more information on Omega-3, visit the following link:
www.hearthealthyrecipes.com/HeartHealthyOils.html
---
USANA's BiOmega™ High Quality Omega-3
A reliable source of mercury free, high-quality Omega-3 fatty acids are contained in USANA's BiOmega™ supplements. These Omega-3s are essential for a healthy heart.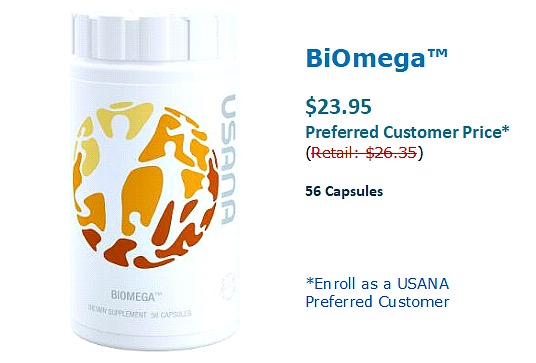 USANA PC Enrollment Form
E-mail us at:
support@hearthealthyrecipes.com
---
---
Medical/Nutritional Disclaimer: Heart-Healthy-Recipes' Newsletter and Heart-Healthy-Recipes.net website offers informational service only and the information contained in this newsletter is not intended as professional nutritional or medical advice. The content in this newsletter should not be used solely during a medical emergency or for the diagnosis or treatment of any medical condition. Please consult your doctor or other qualified health care provider regarding any course of medical treatment.
---