Welcome to Heart Healthy Recipes' Newsletter. This month we are featuring several Mediterranean style dishes, including a veggie polenta and zucchini-chickpea salad. Also, a hearty vegetable chili containing the heart-healthy nutrient vitamin D shown by recent studies to help the heart.
---
Mediterranean Veggie Polenta
The Mediterranean diet is one of the heart-healthiest diets and this polenta dish is full of heart-healthy ingredients. Included is the artichoke, believed to having its origins in the Mediterranean, may help in lowering cholesterol and regulating blood pressure. The tasty zucchini, bell peppers, basil, garlic and onions also all contribute to maintaining, improving and possibly preventing heart disease.

Recipe Ingredients:
1 cup whole-grain yellow cornmeal

¾ cup cold water

2½ cups boiling water

½ teaspoon salt

⅔ cup low-fat mozzarella cheese, shredded

2 teaspoons grape seed oil

4 medium zucchini, sliced

1 medium red bell pepper, chopped

1 sweet onion, chopped

1 garlic clove, minced

¼ cup fresh basil leaves, chopped

14 ounces artichoke hearts
Recipe Instructions:
In a large saucepan, add the cornmeal and cold water, stirring briskly with a wire whisk. Next, stir in boiling water and salt. Cook over medium-high heat, while stirring constantly, until mixture thickens and boils. Cover and reduce heat. Let simmer for 10 minutes, stirring occasionally. Next, stir in cheese until smooth and keep polenta warm.

In a medium skillet, heat oil on medium-high heat. Add the zucchini, bell pepper, onion and garlic cooking for about 5 minutes. Stir occasionally until vegetables are crisp and tender. Next, stir in basil and artichoke hearts. Serve vegetable mixture over polenta.

Makes 6 servings.


---
Hearty Vegetable Chili
Great on a winter's day, this vegetable chili also helps support your heart with its many healthy ingredients. Research shows the needed nutrient of vitamin D, found in the ingredient of mushrooms, helps keep your heart and blood vessels in good working condition. Also, a recent study at Ohio University has shown vitamin D may actually repair damage to the heart and blood vessels caused by high blood pressure.
Recipe Ingredients:
1 tablespoon grape seed oil

1 sweet onion, chopped

1 carrot, thinly sliced

1 green pepper, chopped

10 ounces fresh mushrooms, sliced

1 small zucchini, sliced

12 black olives, sliced and pitted

4 large garlic cloves, minced

6 tomatoes, chopped

16 ounces low-sodium tomato sauce

3 green chili peppers, diced

4 cups cooked kidney beans

3 tablespoons chili powder

1 tablespoon dried oregano

2 teaspoons ground cumin

2 teaspoons paprika

1 tablespoon white-wine vinegar

fresh cilantro sprigs, for garnish
Recipe Instructions:
In a large pot, warm the oil over medium heat. Next, add the onion, carrots, green peppers, mushrooms, zucchini, olives and garlic. Sauté for about 20 minutes. Add the tomatoes, tomato sauce, chili peppers, beans, chili powder, oregano, cumin, and paprika. Simmer for at least 30 minutes, stirring often. Next, add the vinegar and simmer briefly. Serve with fresh cilantro sprigs for garnish if desired.

Makes 6 servings.


---
Spicy Zucchini-Chickpea Salad
The potassium rich zucchini, containing carotenoids and fiber may help protect the heart by assisting in lowering blood pressure and cholesterol. Also, the antioxidants, fiber, and Omega-3 fatty acids in chickpeas may help lower cholesterol and regulate blood sugar levels. Avocados are loaded with Omega-3s helping provide heart protection and over-all health. We invite you to visit our past newsletters published on our website mentioning the heart benefits of remaining ingredients, including the spices of garlic, thyme, benefits of grape seed oil, onions and olives.

Recipe Ingredients:
1 garlic clove, minced

¼ teaspoon dried thyme

5 tablespoons vinegar

½ cup grape seed oil

3 medium zucchini

1 cup precooked chickpeas - chilled, rinsed and drained

½ cup black olives, sliced and pitted

3 green onions, minced

1 canned chipotle chili - drained, seeded and minced

1 ripe avocado, pitted

⅓ cup crumbled feta cheese

1 head Butter lettuce, cored and separated into leaves

sliced tomatoes and cilantro sprigs, for garnish
Recipe Instructions:
In a large bowl, combine garlic, thyme and vinegar. Gradually add oil, whisking until dressing is completely blended. Cut zucchini lengthwise into halves and then crosswise into ¼-inch slices. Add zucchini to dressing. Next, add chickpeas, olives and onions while mixing gently to coat with dressing. Cover and refrigerate approximately 30 minutes.

Before serving gently mix in chipotle chili. Cut avocado into ½-inch cubes and add cheese. Again, toss lightly to mix. To serve, place several leafs of lettuce on a plate and add a single serving of salad on top of lettuce. Garnish with tomato slices and cilantro sprigs if desired.

Makes 4 servings.
---
For more heart healthy recipes, please visit:
www.hearthealthyrecipes.com
---
Heart Healthy Vitamin D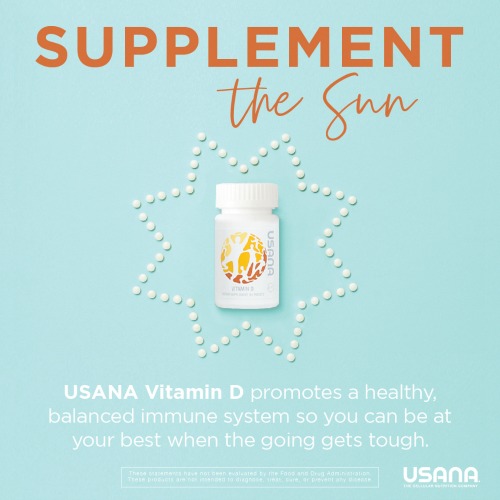 ---
Heart Healthy Omega-3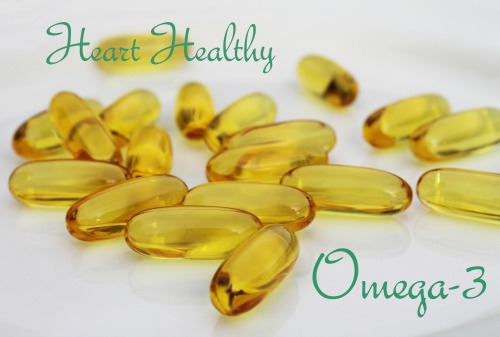 The heart healthy oils found in Omega-3s benefit the heart in many ways including keeping blood pressure levels regulated and assisting in a more stabilized heart rate.
Suggested Daily Amount of Omega-3:
A person's total amount of Omega-3 fatty acids should be 1200mg daily, consisting approximately 580-600mg of EPAs and 460-480mg of DHAs.


---
For more information on Omega-3, visit the following link:
www.hearthealthyrecipes.com/HeartHealthyOils.html
---
USANA's BiOmega™ High Quality Omega-3
A reliable source of mercury free, high-quality Omega-3 fatty acids are contained in USANA's BiOmega™ supplements. These Omega-3s are essential for a healthy heart.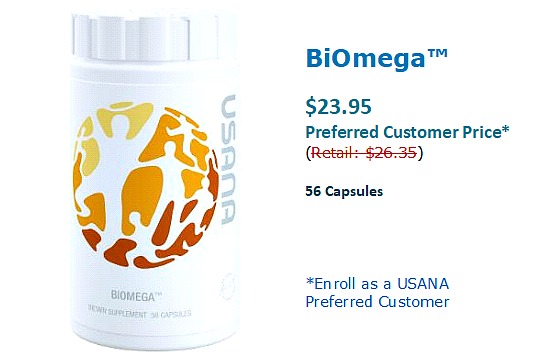 USANA PC Enrollment Form
E-mail us at:
support@hearthealthyrecipes.com
---
---
Medical/Nutritional Disclaimer: Heart-Healthy-Recipes' Newsletter and Heart-Healthy-Recipes.net website offers informational service only and the information contained in this newsletter is not intended as professional nutritional or medical advice. The content in this newsletter should not be used solely during a medical emergency or for the diagnosis or treatment of any medical condition. Please consult your doctor or other qualified health care provider regarding any course of medical treatment.
---