Welcome to Heart Healthy Recipes' Newsletter. In this newsletter we are featuring Greek-style grilled lamb burgers, fresh herb couscous and a Mediterranean salad.
---
Greek-Style Grilled Lamb Burgers
Lamb is a common part of the Greek and Mediterranean diets. This quick, simple summer recipe is also a heart-healthy way to enjoy lamb. Heart-healthy because the grilling process helps reduce the natural fats. Also, the lamb is a rich source of healthy nutrients including iron, magnesium, selenium, omega-3 fatty acids and CoQ10. The other heart-healthy ingredients include herbs and zesty Greek yogurt, adding a satisfying, tasty combination - great for entertaining and summer picnics.

Recipe Ingredients:
1 cup fat-free Greek yogurt

½ cup cucumber, grated

1 teaspoon fresh mint, finely chopped

3 garlic cloves, pressed and divided

1 teaspoon sea salt

2 pounds ground lamb

¼ cup red onion, minced

¼ cup fresh mint, finely chopped

1 tablespoon fresh oregano, finely chopped

1 tablespoon mustard

6 whole wheat hamburger buns
Recipe Instructions:
Preheat grill to 350°F or medium to high heat. In a small to medium bowl, stir yogurt, cucumber, and 1 teaspoon mint. Add only one of the pressed garlic cloves and half of the sea salt - ½ teaspoon. Cover and chill until ready to serve.

Gently combine lamb with onion, ¼ cup fresh mint, oregano, and mustard. Add remaining two pressed garlic cloves and remaining ½ teaspoon sea salt. Shape this mixture into six patties, approximately 4-inches each.

Grill patties, covering with lid 5 to 6 minutes, then turn over patties for another 5 to 6 minutes or until cooked all the way through. Serve burgers with yogurt sauce and desired toppings on bread or whole wheat hamburger buns.

Suggested toppings: Bibb lettuce, sliced tomatoes, and sliced red onions.



Makes 6 servings.


---
Fresh Herb Couscous Salad
The herb flavored couscous salad is abundant in antioxidants due to the selenium rich couscous. Studies have shown the antioxidants contained in selenium may help reduce inflammation and help lower cholesterol. Along, with the other heart-healthy ingredients, this salad is a great addition to most meals or as a light meal by itself.
Recipe Ingredients:
2 cups couscous, uncooked ½ cup dried currants or raisins

3 cups boiling water

1 medium tomato, chopped 1 medium cucumber, peeled and chopped

½ cup fresh mint, finely chopped

⅓ cup fresh chives, finely chopped

⅓ cup fresh parsley, chopped

⅓ cup fresh basil, chopped

¼ cup lemon juice

¼ cup grapeseed oil

1 garlic clove, minced
Recipe Instructions:
Combine couscous and currants (or raisins) in a large bowl. In a medium sauce pan bring water to boil. Carefully pour boiling water over couscous mixture, stirring to combine and let cool for about 10 minutes.

Next, chop tomato in ½-inch chunks along with peeled, seeded and chopped cucumber. Add to cooled couscous with remaining ingredients and stir together.

Serve at room temperature or chilled.

Makes 8 servings.


---
Mediterranean Salad
Great with almost any meal or by itself, this salad is loaded with heart-healthy veggies. For example, the tomatoes contain a good amount of vitamins which include vitamins A, C, and K, along with B vitamins. They are also a great source of potassium, which helps lower blood pressure and helps keep the heart beating regularly. The cucumber also helps regulate blood pressure with potassium, magnesium and fiber. The remaining ingredients in this recipe all contribute to heart health.

Recipe Ingredients:
3 tomatoes, chopped

2 cucumbers, peeled and chopped

½ bell pepper, chopped

½ onion, finely chopped

15 black Greek olives

1 garlic clove, minced

½ cup plain nonfat yogurt

1 tablespoon honey

1 tablespoon fresh dill, chopped

2 teaspoons fresh mint, finely chopped
Recipe Instructions:
Lightly wash the outsides of the tomatoes, cucumbers, and bell pepper. Chop the tomatoes in ½-inch chunks, then add to a medium-sized serving bowl. Next, peel and chop cucumbers in ½-inch pieces, adding to bowl with tomatoes. Add chopped bell pepper, onion, and olives to the veggie bowl, cover and allow to chill for 20 minutes. In a smaller bowl, combine garlic, yogurt, honey, and dill for the dressing. Drain the first vegetable bowl of any excess liquid and add the yogurt dressing, gently mixing. Garnish with mint.

Makes 4 servings.
---
For more heart healthy recipes, please visit:
www.hearthealthyrecipes.com
---
Heart Healthy Omega-3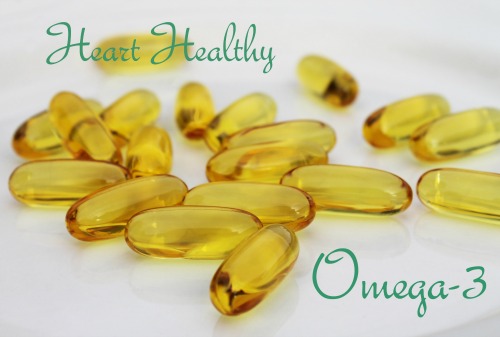 Suggested Daily Amount of Omega-3:
A person's total amount of Omega-3 fatty acids should be 1200mg daily, consisting approximately 580-600mg of EPAs and 460-480mg of DHAs.


---
For more information on Omega-3, visit the following link:
www.hearthealthyrecipes.com/HeartHealthyOils.html
---


We would love to hear from you!

If you have any questions, comments or suggestions, please feel free to e-mail us at:

support@hearthealthyrecipes.com
---
---
Medical/Nutritional Disclaimer: Heart Healthy Recipes' Newsletter and HeartHealthyRecipes.com website offers informational service only and the information contained in this newsletter is not intended as professional nutritional or medical advice. The content in this newsletter should not be used solely during a medical emergency or for the diagnosis or treatment of any medical condition. Please consult your doctor or other qualified health care provider regarding any course of medical treatment.
---