Welcome to Heart Healthy Recipes' Newsletter. In this month's newsletter we are featuring a Mediterranean-style strawberry salad - great for summer picnics, an elegant asparagus dish topped with raspberry-strawberry sauce, and a grilled shrimp scampi recipe. All of these recipes are high in powerful antioxidants helping to protect the heart from too much inflammation and free radical damage.
---
Mediterranean Strawberry Salad
Great for summer picnics with festive colors of in-season fresh strawberries and mint. This Mediterranean-style salad also contributes to heart health with the super-foods of fresh strawberries and mint. The antioxidant, vitamin C rich strawberries help lower cholesterol and blood pressure, while the wheat berry helps regulate blood sugars. The abundance of fresh mint in this summer recipe also helps the heart by reducing chronic inflammation due to its antioxidant properties. Studies have shown that too much inflammation has been linked with various diseases including heart disease.

Recipe Ingredients:
1 cup wheat berries

3 cups (1 lb.) fresh strawberries, hulled and halved

2 tablespoons lemon juice

2 tablespoons honey

½ teaspoon sea salt

¼ teaspoon black pepper

3 tablespoons olive oil or grape seed oil

2 medium scallions, sliced

2 medium carrots, shredded

½ cup fresh mint, finely chopped

2 teaspoons lemon zest

4 ounces crumbled goat cheese
Recipe Instructions:
In a medium sauce pan, bring 4 cups water to boil. Add the wheat berries and return to a boil, then reduce heat to simmer. Cover and cook for 40 to 45 minutes. Drain and rinse with cold water, draining again and place in a large bowl. Allow to cool to room temperature.

Next, purée approximately ½ cup of strawberries in a food processor or blender. Add lemon juice, honey, salt and pepper, continuing to blend. With the food processor or blender running, drizzle in the oil. Pour dressing over the wheat berries, add halved strawberries, scallions, carrots, mint and lemon zest. Sprinkle with crumbled goat cheese.

Makes 4 servings.


---
Raspberry-Strawberry Asparagus
An elegant, colorful side dish for summer entertaining that is also a heart-healthy compliment to almost any meal. The honey-sweetened raspberries contribute to heart health with their powerful antioxidants helping to reduce inflammation. Strawberries and mint are also rich in antioxidants, further aiding in the reduction of inflammation. Also, the B vitamins in asparagus have been shown to lower homocysteine levels. Lowering homocysteine is important because elevated levels can damage blood vessel walls possibly increasing plaque formation in arteries. Increased plaque in the arteries has been shown to increase the chance of heart attack and stroke.
Recipe Ingredients:
1 pound asparagus, trimmed

½ cup raspberries, fresh

½ cup strawberries, fresh

1 tablespoon honey

2 tablespoons raspberry vinegar

1 tablespoon fresh mint, chopped

black pepper, to taste
Recipe Instructions:
In a large saucepan, fill with approximately 1-inch of water and bring to a boil. Arrange the asparagus in a steamer basket and place over the boiling water. Next, cover and steam the asparagus for 3 to 5 minutes, or until crisp-tender.

In a small sauce pan, combine the raspberries, strawberries, honey, and vinegar. Cook over medium heat bringing to a boil, then reduce heat and continue cooking for approximately 5 minutes allowing berries to soften and break down. Next, place berry mixture in a food processor or blender and purée until smooth. If desired, pour through a sieve for a smoother sauce. Stir in the mint and pepper. Place the asparagus on a serving plate and drizzle with the berry sauce.


Makes 4 servings.


---
Grilled Shrimp Scampi
Summer grilling is here and this shrimp scampi is not only tasty, but also loaded with heart healthy ingredients. Starting with the antioxidants found in the lemon and herbs such as the parsley and oregano, which help fight against free radicals. These antioxidants also help reduce chronic inflammation, which is connected to many modern diseases. In addition, the potassium rich red peppers and compounds in the garlic have been shown to help reduce blood pressure, while the healthy oils assist in reducing cholesterol.

Recipe Ingredients:
12 ounces multigrain pasta

1 lemon, peel and juice

2 tablespoons olive oil or grape seed oil

3 garlic cloves, pressed and divided

¼ teaspoon dried oregano

½ teaspoon black pepper, fresh ground

2 medium red peppers, seeded and quartered

26 - 30 medium shrimp (12 oz.), deveined and shelled

¼ cup fresh parsley, finely chopped

¼ teaspoon sea salt
Recipe Instructions:
Preheat grill to 350°F or medium to high heat. Next, in a large sauce pan, heat water on high heat to boiling. Add pasta to boiling water. Cook pasta according to package instructions - usually 8 to 10 minutes.

In a large bowl, grate all the lemon peel and squeeze approximately 3 tablespoons of lemon juice. Add in oil, garlic, oregano, and half of the freshly ground black pepper (¼ teaspoon) and set aside. Grill red peppers 7 to 8 minutes or until crisp-tender and lightly charred, turning once. Transfer to cutting board and chop into ¼-inch pieces. Add red peppers to large bowl with lemon mixture.

Sprinkle remaining freshly ground black pepper over shrimp. Grill shrimp 2 to 3 minutes or until opaque through-out, turning over once. Transfer shrimp to a medium bowl.

Drain water from paste. Now add the pasta to bowl with red peppers and lemon mixture, along with parsley and sea salt. Toss until well combined. Serve pasta with shrimp.


Makes 4 servings.
---
For more heart healthy recipes, please visit:
www.hearthealthyrecipes.com
---
Heart Healthy Omega-3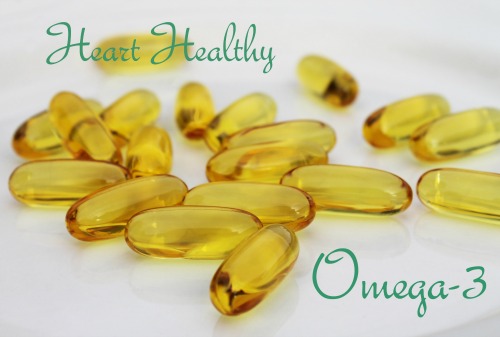 Suggested Daily Amount of Omega-3:
A person's total amount of Omega-3 fatty acids should be 1200mg daily, consisting approximately 580-600mg of EPAs and 460-480mg of DHAs.


---
For more information on Omega-3, visit the following link:
www.hearthealthyrecipes.com/HeartHealthyOils.html
---
We would love to hear from you!
If you have any questions or comments, please feel free to e-mail us at:

support@hearthealthyrecipes.com
---
---
Medical/Nutritional Disclaimer: Heart Healthy Recipes' Newsletter and HeartHealthyRecipes.com website offers informational service only and the information contained in this newsletter is not intended as professional nutritional or medical advice. The content in this newsletter should not be used solely during a medical emergency or for the diagnosis or treatment of any medical condition. Please consult your doctor or other qualified health care provider regarding any course of medical treatment.
---