Welcome to Heart Healthy Recipes' Newsletter. In this newsletter we are featuring sweet-and-sour salmon, rosemary asparagus, and a pomegranate gelatin dessert.
---
Rosemary Asparagus
An attractive, simple and elegant side dish that is also heart-healthy. The asparagus is an excellent source of vitamins and minerals, including potassium. Potassium has been shown to lower blood pressure which helps reduce the risk of heart problems. The antioxidants in asparagus also help reduce inflammation, further helping to prevent disease and promoting overall good health. In addition, the fragrant and flavorful rosemary helps boost a person's immunity.

Recipe Ingredients:
½ cup chicken broth

2 tablespoons fresh rosemary, minced (or 2 teaspoons dried rosemary, crushed)

1 garlic clove, halved

1 bay leaf

1 pound fresh asparagus, trimmed

⅓ cup onion, chopped

1 tablespoon fresh parsley, minced
Recipe Instructions:
In a skillet, combine the broth, rosemary, garlic, and bay leaf. Add asparagus and onion. Bring to a boil. Reduce heat; cover and simmer for 3-5 minutes or until crisp-tender. Discard bay leaf. Garnish with parsley.

Makes 4 servings.


---
Sweet-and-Sour Salmon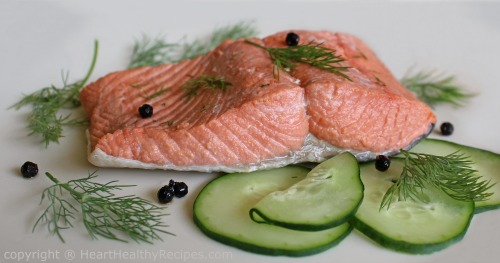 Great for an Easter brunch, this attractive salmon dish is also heart-healthy due to the abundance of Omega-3s. Many cardiologists believe that the unsaturated fats in salmon, called Omega-3 fatty acids, are the nutrients that may help reduce the risk of heart disease. Recent studies have also shown that other nutrients in salmon, along with the combination of Omega-3 fatty acids may help reduce the risk of heart problems. The American Heart Association recommends eating fish rich in Omega-3 fatty acids at least twice a week.
Recipe Ingredients:
4 cups water

2 cups dry white wine

½ cup lemon juice

4 tablespoons honey

20 black peppercorns

12 large dill sprigs

2 bay leaves

4 teaspoons salt

12 salmon fillets with skin - 3 to 4 ounces each

3 tomatoes, sliced into ½-inch-thick rounds

1 cucumber, thinly sliced
Recipe Instructions:
Utilizing two skillets - divide first eight ingredients in half. In each skillet, start with 2 cups water, then 1 cup wine, ¼ cup lemon juice, 2 tablespoons honey, 10 peppercorns, 6 dill sprigs, 1 bay leaf and 2 teaspoons salt. Heat the added ingredients over medium-high heat. Bring to boil, stirring occasionally until salt dissolves. Reduce heat to medium-low. Now add 6 salmon fillets to each skillet. Cover and simmer 3 minutes. Turn salmon over. Cover and simmer until just opaque in center, about 3 minutes. Cool 5 minutes. Divide salmon and marinade into two 13x9x2 glass baking dishes. Refrigerate until cold, at least 3 hours. Cover; keep refrigerated. Using large spatula, lift salmon from marinade, transfer to plates. Remove skin, if desired. Garnish with tomatoes and cucumber slices.

Recipe Note: This salmon dish can be made two days ahead if refrigerated.

Makes 12 servings.


---
Pomegranate Gelatin Dessert
The pomegranate juice in this dessert maybe one of the most heart-healthy juices, protecting the heart and arteries. It also helps improve the blood flow through the arteries and may help reduce plaque. The pomegranate juice is full of powerful antioxidants helping to reduce inflammation, reducing blood pressure and also cholesterol.

Recipe Ingredients:
2 cups pure pomegranate juice

4 teaspoons gelatin powder, unflavored

¼ cup granulated sugar

1 cup dry white wine

½ cup orange juice, strained

2 tablespoons lime juice, strained

1½ cups mixed fresh fruit of berries, mangoes and grapes, sliced

Small mint sprig for garnish (optional)
Recipe Instructions:
In a small saucepan, pour 1 cup of the pomegranate juice. Next, sprinkle the gelatin and sugar over the juice. Allow to sit for 5 minutes. Place the saucepan over medium heat and stir until the gelatin and sugar completely dissolve. Remove from heat and stir in the remaining 1 cup pomegranate juice, along with the wine, orange juice, and lime juice. Pour the mixture into six serving dishes. Refrigerate until firm, 3 to 4 hours.

To serve, add the mixed fruit on top of the pomegranate gelatin. Other fruit topping ideas include - peaches, plums, oranges, honeydew melon, and bananas. Garnish with mint sprigs, if desired.

Makes 6 servings.
---
For more heart healthy recipes, please visit:
www.hearthealthyrecipes.com
---
Heart Healthy Omega-3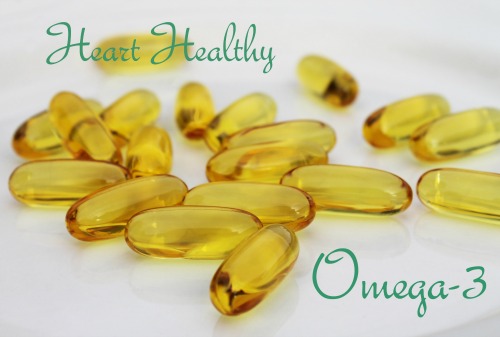 The heart healthy oils found in Omega-3s benefit the heart in many ways including keeping blood pressure levels regulated and assisting in a more stabilized heart rate.
Suggested Daily Amount of Omega-3:
A person's total amount of Omega-3 fatty acids should be 1200mg daily, consisting approximately 580-600mg of EPAs and 460-480mg of DHAs.


---
For more information on Omega-3, visit the following link:
www.hearthealthyrecipes.com/HeartHealthyOils.html
---
USANA's BiOmega™ High Quality Omega-3
A reliable source of mercury free, high-quality Omega-3 fatty acids are contained in USANA's BiOmega™ supplements. These Omega-3s are essential for a healthy heart.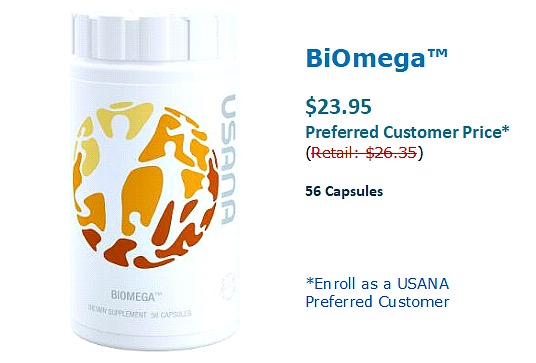 USANA PC Enrollment Form
E-mail us at:
support@hearthealthyrecipes.com
---
---
Medical/Nutritional Disclaimer: Heart-Healthy-Recipes' Newsletter and Heart-Healthy-Recipes.net website offers informational service only and the information contained in this newsletter is not intended as professional nutritional or medical advice. The content in this newsletter should not be used solely during a medical emergency or for the diagnosis or treatment of any medical condition. Please consult your doctor or other qualified health care provider regarding any course of medical treatment.
---