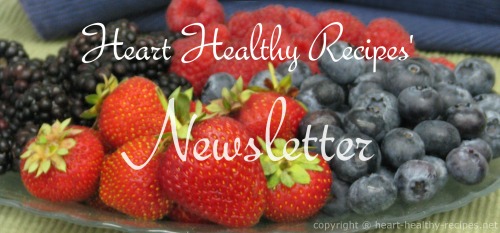 Welcome to Heart Healthy Recipes' Newsletter!
This month we are focusing on the heart health benefits of in-season heart healthy blueberries, along with some heart healthy blueberry recipes.
Recipes include a blueberry smoothie and a cooling summer parfait. Both recipes are no-bake to help avoid more summer heat and also retaining the nutrients of the blueberries.
---
Health Benefits of Blueberries:
In-season blueberries have many health benefits for the body, including the heart. The antioxidant-rich blueberries are high in vitamin C, flavonoids, along with heart healthy fiber. The vitamin C in blueberries helps support the immune system, along with flavonoids helping to reduce inflammation. Studies have shown that prolonged inflammation may contribute to many diseases including heart disease.

Studies have also shown that eating blueberries frequently, even every day, may help with weight-loss. The weight-loss is contributed to the high fiber content in the blueberries. Maintaining a healthy weight may help alleviate and even deter heart problems. The high soluble fiber in blueberries may also attribute to lowering cholesterol.

A recent Harvard study showed that eating one cup of blueberries per day may help lower blood pressure. This may be due to the high levels of anthocyanins in the blueberries. The anthocyanins helped improve the endothelial cells lining the blood vessels which helps blood flow and also blood pressure.

---
2023 New NutriBullet Slow Juicer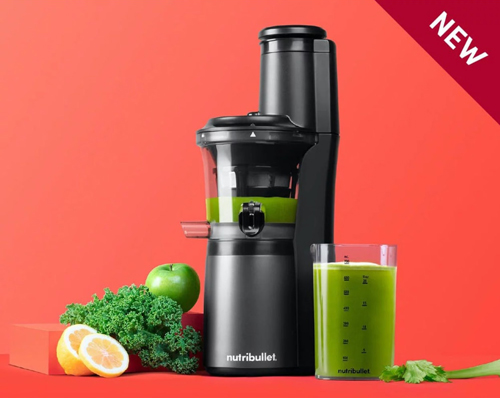 The New NutriBullet Slow Juicer has a convenient feed chute. The feed chute helps fit larger quantities of produce, while its high-torque, low-speed motor and durable steel-tipped auger wring every drop of deep nutrition from your favorite fruits and veggies.

Introductory price of $159.99 (MSRP-$199.99)

For more information regarding juicer, please visit:
https://homehavendecorstore.com/products/nutribullet-slow-juicer
or click on following link: nutribullet-slow-juicer

---
Blueberry Chia Smoothie
Refreshing, cool smoothie drink on a warm or hot summer day with heart healthy blueberries.
Recipe Ingredients:
2 bananas, fresh or frozen

2 cups almond or oat milk

1½ cups blueberries, fresh or frozen

2 teaspoons Chia seeds

1 teaspoon honey (optional)
Recipe Instructions:
In a blender, or a food processor, add bananas and non-dairy drink. Blend until a smooth consistency. Next, add blueberries and Chia seeds. Honey if desired (optional). If smoothie is too thick, add more milk.

Makes 2 servings.
---
Fresh Blueberry Parfait
No-bake, no-cook dessert on a hot summers' day of blueberries, granola, and lemon. Naturally sweetened with honey (optional).
Recipe Ingredients:
1½ cups Greek or low-fat yogurt, divided

2 cups blueberries, fresh or frozen

½ cup sugar-free granola, divided

2 teaspoons honey, or to taste (optional)

Lemon zest curls, for topping (optional)
Recipe Instructions:
Divide yogurt in two containers.

To build two-layered parfaits, start by adding approximately ⅓ cup yogurt to each glass - or similar container. Next, add a ¼ of the blueberries, ¼ cup of granola, the rest of the yogurt, and remaining blueberries. Drizzle with honey (optional).

To serve, add lemon zest curls, if desired.

Makes 2 servings.

---
For More Blueberry Recipes, Please Visit:
berry-blueberry-grape-drink.html
berrylemoncheesecake.html
HealthyBlueberryMuffins.html
blueberrypie.html


---
NutriBullet Personal Blender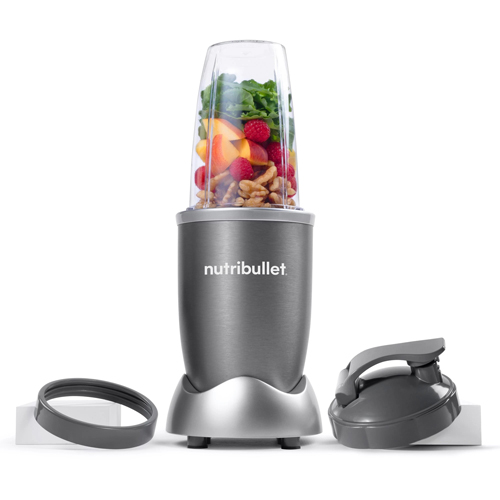 Effortlessly blend your favorite smoothies, soups, sauces, and much more with nutribullet. For more options, please visit: collections/kitchen


---
Heart Healthy Weight-Loss Facebook Group:
If interested in joining our Heart Healthy Weight-Loss Facebook group, please visit us at:

www.facebook.com/groups/hearthealthyweightloss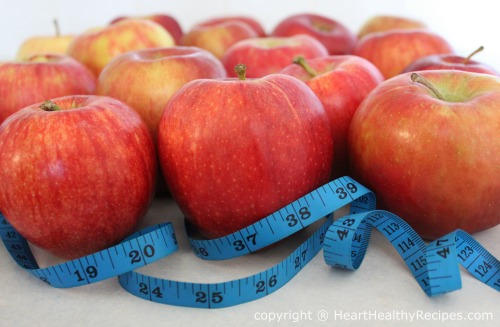 ---
For more heart healthy recipes, please visit:
www.pinterest.com/hearthealthyrecipes www.facebook.com/Heart.Healthy.Recipes.net www.facebook.com/groups/hearthealthyweightloss www.HeartHealthyRecipes.com



---

Check out this non-profit organization that delivers hope to suffering children and families around the world by clicking on the following link:

Children's Hunger Fund


---
Receive 15% Discount:



Receive a 15% discount on all products from Home Haven Décor including kitchen items such as mixers, blenders and more. To receive the 15% discount, please add the code of NEWSLETTER15 at checkout.


---
Also, if you have any questions or comments, please send us an e-mail at:


support@HeartHealthyRecipes.com



---
*Medical/Nutritional Disclaimer: Heart Healthy Recipes' Newsletter and HeartHealthyRecipes.com website offers informational service only and the information contained in this newsletter is not intended as professional nutritional or medical advice. The content in this newsletter should not be used solely during a medical emergency or for the diagnosis or treatment of any medical condition. Please consult your doctor or other qualified health care provider regarding any course of medical treatment.
---