Blueberry Pie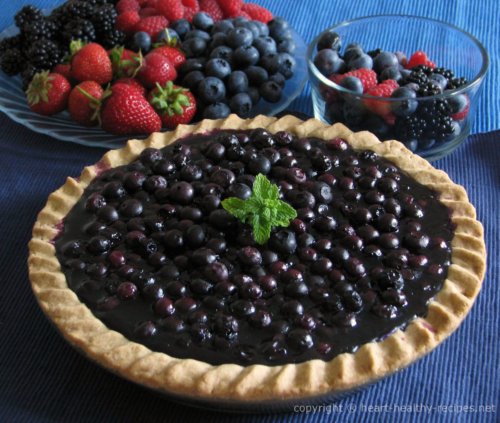 This heart-healthy blueberry pie is full of nutrients that are good for the heart. Blueberries are a "superfood" for health because these berries contain the highest antioxidant capacity of all fruits. In fact, blueberries rank number #1 in the world of anti-oxidants. This is mainly due to the presence of Anthocyanin, a pigment giving the blueberry the color blue. The abundance of vitamin-C is also a big contributor to the high anti-oxidants as well. A diet rich in blueberries, such as this heart-healthy blueberry pie, lowers blood cholesterol levels while improving glucose control and insulin sensitivity, which lowers the risk of heart disease and diabetes. Along with the high fiber content, very powerful anti-oxidants and the ability to dissolve the 'bad cholesterol', blueberries are the ideal dietary supplement to cure many heart diseases, including strengthening and protecting the cardiac muscles. This eye-pleasing, heart-healthy dessert pie is also low in sugars, being naturally sweetened with grape juice - also great for the heart.
Recipe:
Crust:
1 1/2 cups flour
1 teaspoon salt
1/2 cup olive oil
2 tablespoon rice milk
Crust: Sift together flour and salt into a 9" pie plate. Combine oil and milk together by whisking with fork then pour over flour mixture. Combine with fork and pat into pie plate. (Bake at 375-400 degrees for 45-50 minutes for filled pie crust.)
BlueBerry with no Sugar Filling:
1/2 (6oz.) can frozen grape juice concentrate (unsweetened)
4-5 tablespoon cornstarch
pinch of salt
5 cups blueberries
Combine juice, cornstarch and salt. Heat until thickened. Add blueberries and simmer until partially cooked. Pour into unbaked pie shell and cover with top crust or crumb topping. Bake at 375-400 degrees for 45 minutes.