Welcome to Heart Healthy Recipes' Newsletter!
This month's Heart Healthy Recipes' newsletter features the heart health benefits of apples, along with some heart healthy recipes.
Featured recipes include baked cinnamon apple slices and a side-dish of autumn apple salad with pineapple, grapes, and more.
---
Heart Health Benefits of Apples:
Currently we are sharing the impressive heart health benefits of in-season foods, along with several recipes to help include in a heart-healthy diet. This month the focus is on apples and the many reasons apples are healthy.

The high-nutrient apple contains a high amount of immune boosting vitamin C, especially important in the upcoming winter months. Also, some studies have shown that vitamin C may help lower blood pressure. In addition, blood pressure may also be lowered by apples due to the apple's high content of potassium and potassium has been known for its ability to help lower blood pressure.

The antioxidant-rich apple may help lower unwanted cholesterol per a recent study with Ohio State University. In addition, apples are free of cholesterol and sodium, helping to reduce hypertension.

Another apple benefit is weight-loss. Apples may help with weight-loss due to their low-calorie content and being free of saturated fat. An apple of medium size is only 100 calories (approximately) making it a great snack as well. The soluble fiber and natural juices in apples help add to a full feeling by slowing down digestion which may help in weight-loss by reducing food cravings.

According to the American Heart Association eating 4-5 servings of fruit, such as an apple " an apple a day " is vitally important to heart health.

Also, it may be wise to consider organic apples due to the apple's thin skin, which may allow more potential pesticides into the fruit. This is because organic apples are grown differently than conventional apples.

---
Autumn Apple Salad
Healthy side salad of apples and more. Make ahead for "brown bag" occasions or for formal or casual entertaining during the holidays.
Recipe Ingredients:
1 apple, cored and cut into ½-inch pieces (with peels)

1 cup fresh pineapple, cut into ½-inch pieces

1 cup seedless grapes, halved

1 small orange, peeled and segmented

1 tablespoon honey

2 tablespoons apple juice

1 tablespoon lemon juice

½ cup granola

1 teaspoon ground cinnamon

¼ cup plain Greek yogurt (optional)
Recipe Instructions:
In a large bowl, add the cored apple after cutting into ½-inch pieces. Mix in all remaining ingredients and serve immediately.

Makes 4-6 servings.
---
Air Fryer and Toaster Oven
Digital air fryer, with French doors, that is also a toaster oven.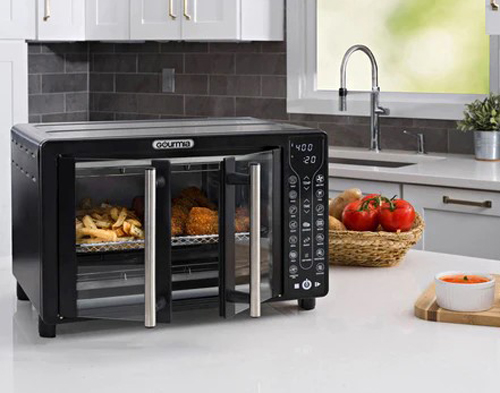 Enjoy heart-healthy meals with the Gourmia Digital Air Fryer and Toaster Oven. The technology built into the air fryer provides quick and even cooking with little to no oil. The 17 one-touch cooking functions allow you to air fry, bake, dehydrate, and more. For more information, please visit:

Digital Air Fryer and Toaster Oven with French Doors


---
Baked Apple Slices
Naturally sweetened, low-sodium, healthy treat of baked apple slices without the pie crust. This simple, fall-harvest snack is flavored with heart-healthy cinnamon and more.
Recipe Ingredients:
4 medium-sized apples, cored and cut into ¼-inch slices (with peels)

1 tablespoon cornstarch

2 teaspoons ground cinnamon

⅛ teaspoon nutmeg (optional)

⅛ teaspoon allspice (optional)

3 tablespoons water
Recipe Instructions:
Preheat oven to 350°F.

Place sliced apples in a 9" x 9" baking dish or similar. In a medium bowl, add cornstarch, cinnamon, nutmeg, and allspice. Mix dry ingredients well. Sprinkle cinnamon mixture over sliced apples. Stirring to coat. Drizzle water over mixture.

Bake at 350°F for 25 minutes.

Serve hot with our homemade, low-sugar, dairy-free ice cream recipe.

Makes 4 servings.

---
Apple Choice Suggestions:
Granny Smith due to tartness and Honeycrisp for sweetness.
Storage:
Refrigeration: Store in an airtight, storage container for up to 4 days.

Freezing: Store in an airtight, freezer-safe container for up to 3 months.
---
For More Apple Recipes, Please Visit:
Apple Cinnamon Smoothie

No-Sugar Added Apple Pie

---
NutriBullet Personal Blender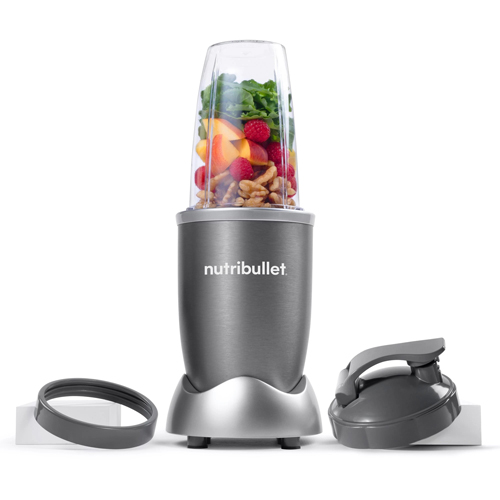 Effortlessly blend your favorite smoothies, soups, sauces, and much more with nutribullet. For more options, please visit: collections/kitchen


---
Heart Healthy Weight-Loss Facebook Group:
If interested in joining our Heart Healthy Weight-Loss Facebook group, please visit us at:

www.facebook.com/groups/hearthealthyweightloss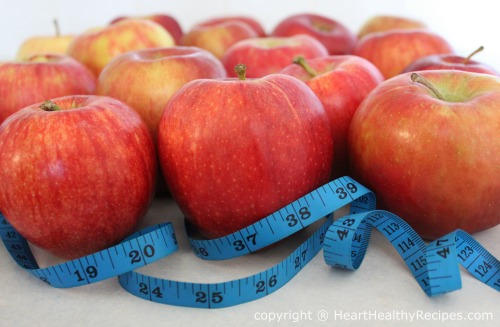 ---
For more heart healthy recipes, please visit:
www.pinterest.com/hearthealthyrecipes www.facebook.com/Heart.Healthy.Recipes.net www.facebook.com/groups/hearthealthyweightloss www.HeartHealthyRecipes.com



---

Check out this non-profit organization that delivers hope to suffering children and families around the world by clicking on the following link:

Children's Hunger Fund


---
Receive 15% Discount:



Receive a 15% discount on all products from HomeHavenDécor.com including kitchen items such as mixers, blenders and more. To receive the 15% discount, please add the code of NEWSLETTER15 at checkout.


---
Also, if you have any questions or comments, please send us an e-mail at:


support@HeartHealthyRecipes.com



---
*Medical/Nutritional Disclaimer: Heart Healthy Recipes' Newsletter and HeartHealthyRecipes.com website offers informational service only and the information contained in this newsletter is not intended as professional nutritional or medical advice. The content in this newsletter should not be used solely during a medical emergency or for the diagnosis or treatment of any medical condition. Please consult your doctor or other qualified health care provider regarding any course of medical treatment.
---