No-Sugar Apple Pie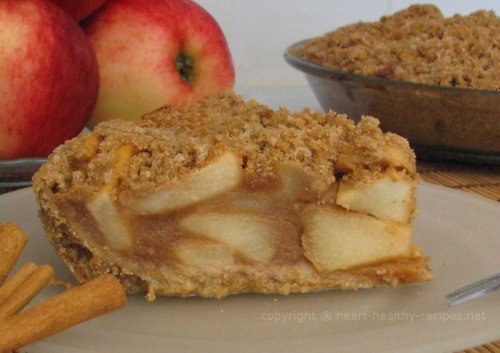 The heart healthy benefits of the no-sugar apple pie dessert are the apples which give it a rich source of flavonoid and polyphenols that are powerful antioxidants. Apples contain large amounts of minerals and vitamins that help strengthen the blood and also help lower cholesterol. Eating apples in any form at least once a day for a whole year have been shown to promote weight loss and lower heart disease markers. Apples are also a good source of the immune-boosting vitamin C (providing 14 percent of the daily value). More studies have shown that by eating 100g of apple can give an antioxidant effect that equals taking about 1,500mg of vitamin C. This no-sugar apple pie will help satisfy your hunger with fewer calories, while melting in your mouth with just the right combination of cinnamon and apples.
Recipe:
Crust:
1 1/2 cup flour
1 teaspoon salt
1/2 cup olive oil
2 tablespoon rice milk
The above ingredients are enough for one bottom pie shell. If needed for two pies with top-crust - triple above ingredients - 2/3 for two bottoms and 1/3 for two topping crumbs.
Crust: Sift together flour and salt into a 9" pie plate. Combine oil and rice milk together and pour over flour mixture. Combine with fork and pat into pie plate. Bake at 375-400 degrees for 45-50 minutes for filled pie crust.
Apple Pie with no Sugar Filling:
1 (12oz.) can frozen apple juice concentrate (unsweetened)
3 tablespoon cornstarch
pinch of salt
1 teaspoon cinnamon
5 large sweet or golden delicious apples, peeled and sliced. (Pink Lady is also a good choice)
Combine juice, cornstarch, salt and cinnamon. Heat until thickened. Add sliced apples and simmer until partially cooked. Pour into unbaked pie shell and cover with top crust or crumb topping. Bake at 375 degrees for 45 minutes.