Tropical Mango Smoothie
This refreshing and heart-healthy mango smoothie is an excellent source of vitamins, including A, B6 and C – flavonoids and antioxidant properties.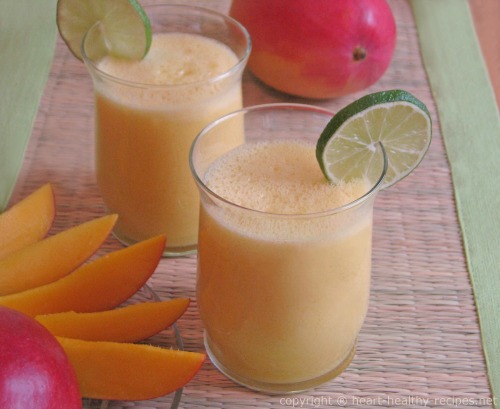 Fresh mango is abundant in potassium, yet low in sodium. Potassium helps assist in maintaining a healthy heart rate and regulating blood pressure.  Mangoes contain a high level of fiber and vitamins which help to lower serum cholesterol levels.  Also, mangoes are a great source of vitamin-B6 (pyridoxine), which helps control homocysteine levels within the blood, which may otherwise be harmful to blood vessels resulting in CAD and stroke.
Recipe Ingredients:
2 cup unsweetened pineapple juice
2 mango - peeled, seeded, and chopped
1 banana, sliced
3 tablespoons cream of coconut 
Recipe Instructions:
Mix ingredients in blender and serve immediately.  If desired, garnish with lime.
Makes 4 servings. 
---