Mung Beans
The mung beans in this spicy dish are heart healthy and beneficial for many reasons.  First, they provide rich amounts of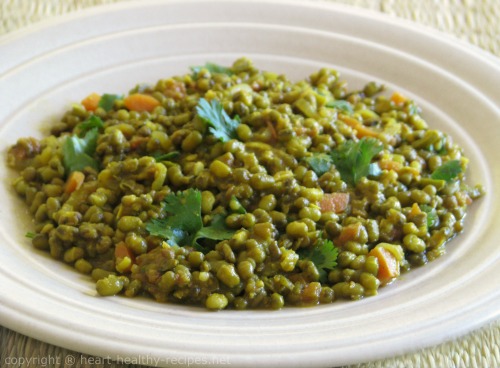 lecithin which may help in lowering cholesterol and are very high in fiber – more than most fruits, vegetables and grains.  They contain high amounts of vitamins A, Bs, C, D, E, K, folic acid, potassium, magnesium, iron, copper, zinc and are low in sodium.  Also, these nutritious beans are low glycemic and low in fat, yet high in protein – which benefits in weight loss – taking stress off of the heart.  Next, the jalapeños in this recipe contain capsaicin which may help reduce cholesterol, triglycerides and platelet aggregation. Those who consume the hot and spicy Jalapeños on a regular basis have significantly lower rates of heart attack and stroke than others.  Jalapeños are also high in vitamins A and C, and in bioflavinoids that help strengthen blood vessels, making them strong and more elastic for better blood flow and able to adjust to blood pressure changes.  The onions and garlic contained in this spicy mung bean dish also help to lower cholesterol and contribute significantly, even in small amounts, to overall heart health.  In addition, this mung bean dish contains the heart-healthy oil – olive oil.  Olive oil is naturally free of cholesterol and rich in the good fat – monounsaturated fat – and it helps protect against heart disease.  Nutrients in the olive oil help provide energy and assist in absorbing vitamins such as  vitamins A, D, E and K.  The parsley being very high in vitamin C helps prevent hardening of the arteries and maintain the elasticity of the blood vessels.  Finally, the carrots and tomatoes offer the heart many benefits including antioxidants.
Recipe Ingredients
1 cup whole dry mung beans
2 tbsp olive oil
1 teaspoon cumin seeds
1 medium onion, finely sliced
3 jalapeños, finely chopped
1 to 2 teaspoons turmeric
1/2 teaspoon cayenne
1/2 tablespoon ground coriander
1 teaspoon ground cumin
½ tsp chili powder, or to taste
1-inch piece fresh ginger, grated or minced (1 tablespoon)
4 cloves garlic, finely chopped or minced
1 large tomato, chopped
2 carrots, sliced
4 cups water
1/4 cup fresh parsley or cilantro, chopped
salt and pepper to taste
Recipe Instructions
In a large pot heat 2 tablespoons olive oil over medium–high heat and add the cumin seeds, onion and jalapeños. Sauté for a few minutes until onions become translucent.  Next add the spices – the turmeric, cayenne, coriander, cumin, chili, ginger, garlic.  Now add the tomato and continue to sauté on gentle heat for another 5 minutes, until the tomato pieces have cooked down. Then mix in the mung beans and carrots. Stir thoroughly so all the spices and flavors coat the ingredients. 
Next, add the water and bring to a boil. Then turn down the heat to a gentle simmer, adding some salt and pepper to taste.  Cook for 30 minutes with the lid partially on, until the beans are cooked and you have a thick casserole-like consistency. Stir consistently so that the beans do not stick to the bottom of the pot. 
Once cooked, stir through parsley or cilantro and simmer for another couple of minutes before turning off the heat and serving.  Makes 4 servings.
For MORE recipes and heart health information, please subscribe to Heart Healthy Recipes' FREE Monthly newsletter below:

---
Receive 15% Discount & Free Shipping:

Receive a 15% discount on all products including kitchen items such as mixers, blenders, cookware sets, food processors, and more from

HomeHavenDecor.com

.  For the 15% discount, along with free shipping, please enter HEALTHY15 upon checkout.
---
Medical/Nutritional Disclaimer: HeartHealthyRecipes.com website offers informational service only and the information contained in this website is not intended as professional nutritional or medical advice. The content in this website should not be used solely during a medical emergency or for the diagnosis or treatment of any medical condition. Please consult your doctor or other qualified health care provider regarding any course of medical treatment.

---