Sweet 'N Spicy Carrot Muffins
Moist, sweet carrot muffins are simple and easy to make.  Also, may help the heart with nutritious ingredients, including antioxidant-rich carrots.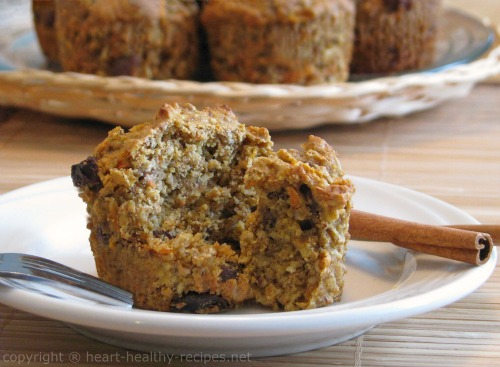 "Sweet 'n Spicy Carrot Muffins" add to any heart healthy breakfast or on-the-go snack.  Carrots help lower risk of heart disease due to the high amounts of carotenoids.  These antioxidants in carrots seem to help prevent the oxidation of cholesterol in arteries.  Studies have shown when six carrots are eaten in a week, there is less incidents of suffering a stroke.  The carrots along with the yogurt, in this heart healthy muffin recipe, help lower cholesterol due to acid binding characteristics in both ingredients.  Also, the potassium in yogurt helps flush out excess sodium from the body, which may help prevent high blood pressure. 
The bananas are naturally fat and cholesterol free – and with the high potassium content (over 400 mg potassium in a one medium-size banana) help assist muscle pumping of the heart.  Bananas being high in potassium and low in salt, also help lower blood pressure, and protect against heart attack and stroke.  
The cinnamon in this recipe is not just for flavor but also helps lower cholesterol.  Cinnamon has so many health benefits including anti-clotting properties - which in turn helps the over-all circulatory system.  
Finally, the oatmeal ingredient is one of the top foods for lowering blood pressure. In a study reported in the April 2002 issue of "The Journal of Family Practice," researchers observed that eating oatmeal can reduce systolic pressure by as much as 7.5 points and diastolic pressure by 5.5 points. When oatmeal is added to a daily diet, the risk of developing high blood pressure is reduced and may help treat the condition, according to the research team.
---
For MORE recipes and heart health information, please subscribe to Heart Healthy Recipes' FREE newsletter below:

---
Sweet 'N Spicy Carrot Muffins
  Recipe Ingredients:
½ cup carrots, shredded
½ cup raisins
½ cup yogurt
2 tablespoons grape seed oil
1 small to medium banana, mashed
¼ cup honey
1 teaspoon vanilla
⅔ cup oatmeal, crushed
¾ cup "Bob's Red Mill" - Whole Grain Oat Flour
¾ cup pastry flour
2 teaspoons cinnamon
1 tablespoon baking powder
1 teaspoon baking soda
¼ cup rice milk
Sweet 'N Spicy Carrot Muffins
 Recipe Directions:
Preheat oven to 375°F (190°C).  In medium to large mixing bowl, combine yogurt and raisins.  Shred carrots – add to mixture along with grape seed oil.  On separate plate, mash banana and add to bowl, along with honey and vanilla.  
In separate bowl combine all dry ingredients – next combine these dry ingredients with first bowl of moist ingredients.  Last add rice milk for additional moistness and flavor.  Fill muffin cups with muffin mixture and bake in preheated oven for 18-20 minutes. 
Makes 12 muffins.
Receive 15% Discount & Free Shipping:

Receive a 15% discount on all products including kitchen items such as mixers, blenders, cookware sets, food processors, and more from

HomeHavenDecor.com

.  For the 15% discount, along with free shipping, please enter HEALTHY15 upon checkout.
---
Medical/Nutritional Disclaimer: HeartHealthyRecipes.com website offers informational service only and the information contained in this website is not intended as professional nutritional or medical advice. The content in this website should not be used solely during a medical emergency or for the diagnosis or treatment of any medical condition. Please consult your doctor or other qualified health care provider regarding any course of medical treatment.

---