Vegetarian Chili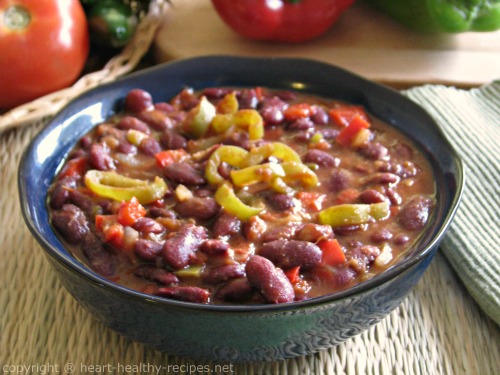 Spicy, delicious, low-fat Vegetarian Chili contains cholesterol-lowering fiber.  The heart-healthy kidney beans in this recipe aid in lowering homocysteine levels which may help prevent heart attacks and disease.
Vegetarian Chili - Recipe Ingredients:
2 cups dry kidney beans
6 cups water or vegetable broth
1/2 medium onion, chopped
3 cloves garlic, minced
1/4 cup olive oil
2 teaspoons cumin
2 tablespoons chili powder 
1/4 teaspoon cayenne pepper
1 red bell pepper, diced
1 jalapeño pepper, finely chopped (removing all seeds)
1 Anaheim pepper, sliced width wise (approx. 1/4" in width)
2 cups whole tomatoes, mashed
Vegetarian Chili - Recipe Instructions:
Sort and wash the kidney beans, removing any impurities.  Add the kidney beans and 2 cups of the water into a medium saucepan and bring to a boil. Cover, remove from heat, and let stand for 1 hour. Drain the beans and set aside.  Next, sauté onions and garlic in olive oil until onions are opaque, about 5 minutes.  Add the kidney beans, remaining water or vegetable broth, cumin, chili powder and cayenne pepper.  Next, dice or chop red bell pepper and jalapeño pepper.  Slice Anaheim pepper width wise - approx. 1/4" in width.  Add all the peppers to saucepan.  Finally, add tomatoes.  Bring to a boil, cover, reduce heat, and simmer for 2 hours, or until the beans are done cooking. 
Makes 4-6 servings.
---
For MORE recipes and heart health information, please subscribe to heart healthy recipes' FREE newsletter below:

---
Medical/Nutritional Disclaimer: Heart-Healthy-Recipes.net website offers informational service only and the information contained in this website is not intended as professional nutritional or medical advice. The content in this website should not be used solely during a medical emergency or for the diagnosis or treatment of any medical condition. Please consult your doctor or other qualified health care provider regarding any course of medical treatment.

---