Vegetarian Chili
Spicy, low-fat vegetarian chili is also heart-healthy.  The protein and fiber rich kidney beans in this vegetarian chili recipe help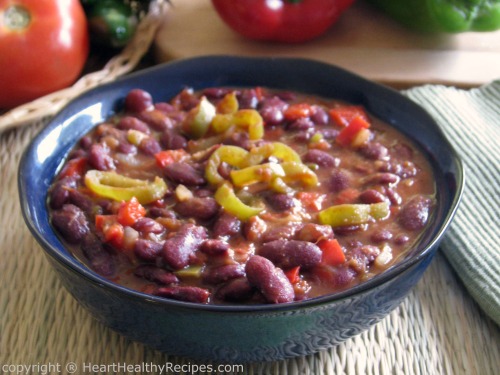 benefit the heart by lowering blood sugar levels.  Studies have shown that uncontrolled, high blood sugar levels may increase the risk of many chronic illnesses, including heart disease.  Consuming high amounts of the cholesterol-lowering fiber content in the kidney beans have been shown to decrease coronary heart disease and cardiovascular disease.  Studies have indicated that consuming at least 21 grams of fiber per day have contributed to these decreases.  Also, this high fiber helps with weight loss and maintaining a healthy weight, which in turn benefits the whole body, including the heart.  Kidney beans are also abundant in folate, an important amino acid, which aid in lowering homocysteine levels which may help prevent heart attacks and disease.  In addition, the large amount of magnesium in the kidney beans help relax arteries and improve blood flow, oxygen and nutrients throughout the body. 
The jalapeño peppers, along with the cayenne pepper and other spices may also be beneficial for the heart.  Capsaicin, the immune boosting ingredient in these peppers, may help blood sugar levels, control cholesterol, regulate blood pressure and heart rate.  Also, capsaicin seems to help burn body fat, prevent blood clots and assist warding off infections.
The antioxidant rich onions, garlic, and tomatoes in this recipe also have very heart-healthy properties including lowering high cholesterol and high blood pressure.

Vegetarian Chili - Recipe Ingredients:
2 cups dry kidney beans
6 cups water or vegetable broth
1/2 medium onion, chopped
3 cloves garlic, minced
1/4 cup olive oil
2 teaspoons cumin
2 tablespoons chili powder 
1/4 teaspoon cayenne pepper
1 red bell pepper, diced
1 jalapeño pepper, finely chopped (removing all seeds)
1 Anaheim pepper, sliced width wise (approx. 1/4" in width)
2 cups whole tomatoes, mashed
Vegetarian Chili - Recipe Instructions:
Sort and wash the kidney beans, removing any impurities.  Add the kidney beans and 2 cups of the water into a medium saucepan and bring to a boil. Cover, remove from heat, and let stand for 1 hour. Drain the beans and set aside.  Next, sauté onions and garlic in olive oil until onions are opaque, about 5 minutes.  Add the kidney beans, remaining water or vegetable broth, cumin, chili powder and cayenne pepper.  Next, dice or chop red bell pepper and jalapeño pepper.  Slice Anaheim pepper width wise - approx. 1/4" in width.  Add all the peppers to saucepan.  Finally, add tomatoes.  Bring to a boil, cover, reduce heat, and simmer for 2 hours, or until the beans are done cooking. 
Makes 4-6 servings.
---

Check out Children's Hunger Fund:

This non-profit organization delivers hope to suffering children and families around the world.
---
Heart Healthy Weight-Loss
We would like to invite you to join our NEW Heart Healthy Weight-Loss Support Group.  You are welcome to join us for support with weight-loss and heart health issues by visiting:
https://www.facebook.com/groups/hearthealthyweightloss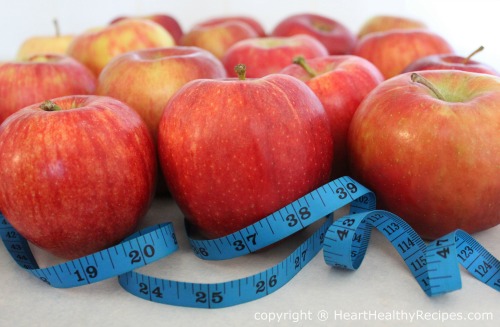 Visit & Join Our New Facebook Weight-Loss Group by clicking HERE, or by copying and pasting the following URL:  https://www.facebook.com/groups/hearthealthyweightloss

---
For MORE recipes and heart health information, please subscribe to heart healthy recipes' FREE newsletter below:

---
Medical/Nutritional Disclaimer: HeartHealthyRecipes.com website offers informational service only and the information contained in this website is not intended as professional nutritional or medical advice. The content in this website should not be used solely during a medical emergency or for the diagnosis or treatment of any medical condition. Please consult your doctor or other qualified health care provider regarding any course of medical treatment.

---